— MS1 and MS2 controlled with a switch, to avoid using unnecessary pins. SMD solder jumper between them, removed.
— Layout changes, thinking on how the boards will be fixed on the machine and how the wires will be connected between them.
— All the connectors the same, for easier and safer connections.
— Diameter of the holes under the driver, changed to the same as vias.
— You can see the driver working at the video in the end of the page. There is also a demo for the switch that controls the resolution of the steppers (05).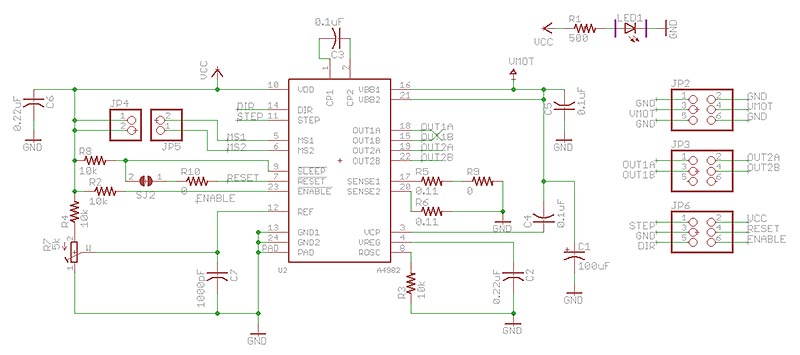 — 1 x driver A4982
— 3 x header 2x3 (JP2, JP3, JP6)
— 1 x switch (JP4, JP5)
— 1 x led
— 1 x 499Ω (R1)
— 4 x 10kΩ (R2, R3, R4, R8)
— 2 x 0.1Ω (R5, R6)
— 2 x 0Ω (R9, R10)
— 1 x poti 5kΩ (R7)
— 1 x 100uF (C1)
— 2 x 0.22uF (C2, C6)
— 3 x 0.1uF (C3, C4, C5)
— 1 x 1000pF (C7)