Chuang Che-Yun's Fabacademy page
About me| assignment| About Final Project
About Me
I am Che-Yun Chuang, worked in a non-profit organization in Taiwan called ADCT(Association of Digital Colture, Taiwan) in Taiwan. In past 4 years, I've been in charge of the project – Puncar Action project. Puncar, the only project that is launched by non-profit organization in Taiwan, focuses on addressing the digital divide issues in the rural areas. We use a mobile vehicle, bringing digital equipments including laptops and mobile broadband to rural areas, to help local NGOs. Meanwhile, I am a manager in a entrepreneural place called Tainan Digital Creative Park, which inclued a co-working space and a maker space – Fablab Tainan.
Meanwhile, my colleague and I were operate Tainan Digital Culture Park and Fablab Tainan aswell.
Joining Fab Academy is a challenge for me to embrace unfamiliar skills and technologies. I want to improve my practical skills, and hopefully these skills can extend the' service categories in Puncar Project.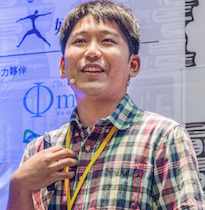 Che-Yun Chuang 2015 fabacademy assignment is licensed under a Creative Commons Attribution-ShareAlike 4.0 International License.