Project Presentations
For this assignment I'm going to show the final result of the project: the slide and the video.
You can follow the progress of the project here
Chapter One: The slide
I created this slide in a very simple and clear way, to highlight the finishing of the models and the functionalities of the two versions.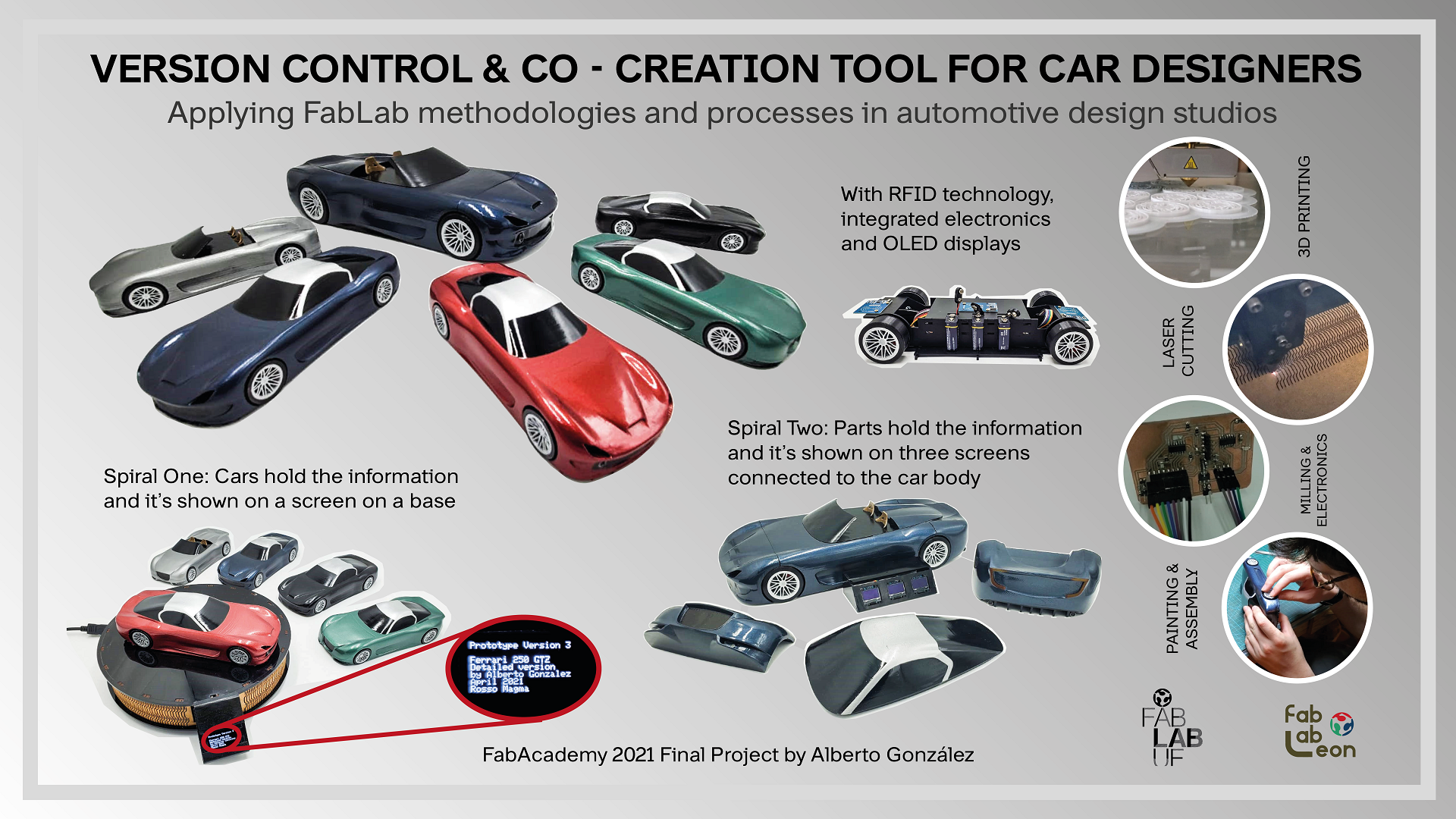 Chapter two: the video
This video shows the models working, the steps we went through in order to create them.
Credit to musician Derani who created this amazing epic version of Gigi D'agostino's L'amour toujours, my signature song of this FabAcademy, which is the perfect fit for my video. Click here to give him support.
Chapter three: the questions
What does it do?
I tested a methodology for car designers that allows us to work in a co-creative environment, where the interchangeable parts hold information and it's displayed on screens, so the car knows what parts it's made of. The project shows the part information, kept in RFID tags, on OLED screens.
Who's done what beforehand?
RFID technology is being used everywhere, from tags on the clothes like Decathlon is doing, to information of food. Some design studios already create models with 3D printers. Some others still work with clay. Creating models with interchangeable parts (done by hand) was done at Pininfarina before. But nobody has done a modular design with information inside the parts. Design studios don't keep information of the models with RFID technology
What did you design?
I designed by hand almost all the variants of the car. Ph.D Alberto Galindo, professor of design in Universidad Europea, designed by hand some other variants. I 3D modeled my variants as well as his variants, and made the connection between them possible. The idea is that the parts that he design and the parts that I design have to be interchangeable. I'll also design the electronics inside (with RFID connectivity and a screen to show the data) and the way to join them together, the base and the integration of the cables, the wheels and the tires.
What materials and components were used?
Down below we have the bill of materials, with the links to the parts:
Where did they come from?
The FabLab covered almost everything. The filaments, the electronics, the acrylic... But I paid for the automotive grade paint.
How much did they cost?
No less than 478€. You can have here the bill of materials:
| | | | | |
| --- | --- | --- | --- | --- |
| Spiral One: 1:24 cars and base | Where to buy? | Amount | Price | Total price |
| PLA Plastic | Smartmaterials 3D | 2 rolls | 25,00 €/750g | 50,00 € |
| Black Acrylic 3mm | Locally (CEPLASA) | 1 (800 x 450mm) | 20,00 €/unit | 20,00 € |
| AtTiny1614 | DigiKey | 2 | 1,00 €/unit | 2,00 € |
| Copper boards | Digikey | 1 unit | 2,00 €/unit | 2,00 € |
| OLED Screens | AZ Delivery | 1 unit | 4,00 €/unit | 4,00 € |
| RFID Modules | AZ Delivery | 1 unit | 4,00 €/unit. | 4,00 € |
| Battery 9V | Amazon | 1 | 3,75 € | 3,75 € |
| Battery clip | Amazon | 1 | 4,50 €/2 units | 2,25 € |
| Resistors, connectors and LEDs | Digikey | 1 | 3,00 €/board | 3,00 € |
| Regulator | Digikey | 1 | 1,00 €/unit | 1,00 € |
| Automotive grade paint and varnish | Locally (CEPISA) | Different colors | 20 €/can | 120 € |
| Others (wood glue, tape, soldering tin, DuPont cables…) | - | - | - | 10,00 € |
| | | | Total cost/Spiral One | 222 € |