I tweaked a exiting 2D design model of a Raspberry Pi Case. Tamiya-san share an dxf file of Raspberry Pi3 that have been used at Fablab Kannai for laser cutting 3mm acrylic board.
For embedding Raspberry Pi inside of Pot, I needed to change the case on:
A hole for a cable or RaspPi Camera module
2mm screw holes for camera stand
2mm screw holes for ATtiny3216 In-out board
2.6mm screw holes for attaching the case to Pot
Raspberry Pi case (existing model at Fablab Kannai)
I decided to utilize original holes of 2.6mm at the bottom to attach case to the bottom of Pot and Raspberry Pi board.
Raspberry Pi case with holes to be attached in Pot

Raspberry Pi case with holes to be attached in Pot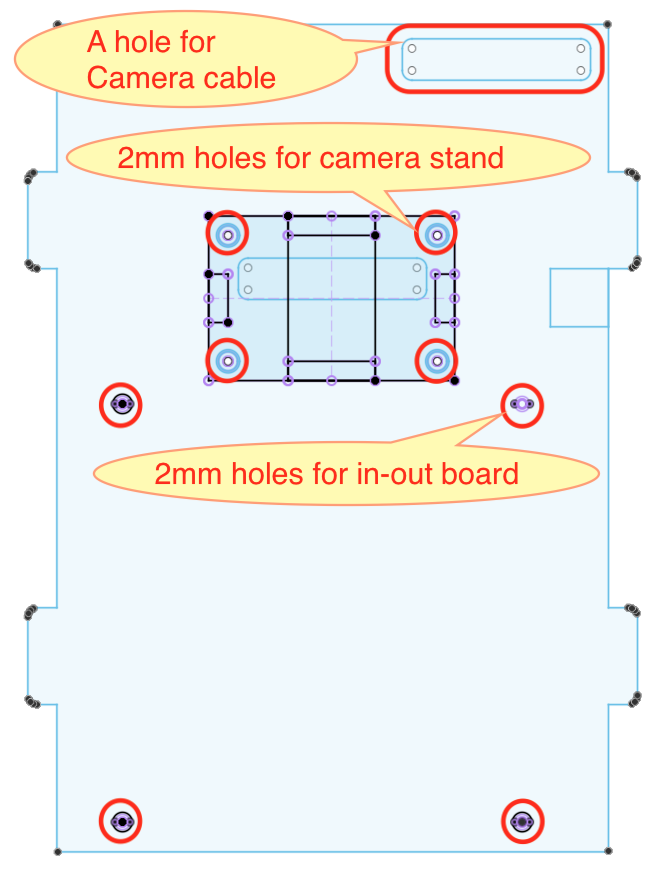 Deleted unnecessary charactors. For the charactors at the side walls of case, I deleted it on Correl Draw software when I laser cut.
Added a hole for a camera cable on the side of camera connector on RaspPi board
Added 2mm screw holes at the top cover of case for attaching camera stand
Added 2mm screw holes for in-out board at the top cover of case for ATtiny3216 In-out board