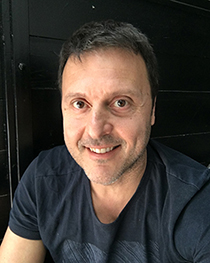 Diar Amin
new at FabAcademy Barcelona since 2019
My professional background:
- 18 years of professional experience primarily in project and event management, most recently at the German Culture Institute in Barcelona (2011-2018)
- Experienced in database management, corporate identity controlling, web content management, planning, organizing and implementing main cultural events, as well as in the vocational training sector, video wall installation, database research, and media productions
- New focus on digital production, 3d printing, aeroponics, urban gardening and related innovative technologies for food production


Educational background:
- Master of Arts (MA) in Film Studies and Latin American Studies, from Freie Universität Berlin (2009)
- Foreign exchange scholarship in Barcelona (University Pompeu Fabra, 2003) and São Paulo (Universidade de São Paulo, 2005)


Motivations to join the Fab Academy:
I enjoy working in professionally inspiring environments where people with different work experiences and expertise meet, exchange ideas, and collaborate on new and innovative initiatives.
I am motivated to develop solutions for today's social and climate challenges through technology, networking, and communications. I feel very confident that the FabLab would be such an inspiring place for me.