Scott Zitek - Fab Academy 2014
Concepts for final project Low Cost Portable Scoreboard
Background
Has this ever happened to you? You are at a little league baseball game and go to get a hot dog. When you come back, you don't know what the score of the game is anymore. Did a player score while you were gone? Since you don't know, you have interrupt the other spectators to find out what the score is. It is not unusual for the people you ask to not be sure of the score themselves.
No matter how small the event, a low cost portable scoreboard would make it possible for every competition to have the convenience and professionalism of a score display. A portable scoreboard could be used for baseball games, rugby, football, volleyball, corn-hole, tail-gaiting parties, bocce-ball, air hockey, ping-pong, beer-pong, and more.
Scope
The scoreboard needs to be portable so that it can be carried to and from different events. This means the device should be reasonably light weight, durable and not require to be plugged into an electrical outlet.
It needs to be low cost. A brief internet search shows that current products on the market cost over $350.
The scoreboard needs to be visible in the typical environment. This means it should have relatively large digits and be easily viewable in bright sunlight.
Concept
My design is mechanically based. It uses patterns that slide horizontally and vertically behind a seven segment aperture. The three horizontal segments are changed by sliding a pattern up and down. The four vertical segments are changed by sliding patterns left and right.
The patterns can be moved in combinations to form the different digits 0 - 9. Indexed movement can be accomplished by several different options including: stepper motors, RC servo motors, solenoids, linear geneva mechanisms. Only one or two actuators are needed per digit.

Example of mechanical digit combinations using horizontal and vertical patterns.



The scoreboard could be controlled by a small 4-button remote control or maybe via a phone app.
The design can be easily scaled to make very large digits.
The design can be easily produced to obtain various digit color schemes.
The design can be modified to allow back lighting for optional illumination of the digits.
---
Automated Machine Use Referee
Background
The laser engraver/cutters are by far the most popular pieces of equipment in our Fab Lab. Sometimes there will several people waiting to use the lasers. We have developed a number of rules for these situations to encourage users to limit their use and to share fairly. However, we frequently have people that are ignoring the rules, circumventing the rules, or feigning ignorance. The lab technician is then forced to monitor use of the laser, serve as a time keeper, referee, and enforcer of the rules.
Scope
Implementation of this device should not involve significant modification of the machine or voiding the machine's warranty. It would be desirable for the device to be universal enough to allow it to be used on multiple brands of laser cutter/engravers.
Concept
This device is intended to force users to take turns using the laser and limit how long each user gets to use the machine during their turn. Once a predetermined time limit is reached, a visual and/or audio alarm indicator is triggered. If possible, laser operation should be automatically interrupted when the time limit is exceeded.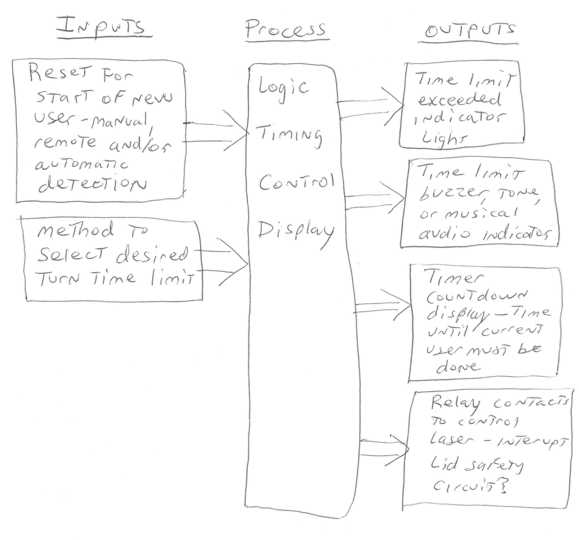 It would be nice if this system could keep a visual queue of those waiting to use the machine while at the same time making sure everyone takes their turn in a First In First Out (FIFO) basis. One possible method to do this would be to use a mechanical queue line with tokens for each person. When a person is ready to use the laser, the put their token into the top of the queue. As each user finishes their job, they remove their token from bottom of the queue and gravity moves the tokens so the next user in line gets to use machine.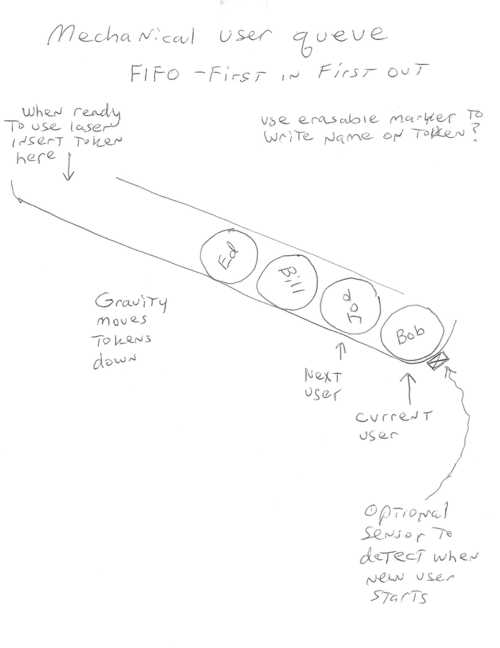 ---
Back to index