home..
Week 5 - 3D Scanning and Printing
group page // repo source files // objectives
Contents
objectives >
Linked to the group assignment page

Test the design rules for your 3D printer(s)
[/] Document your work and explain what are the limits of your printer(s) (in a group or individually)
Document your work to the group work page and reflect on your individual page what you learned

Explained what you learned from testing the 3D printers

[/] Documented how you designed and made your object and explained why it could not be easily made subtractively

Included your original design files for 3D printing (both CAD and common format for 3D printing)

[/] Documented how you scanned and prepared an object (for 3D printing)
Included your hero shots
final results >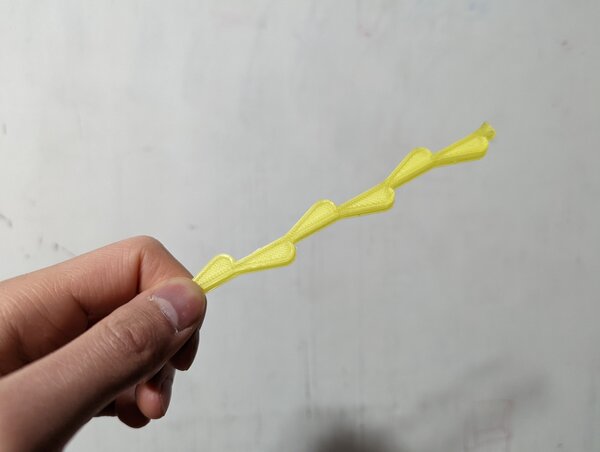 (no file for scan; they're huge. We're pinching electrons here)
design rules >
I own an assortment of printers:
2x Ender 3
1x Prusa Mk3s
1x Elegoo Mars 2P
1x Cetus MkI
For this exercise, I benchmarked one of my Ender 3's, which lives in my apartment. I printed each of the linked .stl's on the 3d printing page.
The results of my benchmarking can also be seen on my fablab's group page.
print settings >
1.75mm filament
0.35mm layer height
0.4mm nozzle opening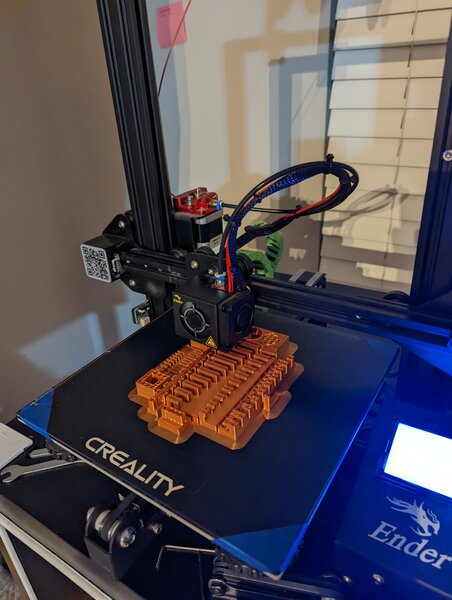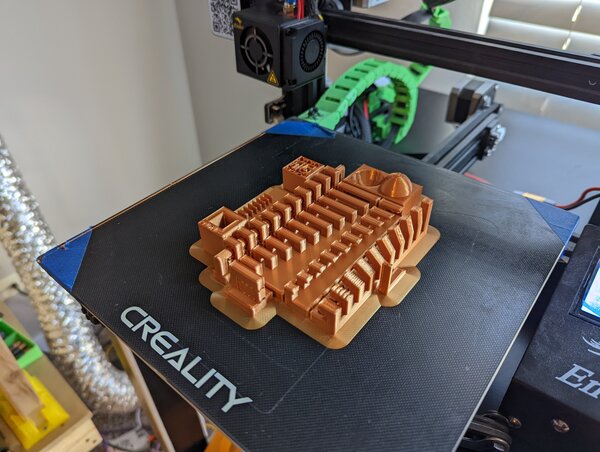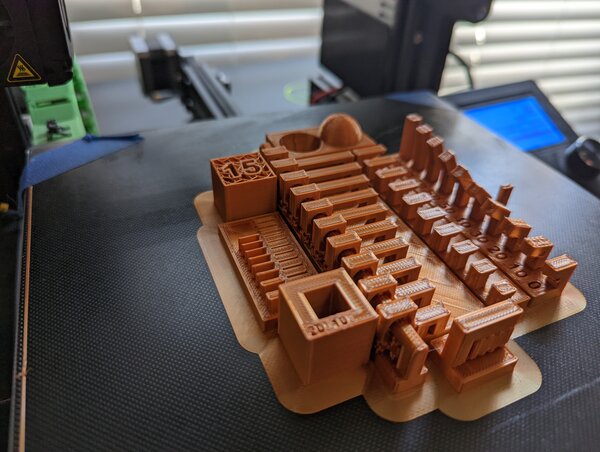 overhang (printed w/ supports) >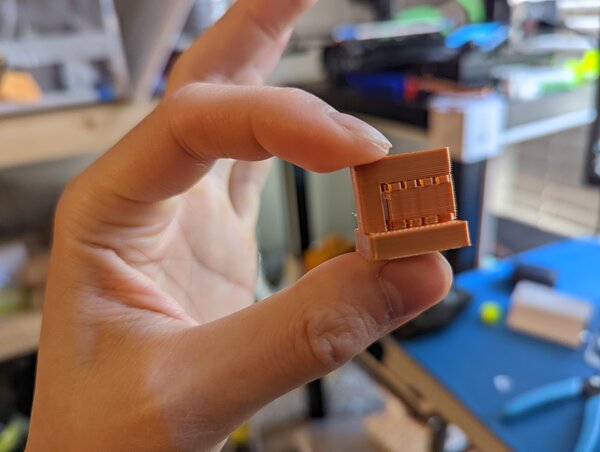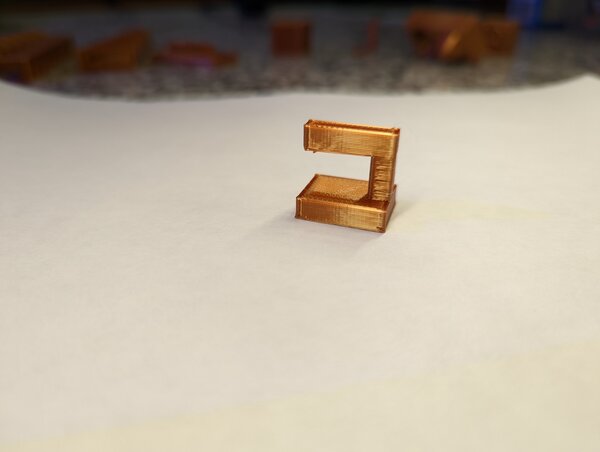 clearance (printed w/ supports) >
I printed this part with supports as indicated.
Supports were removed w/o destroying the part. Some of the supports were difficult to remove (between the top of the rod and the rings (0.3, 0.2, and 0.1). 0.4 was loose, but tight enough that rotation was free with resistance.
1.0 to 0.4: loose 0.3 to 0.1: not loose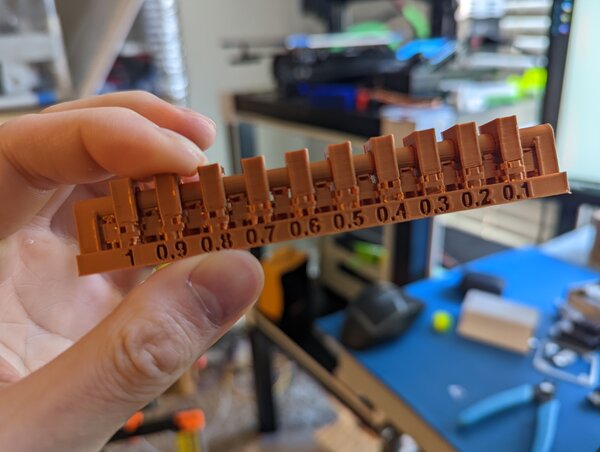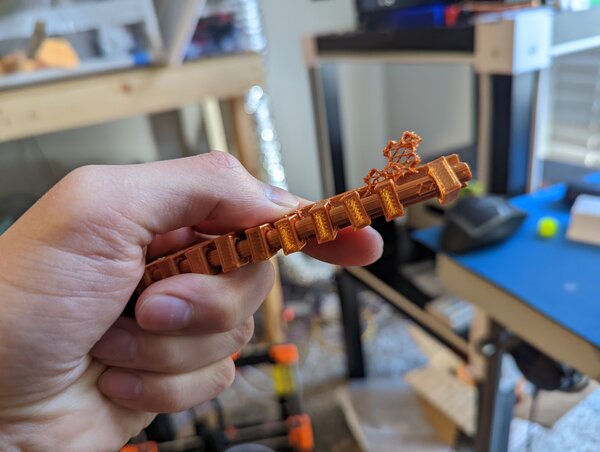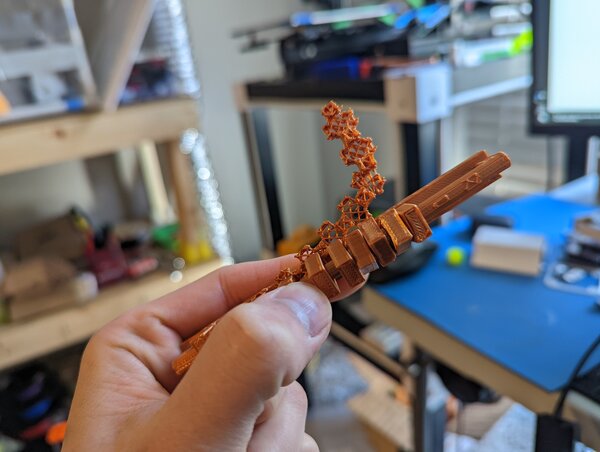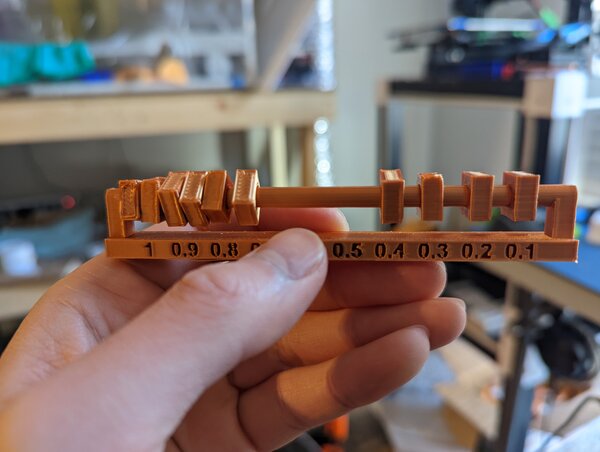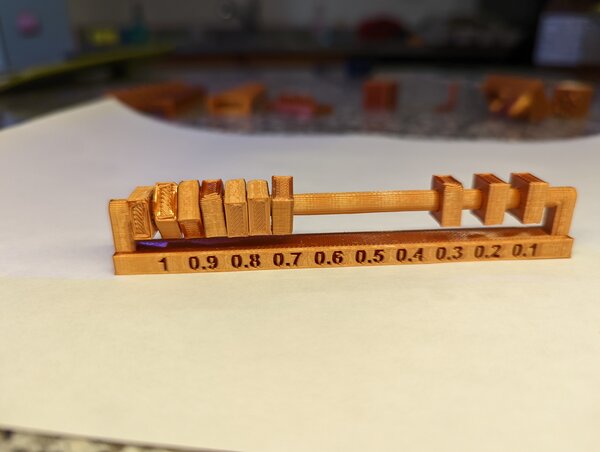 angle >
I start to see some droop starting around 40 degrees. 30, 20, 10, 0 all progressively get worse.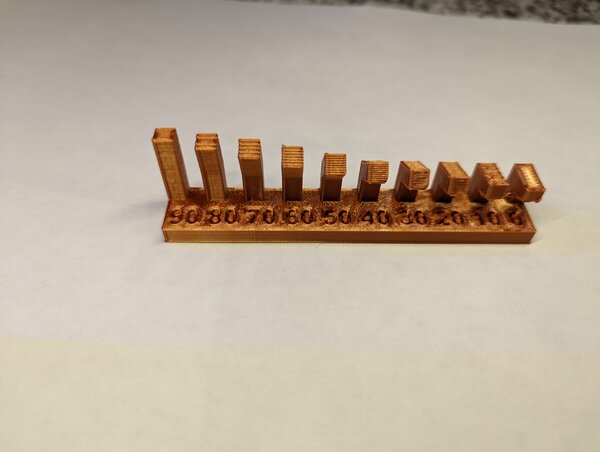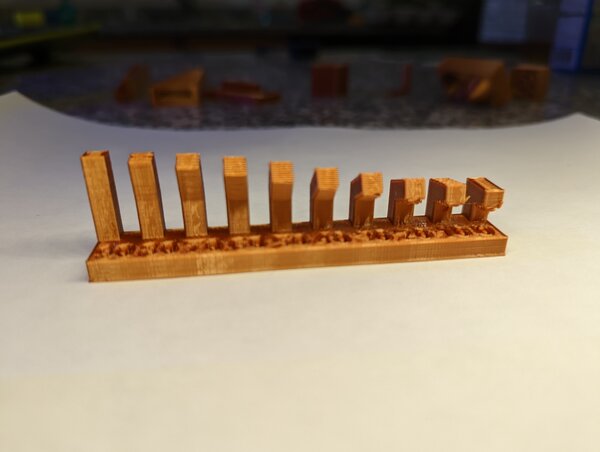 overhang >
I start to see droop at 2. 3, 4, 5… onwards progressively get worse. The top 3-4 layers are typically intact, despite worse initial layers.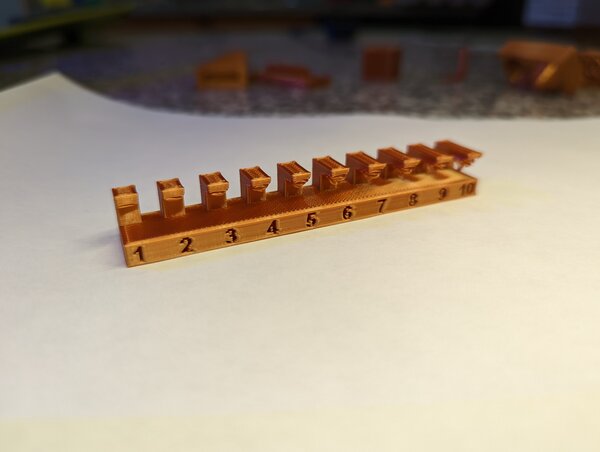 bridging >
The bridging tests all seemed to do well.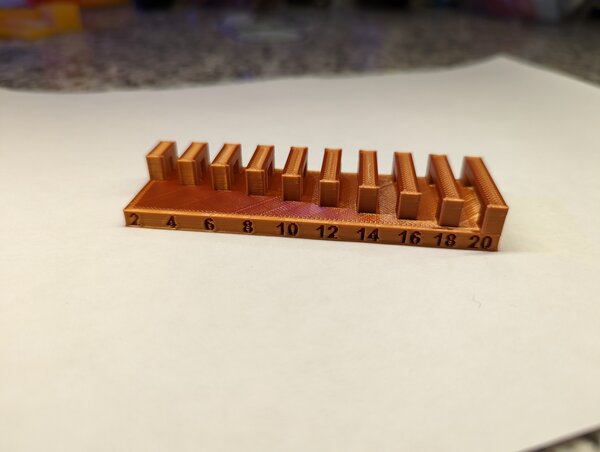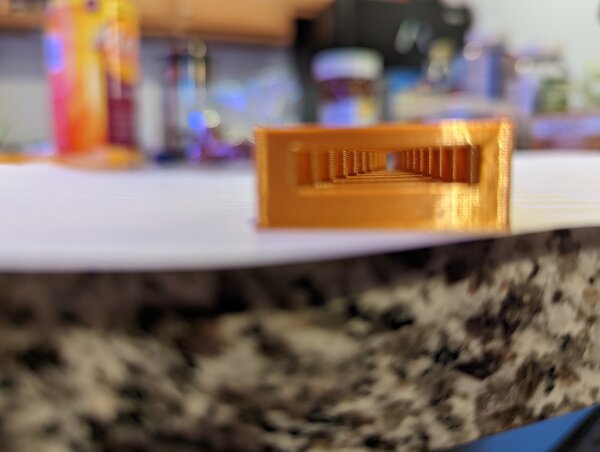 wall thickness >
slicer appeared to stop rendering starting with 0.4mm thick. this makes sense; the nozzle being a 0.4mm-wide orifice.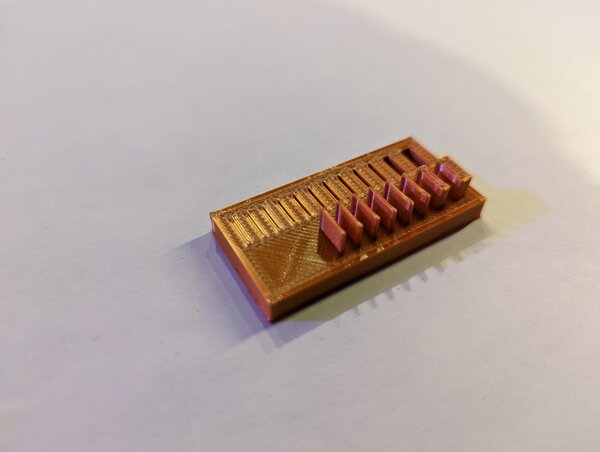 dimensions >
TODO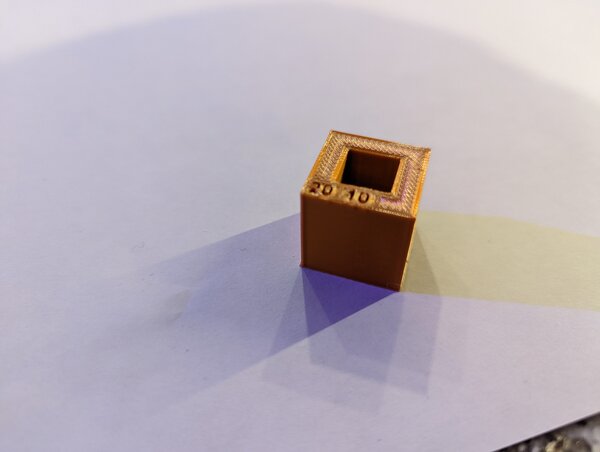 anisotropy >
prints in the z-direction have a much cleaner finish than same geometry in xy-direction. If I apply ironing, I'm sure I could get a better finish.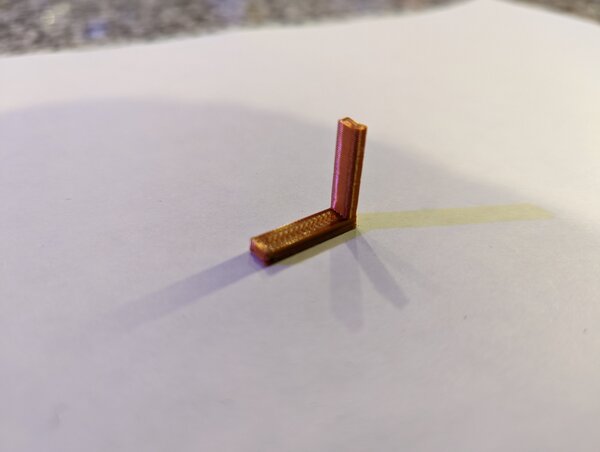 surface finish >
I can't tell if it's the filament, but the surface finish is nice (for FDM). Note that my layer height was 0.35mm.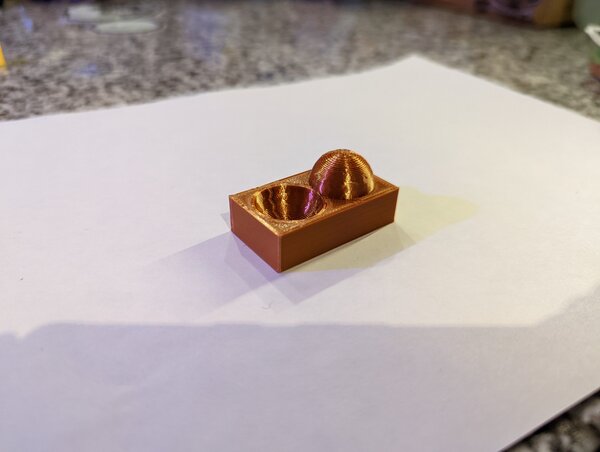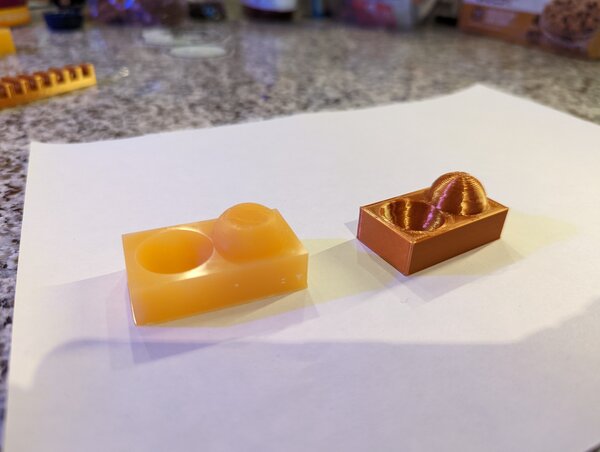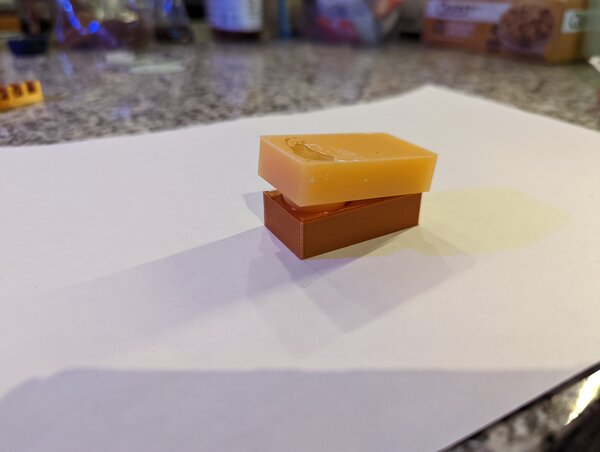 infill >
I used gyroid for infill. I see that the layer adhesion is a bit poor between some of the layers.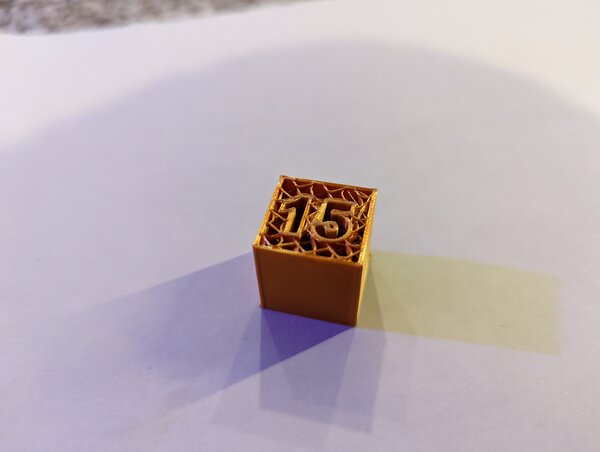 tapers, corner >
TODO
sla >
Benchmarks using my Elegoo Mars 2 Pro (SLA printer) from prior to fabacademy. I still need to sort through some of this media, but thought I'd share some of the raw footage. TODO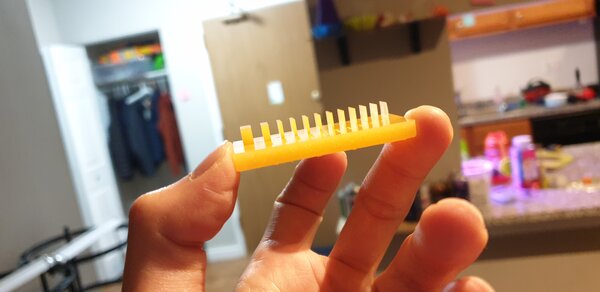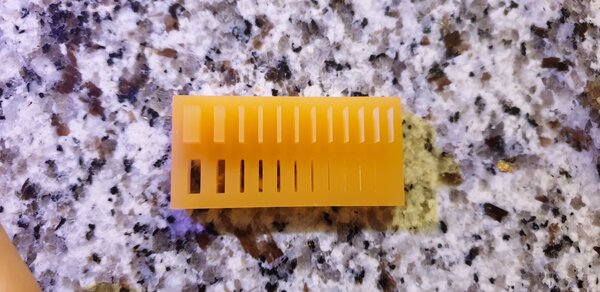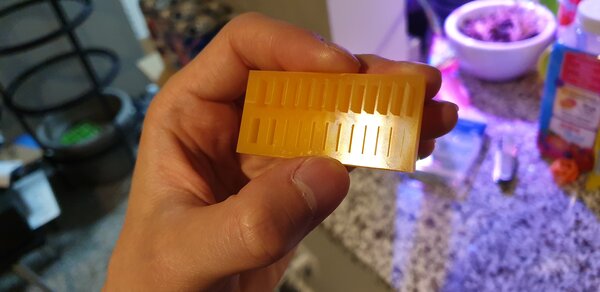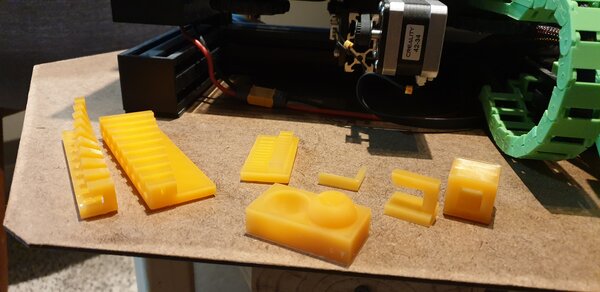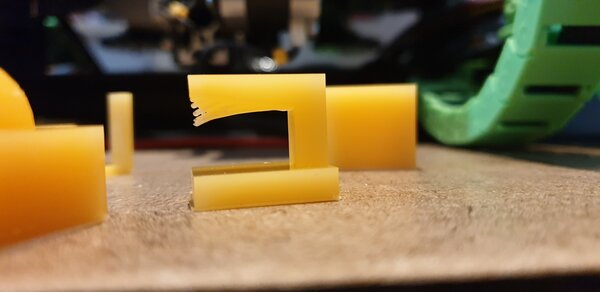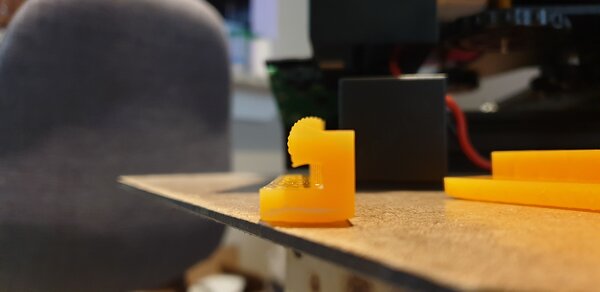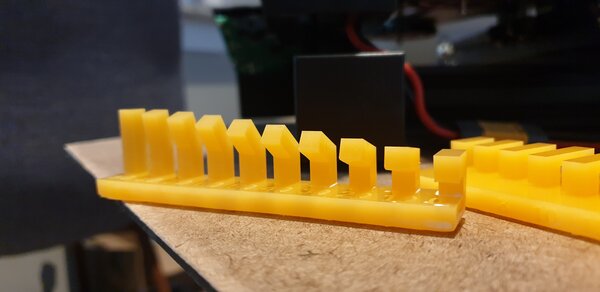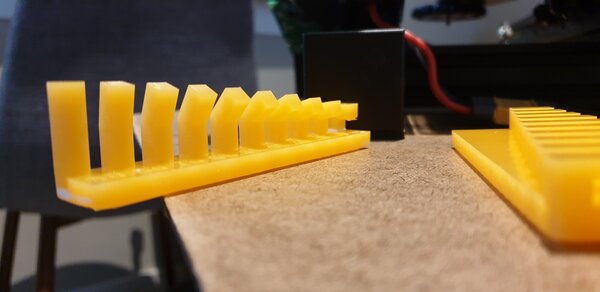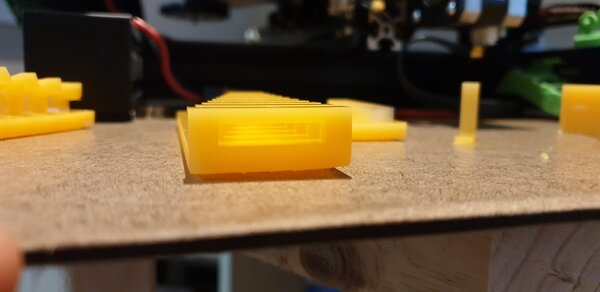 additive object >
To demonstrate something that would be difficult to make subtractively, I chose to make a microfluidic device. The idea is that some of the microfluidic channels in the print can be drilled, but not all (the bit would have to be angled around a corner, but that's physically impossible. Alternatively, a drill could come in from the outside, but that would result in an extra hole).
I chose the Tesla valve as my demonstration structure.
cad >
TODO
printing >
First attempt at the print. Forgot to use brim for bed adhesion; part happened to have a large surface area, so some warping occurred.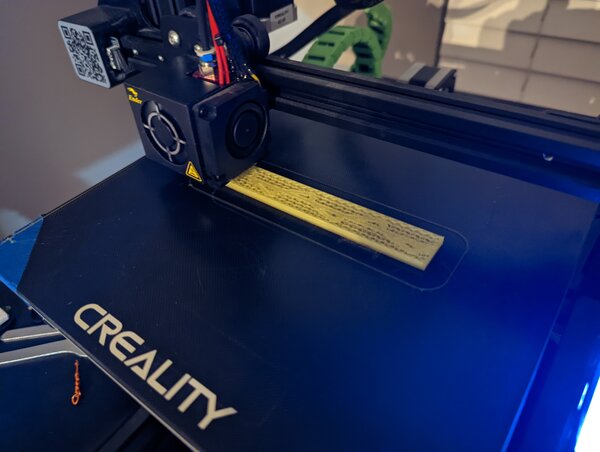 Reduced the area of the print but extrude-cutting the profile of the "valvular structure" (quoted from Tesla himself).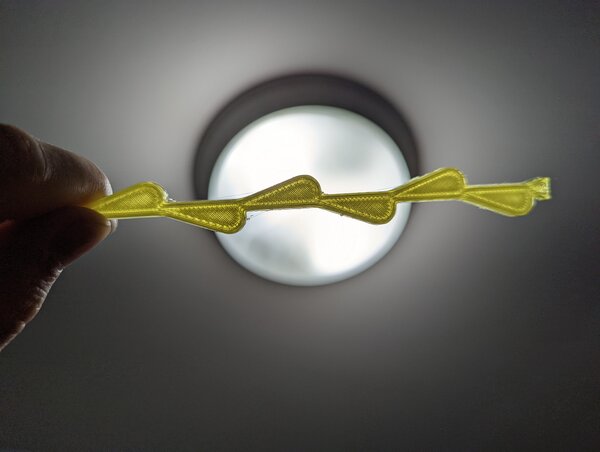 Hero shot: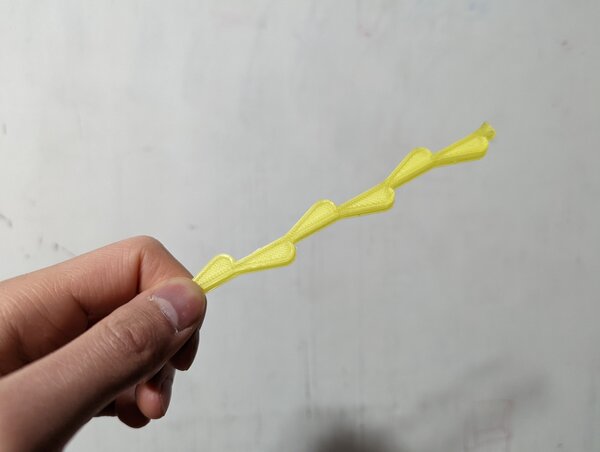 scanning to printing >
I followed this sequence:
scanned with reconstructme
cleanup with meshmixer
gcode with cura -> printing
scan >
Using reconstructme, Dan helped scan me with a kinect in real-time. The software exports in .obj, .ply, and .stl.
cleanup >
I used meshmixer to clean up the generated model and close open surfaces.
importing file >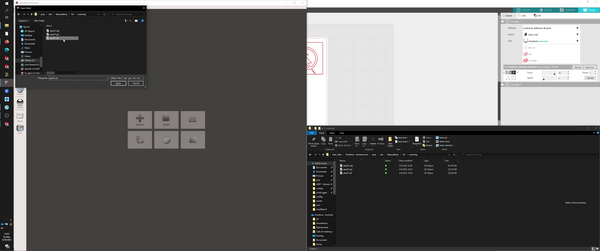 spherical select and deleting stray triangles >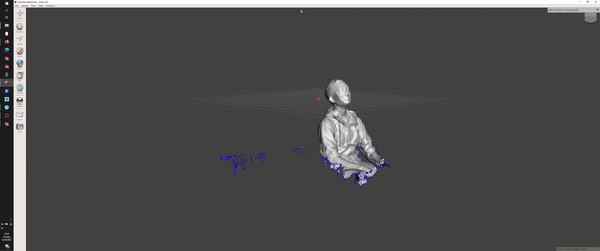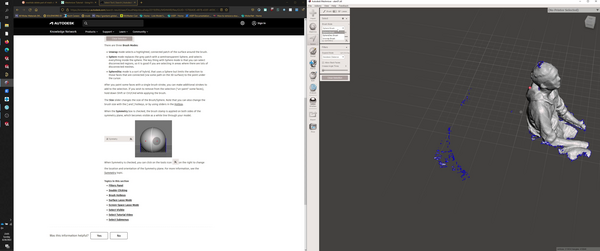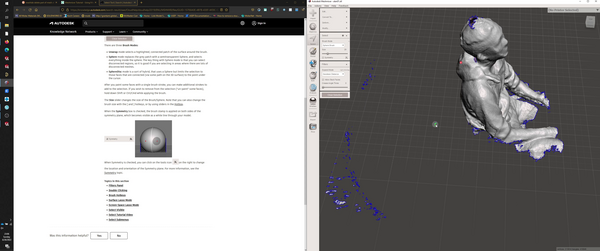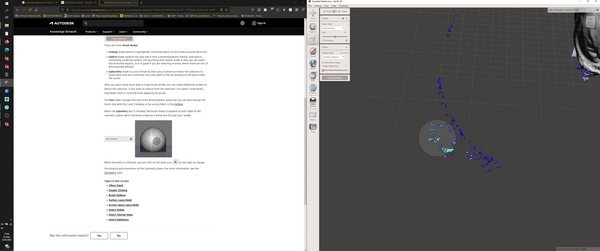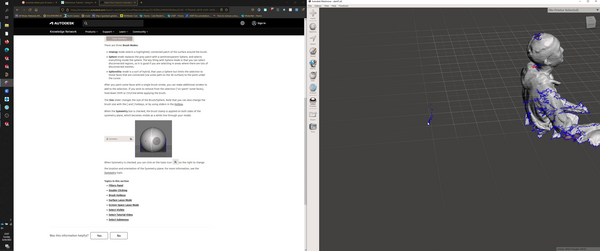 cutting the stl with a plane >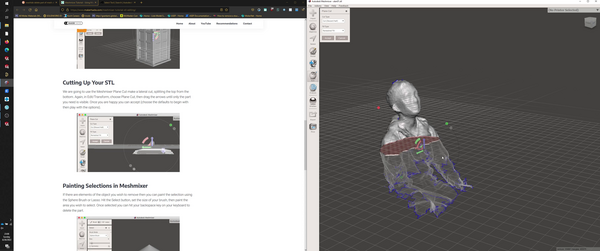 patching holes >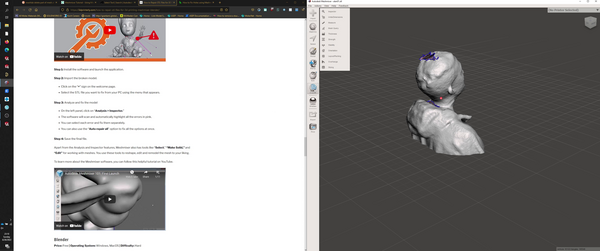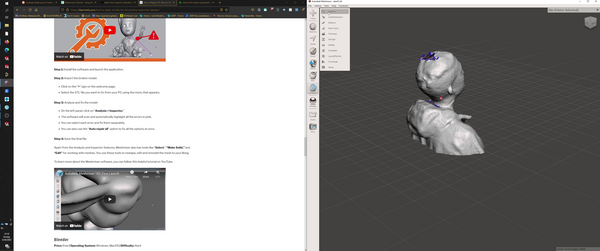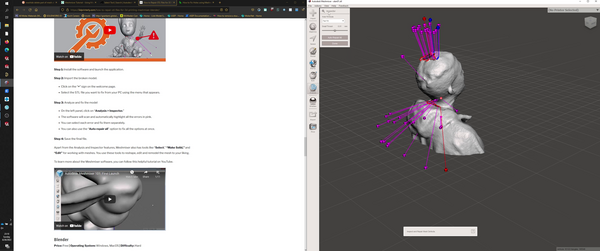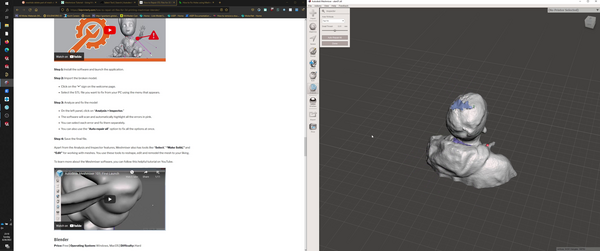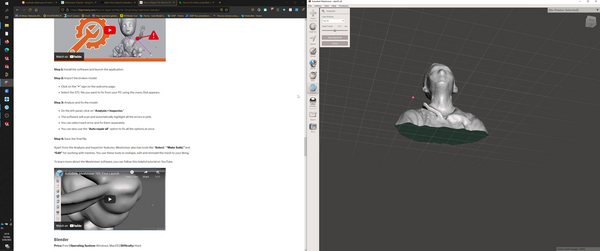 gcode >
cura, like normal.
resizing imported .stl >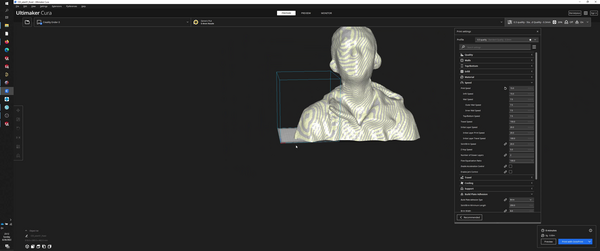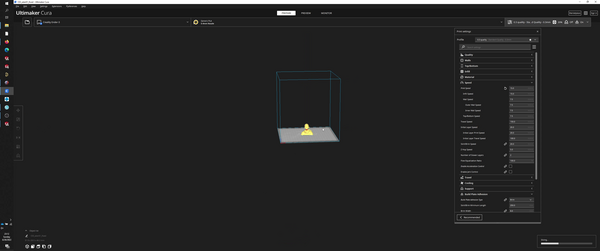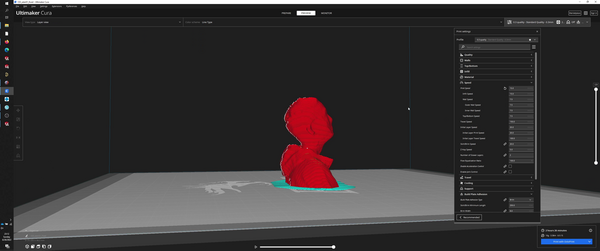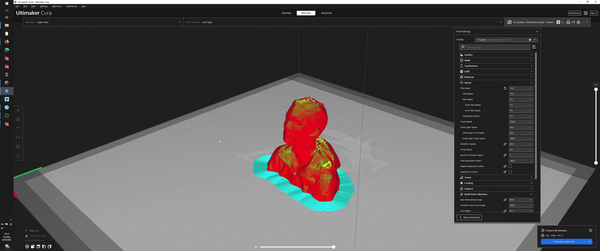 realizing that I need supports so I don't look sad >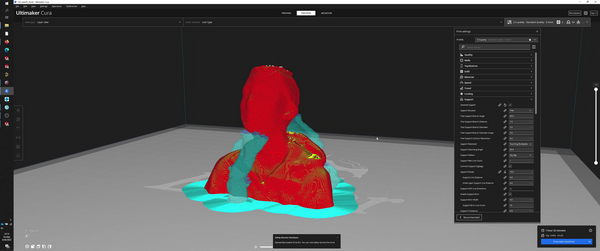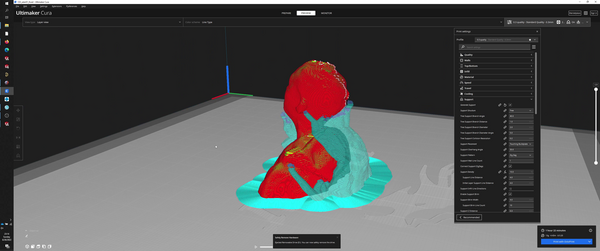 printing >
haven't quite gotten to this step yet.