20 COVID-19 Response¶
Fab Lab Road Show / Fab Shop Prototype¶
As of March 14 2020 our Fab Lab has been closed to the public. We have 6 ATA cases for transporting our Fab Lab equipment offsite. I used 3 ATA cases to bring home the machines and supplies I needed to continue Fab Academy assignments and final project as much as possible. Many of the MSI Fab Lab staff took machines and supplies home as well so they will be able to work from home as well. I also have my own supplies, tools, a 3D Printer and vinyl cutter at home already. Here are some photos of my current Fab Shop @ Home setup: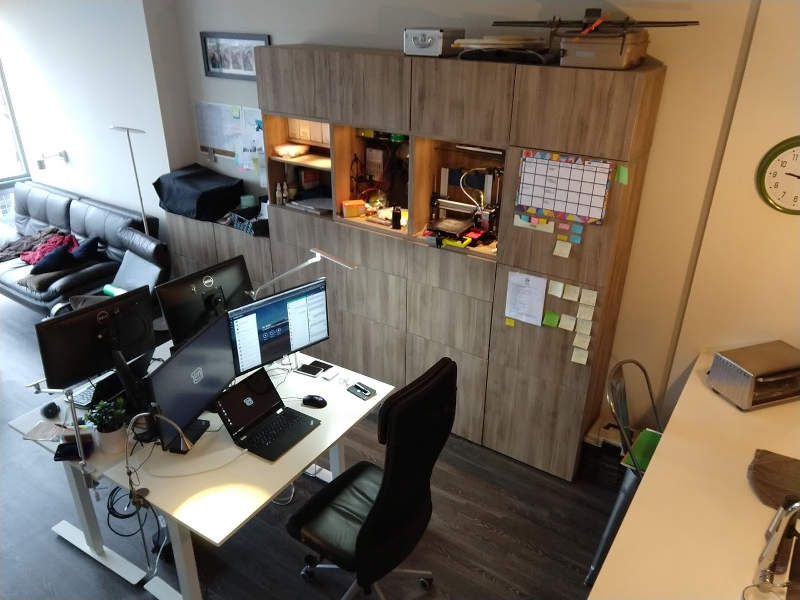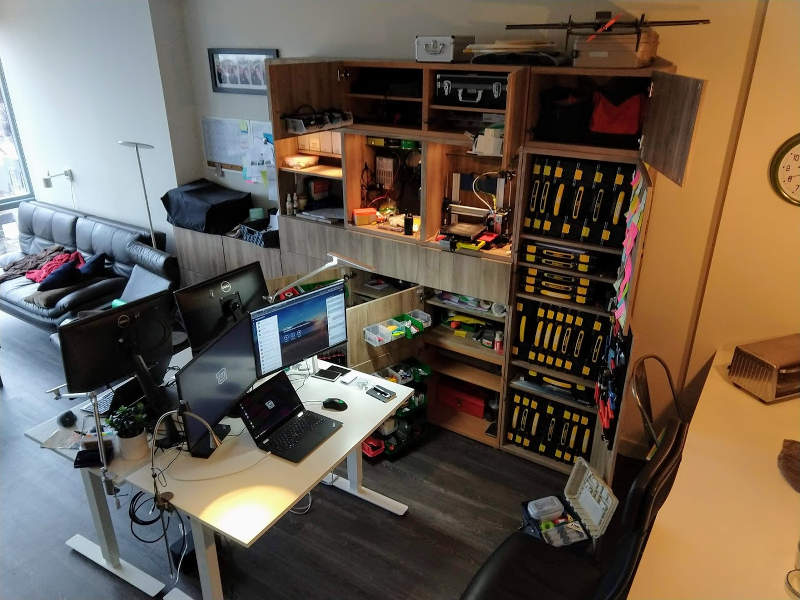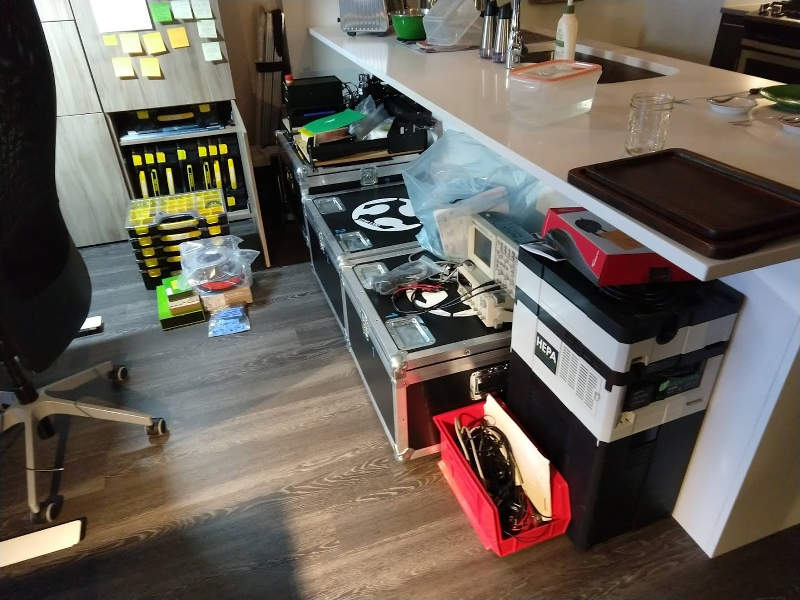 Community Prep Ideas:¶
Design 3D printed parts that are needed now (like fab labs in Italy did) but design them in a way that they could be mass produced with traditional tooling
Hack firmware on Continuous Positive Airway Pressure (CPAP) machines to operate them as ventilators. Add oxygen injection to CPAPs
Design a Fab Lab ventilator that can be made in any fab lab (and hacker / maker space
3D printable N95 masks or mask parts for medical personnel
3D print exhaust port mods for large stock full face respirators (speech pass through mods as well)
Manufacture test kit components, using both WHO and CDC standards
Make Personal Protective Equipment (PPE) for local hospitals until traditional Manufacturing infrastructure catches up
My Background with Rapid Response Manufacturing¶
Since 1991 I have been directly involved with the manufacturing of high tech metal castings for defense applications. From 1995 through 2011 I worked on rapid tooling and manufacturing processes directed by the North American Die Casting Association (NADCA). At NADCA I managed the rapid tooling and manufacturing process for making castings that various private and federal military entities required.
Initially the rapid tooling and manufacturing process were in a sort of prototype stage. However, by 2003, rapid tooling and manufacturing were coordinated by the United States Army Research, Development, and Engineering Command (RDECOM). Today the RDECOM is called the Combat Capabilities Development Command (CCDC) headquartered at Picatinny Arsenal in New Jersey. Today the CCDC is a subordinate command of the U.S. Army Futures Command. I specifically worked on reducing the time it took to develop, design, tool up and get fully approved production parts for the die casting process. This process used to take between 3 months to a year. The projects I worked on reduced this to 3 weeks to 2 months. So in the end a soldier could take a picture with a cell phone of what they needed and in 3 weeks to 2 months die cast parts would be in the field addressing that need.
To simplify, and in this context, the CCDC is tasked with designing and manufacturing what soldiers need on the battle field as quickly as possible. This meant that new, and much more rapid, ways of making tooling for and manufacturing metal castings needed to be developed.
I helped directly with Rapid Response Manufacturing at several of the die casting factories I worked at over the years. Just before taking my job at the Museum of Science and Industry, I worked at the manufacturing non-profit NADCA, as Design Engineer. At NADCA one of my tasks was helping improve the response time to get high performance metal castings from quote to delivery to the battle field. While at NADCA I revised and updated I made major updates to their Design for Manufacturing educational materials. I also taught NADCA's courses on Design for Manufacturing called Die Casting Design all across North America.
At one of the Army's CCDC labs, I taught my course on Die Casting Design for weapons and defense design engineers. The Lab I taught the course at was equipped with almost all of the machines used in manufacturing across the United States. This allowed "recipes" for making items to be developed quickly to help speed up the process of quoting and making manufactured items. Thinking back to that Lab that could "make almost anything", I realize now, that I was seeing a sort of Fab Lab for the military.
Since 2008 I have been building flexible CNC machines that could "make almost anything" in my small apartment. In 2010 I joined the Hackerspace Pumping Station: One where we mass built from scratch 40 rep rap 3D Printers.
I wondered if what I had learned about rapid manufacturing in the past could be used to serve the Chicago community during the COVID-19 disease outbreak.
I turns out that me and a close set of my hacker friends from Chicago were thinking the same thing. Coupled with the fact that Fab Labs and human centered design are already used to help with humanitarian aid, I had some starting ideas…
My Background with Direct Action¶
Since 1989 I have been involved with Direct Action in my local communities where I have lived. I believe in and participate in Direct Action to serve the needs and requests of local peaceful citizens. I despise endless talking, planning, and theorizing about what to do to help communities in duress. I believe doing something immediately with resources available in the moment is the fastest way to help. When duress subsides, I am interested in reflection on what happened to improve long term support of our communities, but more importantly to better prepare for direct action responsiveness in the future. This is not to say that I don't support long term plans to improve society, I spend most of my time doing that work, and planning for it. However all those plans are to the ends of actually executing the hands on work and directly supporting community building. Since I believe that many communities in the United States are under duress, I execute and organize individual and community based direct action on a regular basis.
Chicago Rapid Action Prototyping Group (ChiRAP)¶
I organized a google hangout group of local hacker friends and we researched efforts in Chicago to help with the pandemic. We also tested out 3D printing and making various PPE. We identified and verified the legitimacy of a local Facebook group that was producing a PPE design that was approved by a local hospital for 3D printed production. All communication on the design and delivery logistics was handled via the Facebook Page: 3D Printed Face Shields for Swedish
The PPE we 3D printed was the Swedish Face Shield designed by local designer Richard Beien.
On Wednesday March 25 2020 I printed my first swedish face shield frame on my home 3D Printer.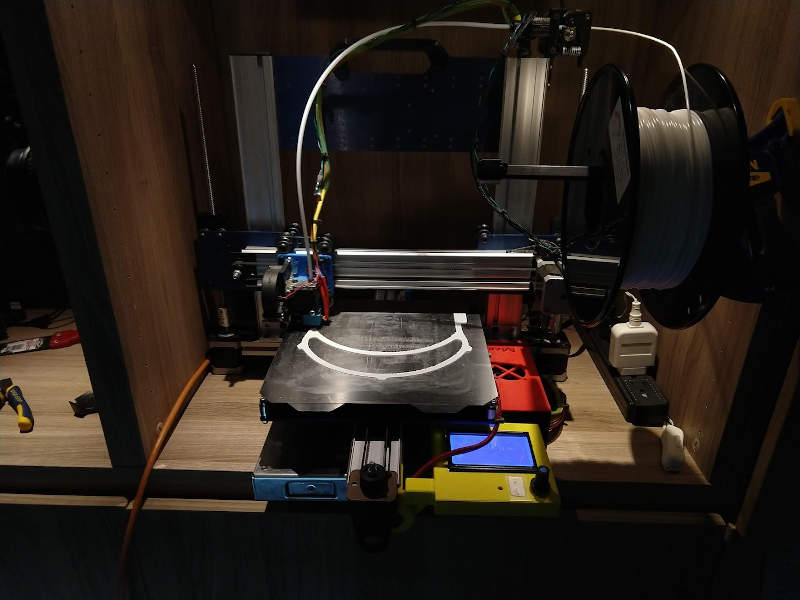 By March 27 I had delivered 14 face shield frames. By Saturday March 28 I had 3D Printed 27 frames. All across Chicago people were 3D Printing the same parts. By Saturday March 28 the need for one hospital was met and the search to supply other hospitals and other organizations was on.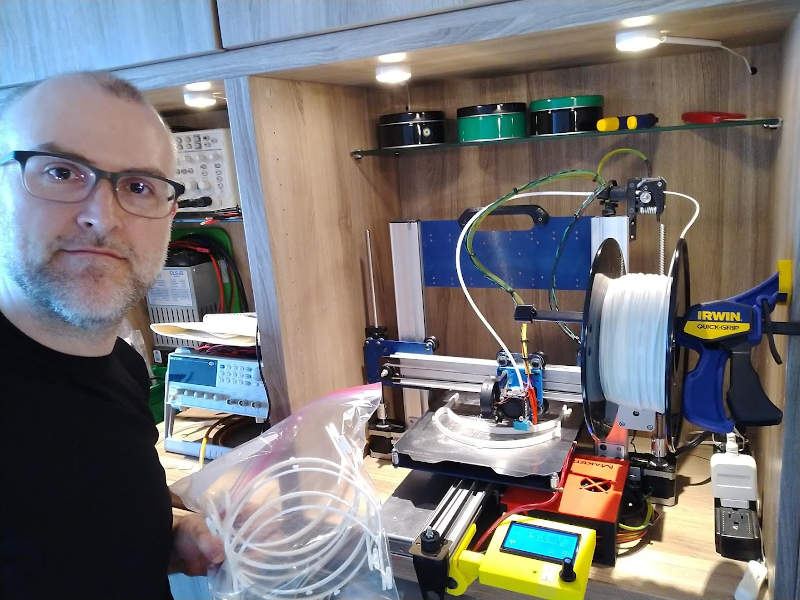 MSI Chicago Distributed PPE Manufacturing¶
The 6 employees of the MSI Fab Lab have been discussing planning preparation for COVID 19 since mid January. We we felt oddly ahead of the general Chicago area population in thinking about response and prep.
By late March 2020 a group of about 16 Chicago area hackers, makers, and Fab Lab leaders and operators had coalesced into multiple distributed manufacturing nodes across the Chicago-land area. The nodes are supported by the:
I am one of the core members of the Illinois PPE NETWORK. We meet each evening to discuss:
Production output
Design for manufacturing to increase and improve quailty of output
Support splinter nodes forming from nodes that are too large (high risk)
Support new nodes
Local courier logistics (military veteran drivers)
Support each other
Push for the release and distribution of more machines
Launch hard tooling for high volume production of the most requested PPE
Discuss other groups of workers beyond healthcare workers who need PPE
On Sunday April 4 2020 I picked up 20x 3D Printers for distributed Manufacturing nodes of 2-4 3D Printers in MSI co-workers homes.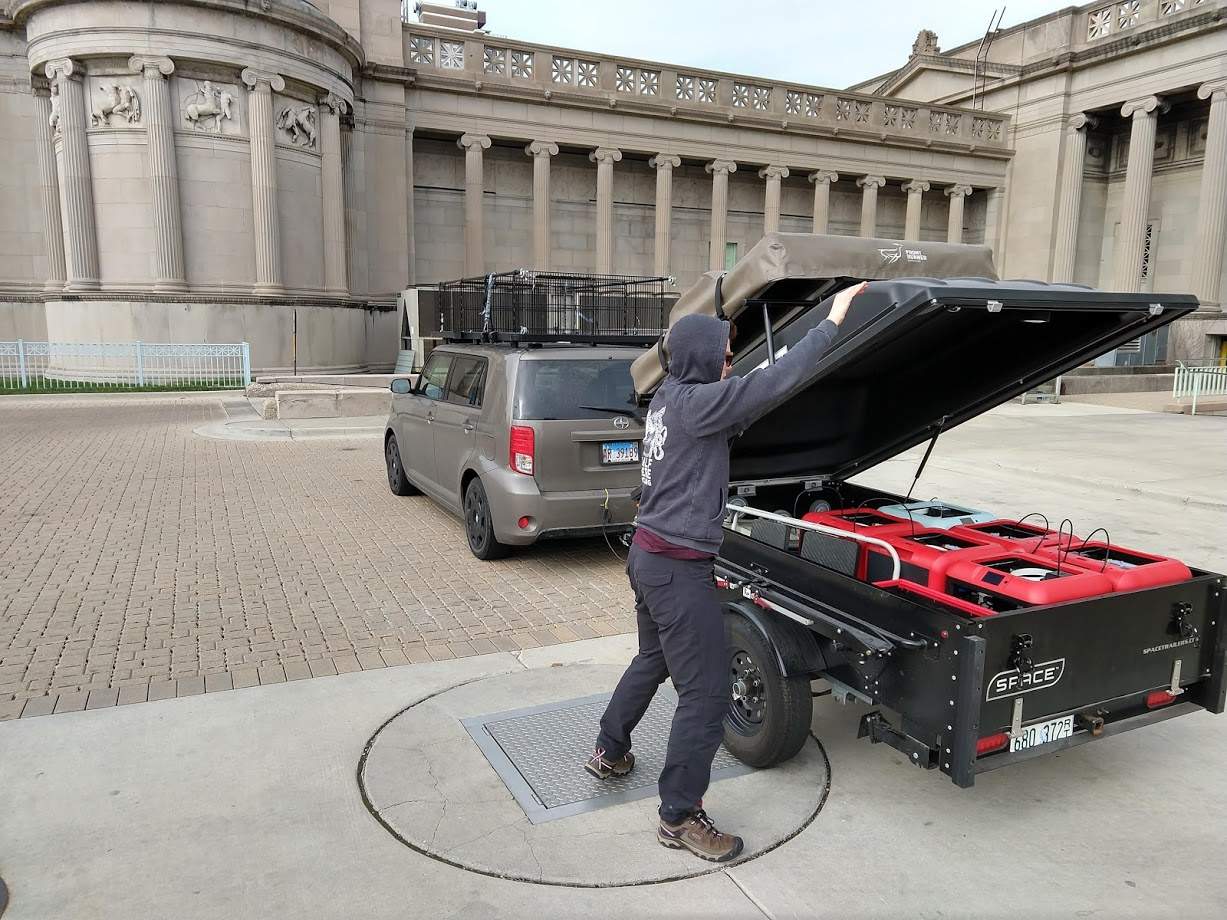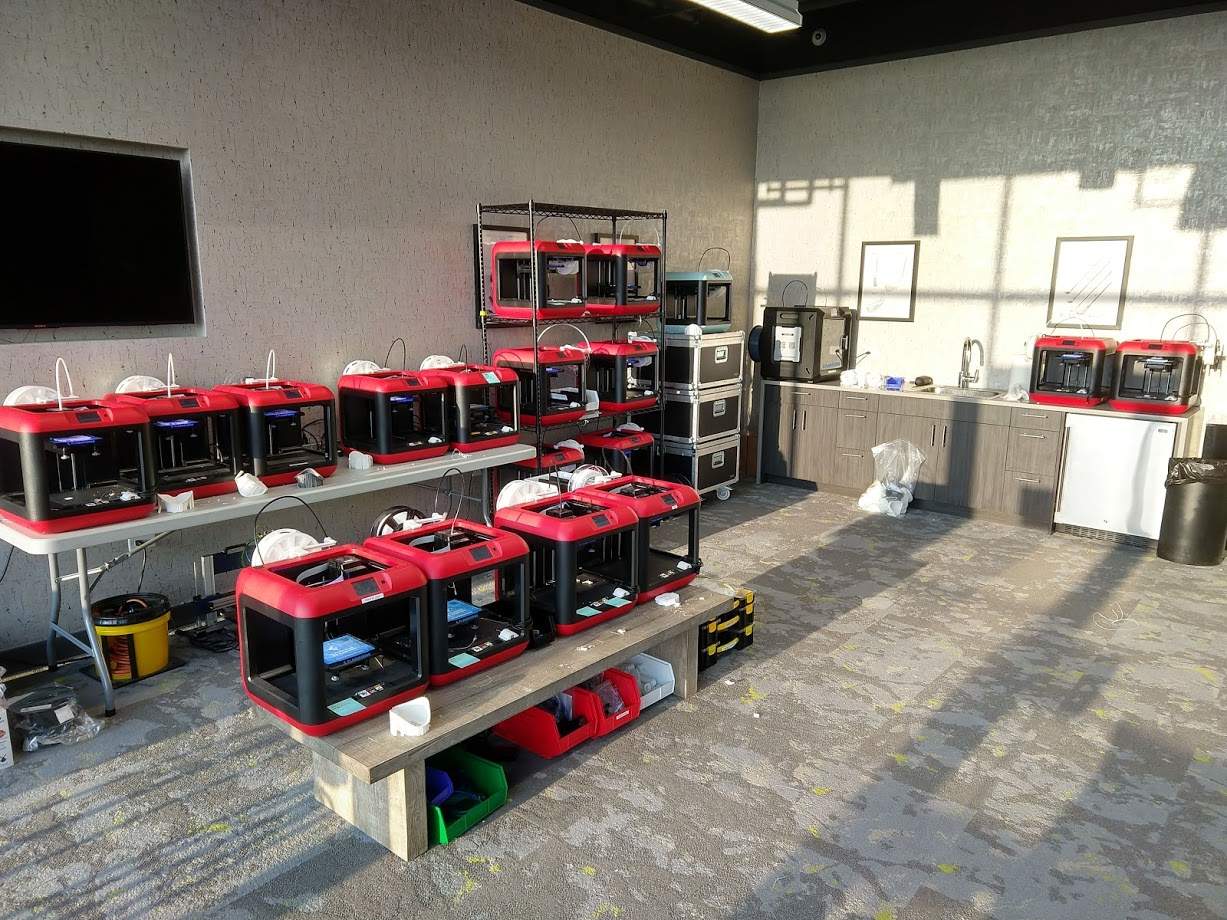 Fab Lab setup in a large room of my apartment building, supported by my building owners the Bozzuto Family.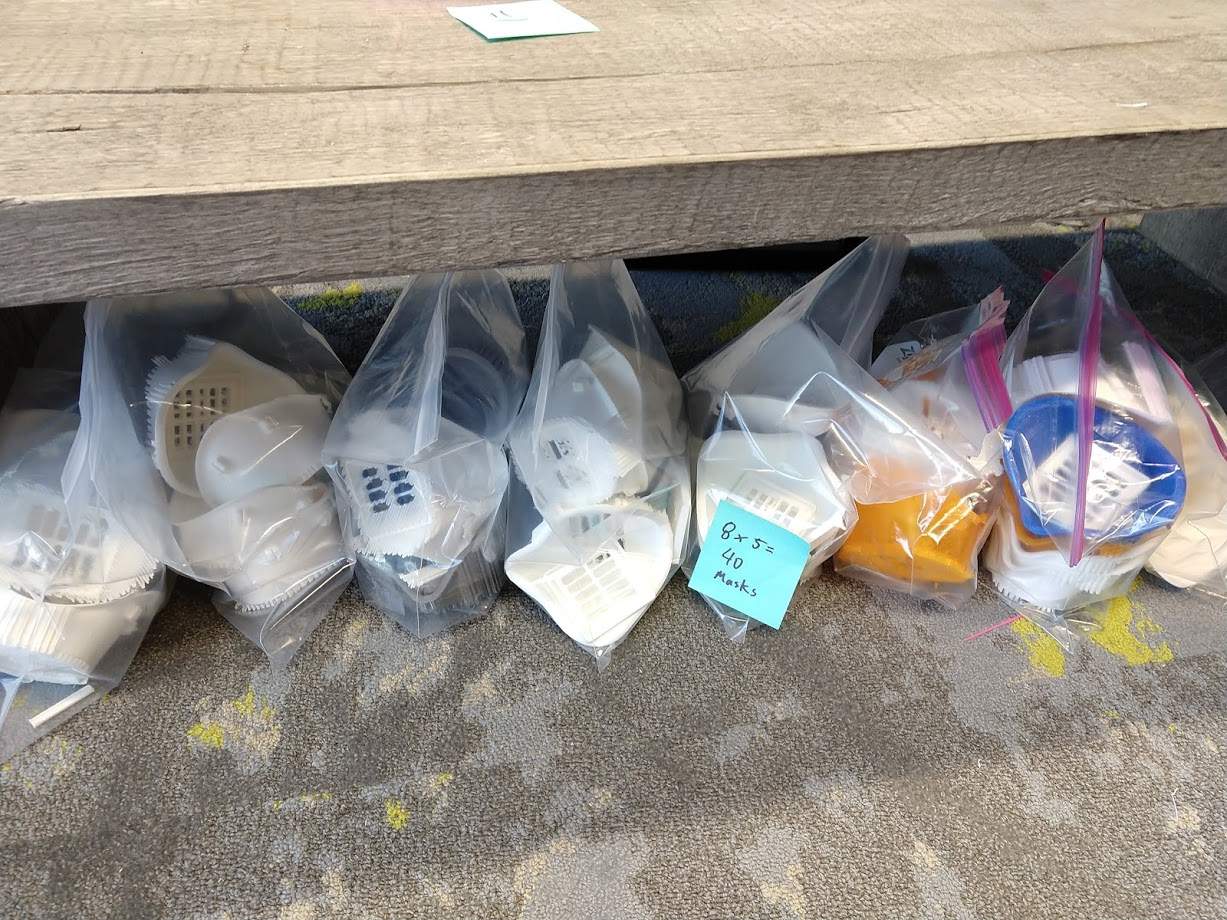 Experiments with 3D Printing NIH Stop Gap Masks and Shield frames was conducted over the next few days.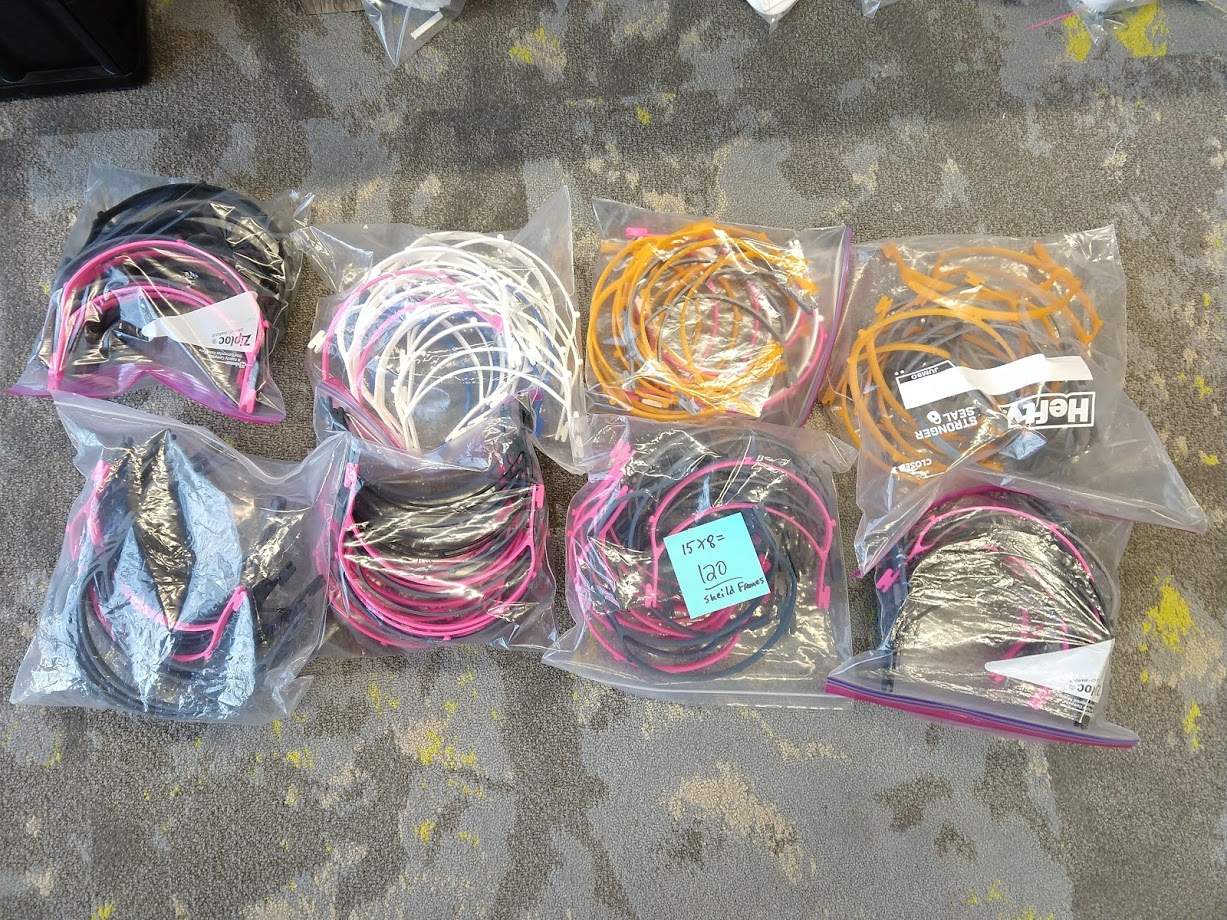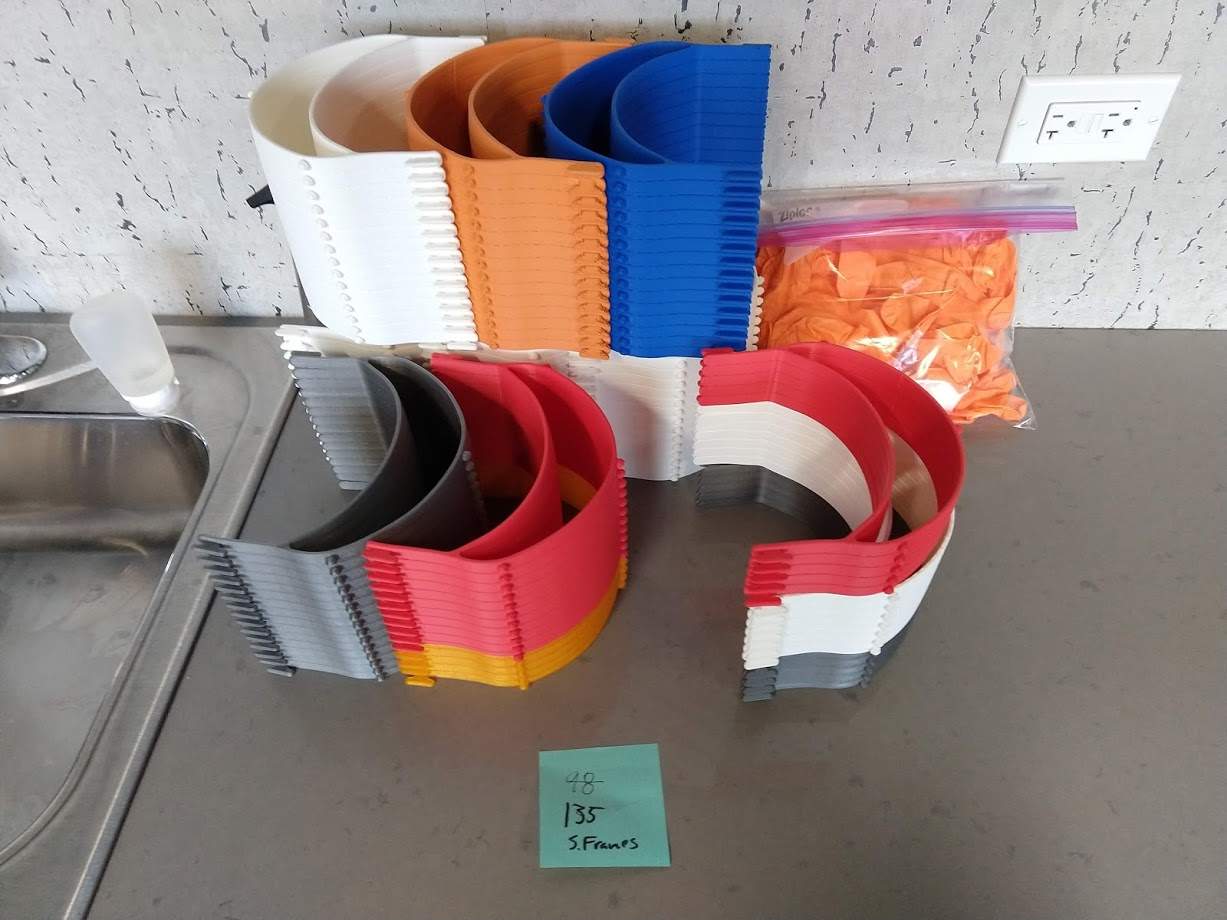 Shield frames were determined to be the best focus for distributed manufacturing for MSI employees on 3D Printers.
By April 14 2020 300 Face Shield Frames were being made per day
MSI Chicago Distributed PPE Manufacturing: Photo Album
Chicago Shield Frame¶
I created a Chicago Face Shield Frame 140mm design that allows printing on small 3D printers and stacking 15 Swedish face shield frames at once, resulting in a 9hr run time. This allows hundreds of small 3D Printers to print large numbers of face shield frames with very little attention from operators.
Share digitally
Fabricate hyper-locally
* With distributed machines
Between each part are numerous pillars that are .3 tall by 1.2 by .3 mm. By adjusting the frequency of these pillars along edges of the frame geometry an optimized serration was obtained.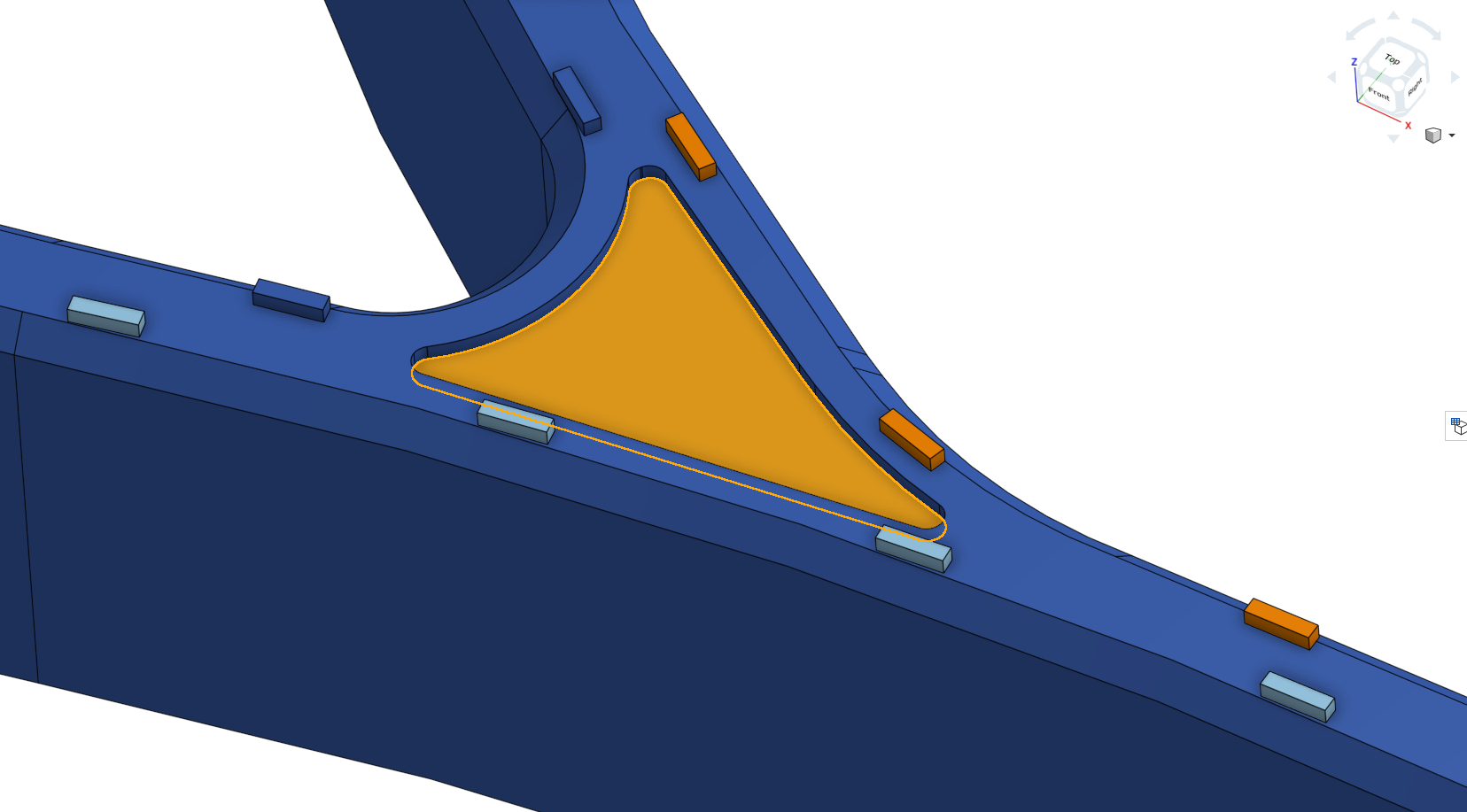 In addition a material saver pocket .3mm deep was added to the y-junction (thickest area) preventing stored heat from fusing the stacks. This special interface geometry allows easy separation of frames in a stack, while also maintaining structural integrity of the printing of each frame (no birds-nesting). Note that print layer height must be .3mm for the serrations to work.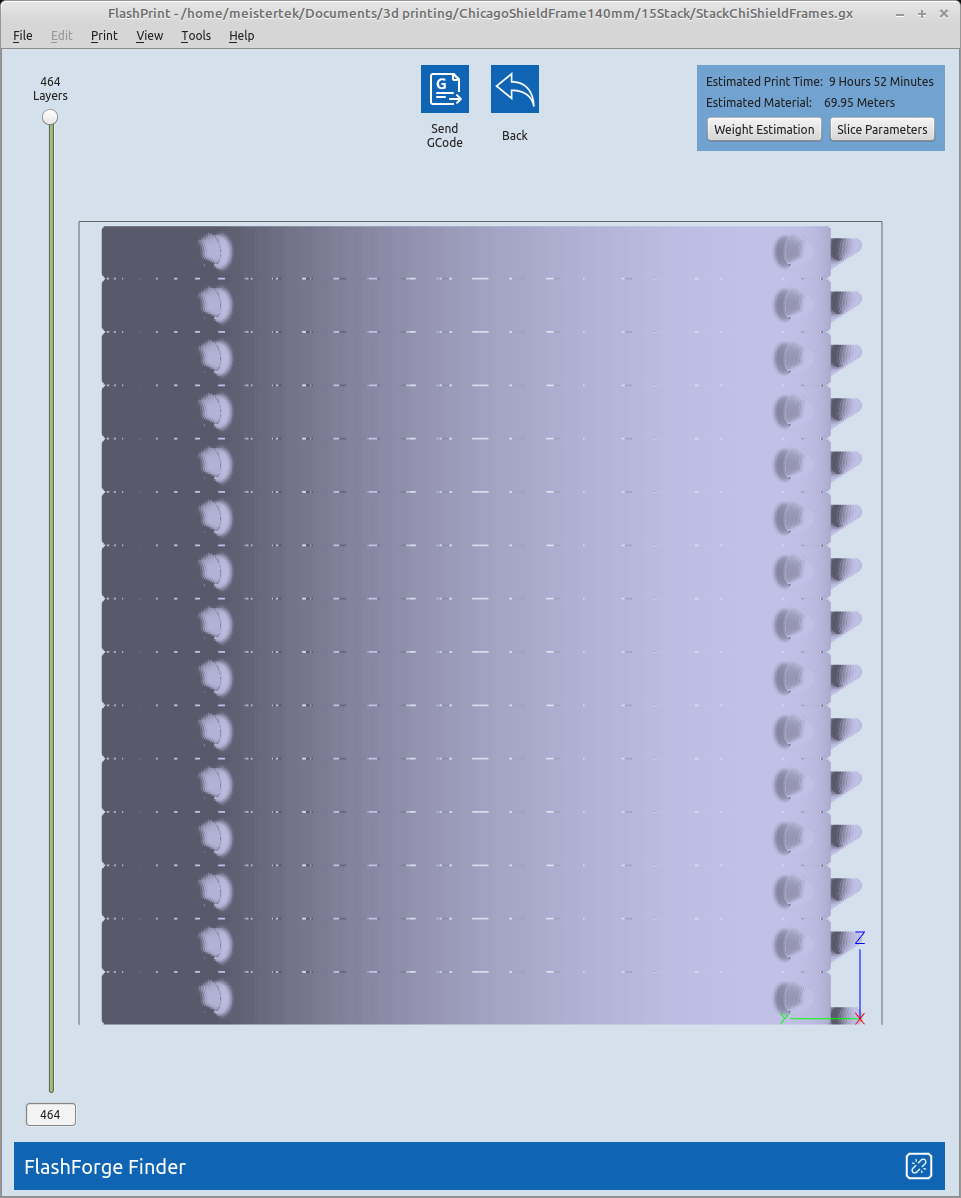 Serrations and pillars allow zipping apart stacks of 15 frames.
As you may have noticed the Chicago Shield Frame is bent inward and cannot fit onto a persons head. Using a household oven the frames can be heated to 200F for 3 to 4 minutes and then bent open top human head size.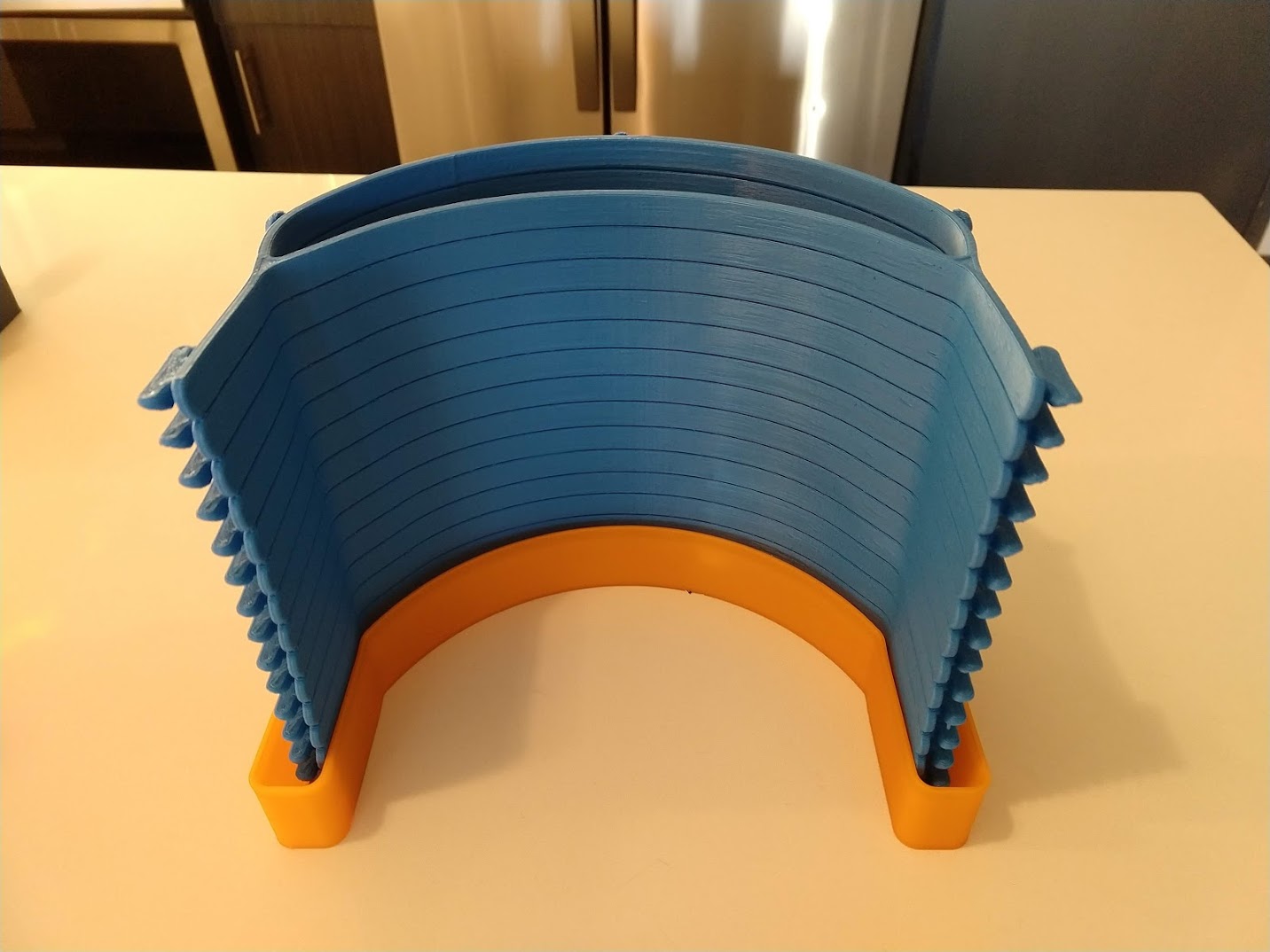 I designed a 3D printed cooling fixture to assist in the bending process. Since this fixture requires a large printer to print I printed them for small 3D printer operators on my three large format 3D Printers. Gaddy helped me create a video of how the bending process works.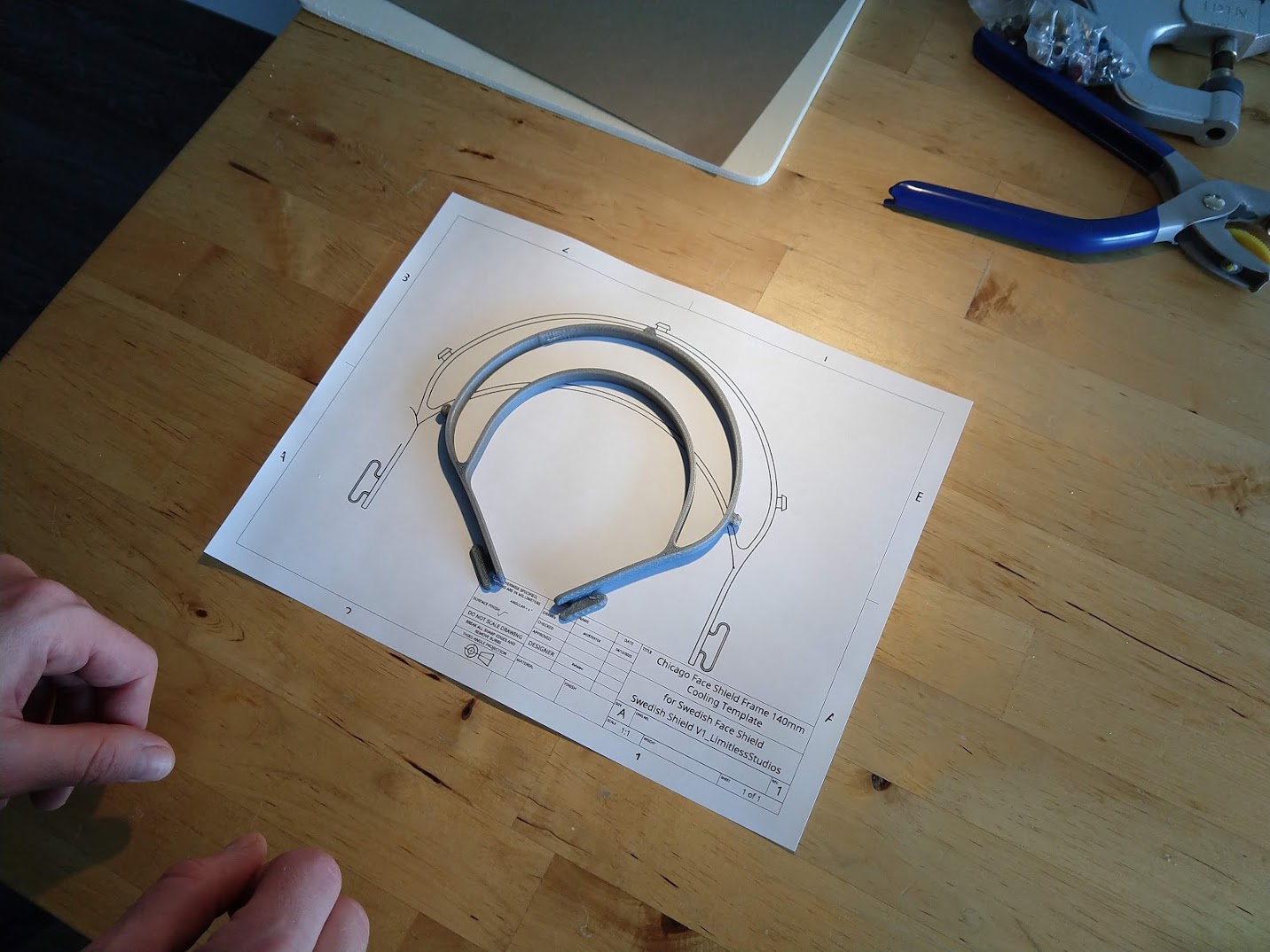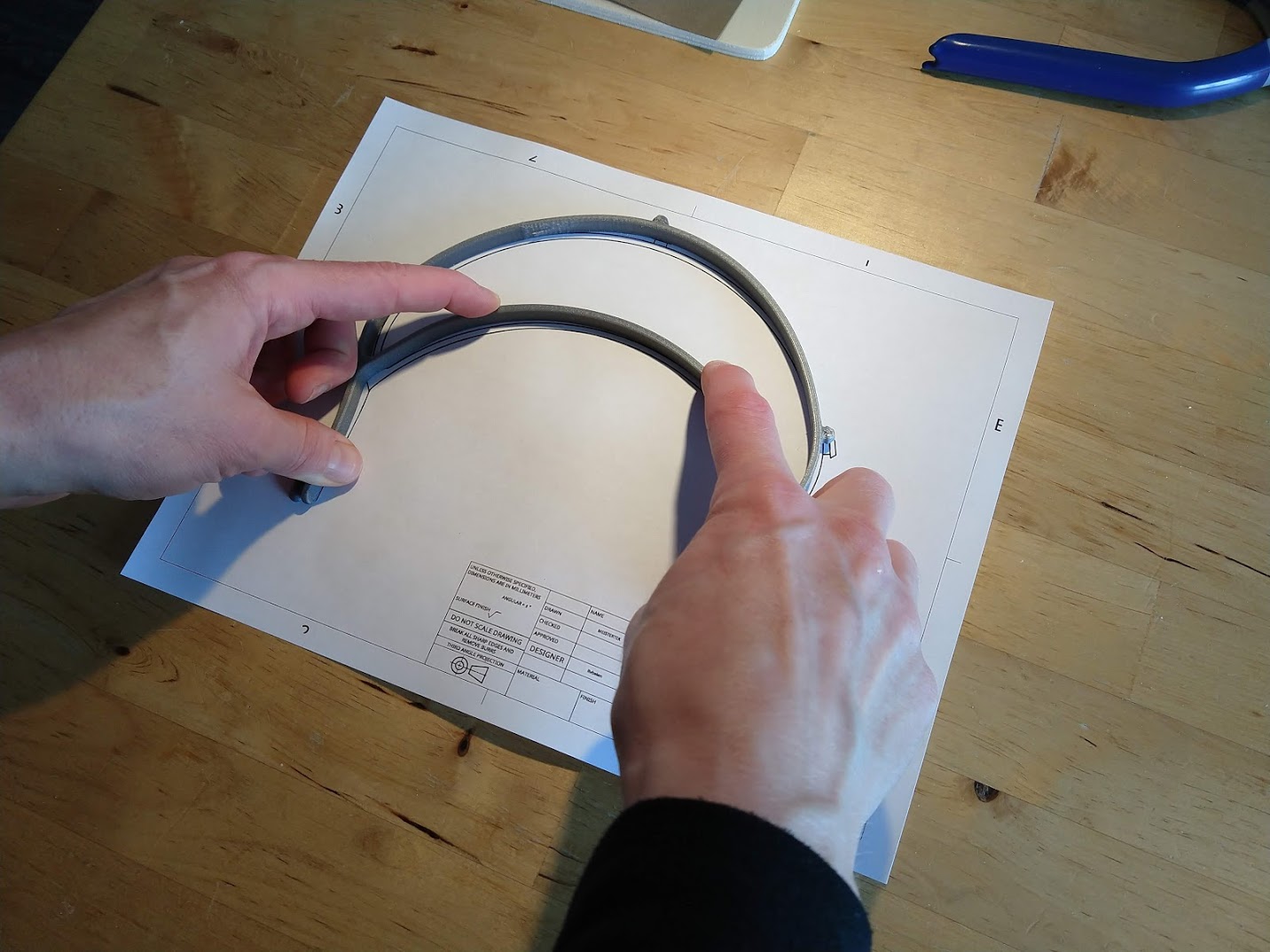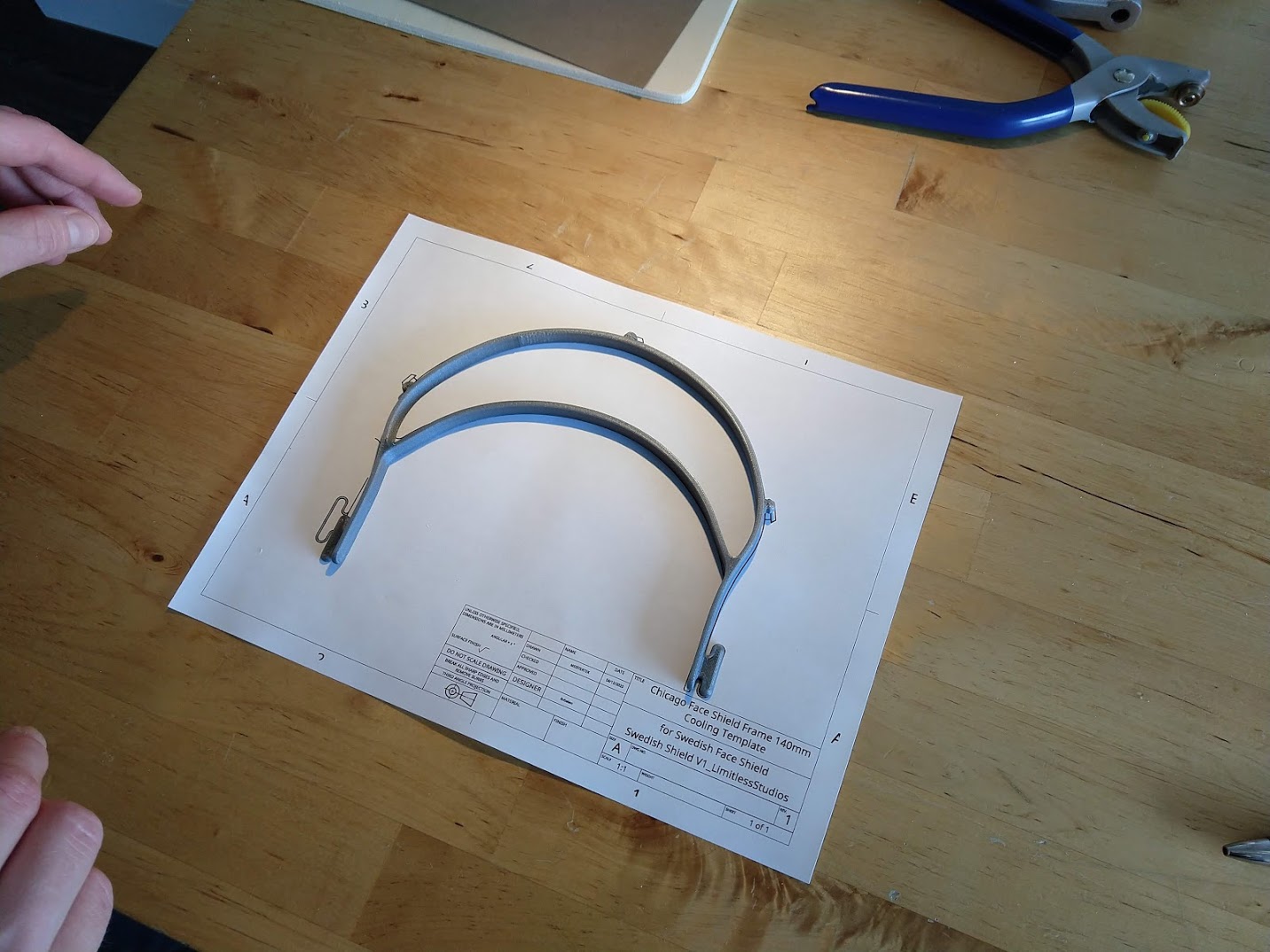 A paper PDF bending template was also developed. All files are posted on Thingiverse, see CAD Files section below.
The 3D Printer Mass Production Fallacy¶
Many people and experts comment that 3D printers are not the most effective tool for mass production for community driven needs in a crisis. That is flat out not true. Actually the opposite is true. 3D Printers are the most widely distributed digital manufacturing machine in the history of the world. 3D Printers are also quite capable of running with very little human interaction for up to a week while printing parts. This means that a farm of 3D printers, distributed across a city is capable of manufacturing a high volume of parts. Also within minutes all those 3D Printers can switch to printing a new geometry part. I used to criticize the 3D Printer as a serious fabrication tool, that was my "expert-itice" as a call it, when one gets blinded by their expertise. Being a Hacker I constantly question authority, including my own. We must do this in order to be truly open to innovation.
The MSI Fab Lab 3D Printer Farm at 811 Uptown manufactures 500 face shield frames per 24hrs. 500 face shield frames is the typical quantity that a medium size Chicago area hospital requests. There are certainly thousands of 3D printers in citizens homes.
I am hoping that my Fab Academy Final Project, Fab Shop, will help increase the range of digital fabrication machines hyper locally.
Creating FOMO¶
Or PR, or social engineering. During this time, my fellow hackers and I found FOMO to be a very powerful tool to cut through bureaucracies and red tape preventing workers from getting the PPE they needed immediately. Here is a list of articles and interviews I did while running the MSI 3D Printer farm making PPE and helping run and coordinate the IL PPE Network.
Plan C: Chicago Shield Part 4 – Binge-making with Dan Meyer, Make Magazine
Teeing Up 3D Printers to Make Personal Protective Equipment for Hospitals, Journey Home Blog
Norm Shield Frame Variant¶
I designed and 3D Printed a variant of the Chicago Shield Frame for larger 3D Printers that allows a stack of 15 face shield frames to be printed on larger printers. This design was completed because the currently available stacks of 3d printed frame designs were not as easy print and separate as the Chicago Shield stack. The serrations connecting the stack I designed are compatible with a wide range of filament materials running over a wide range of printing temperatures.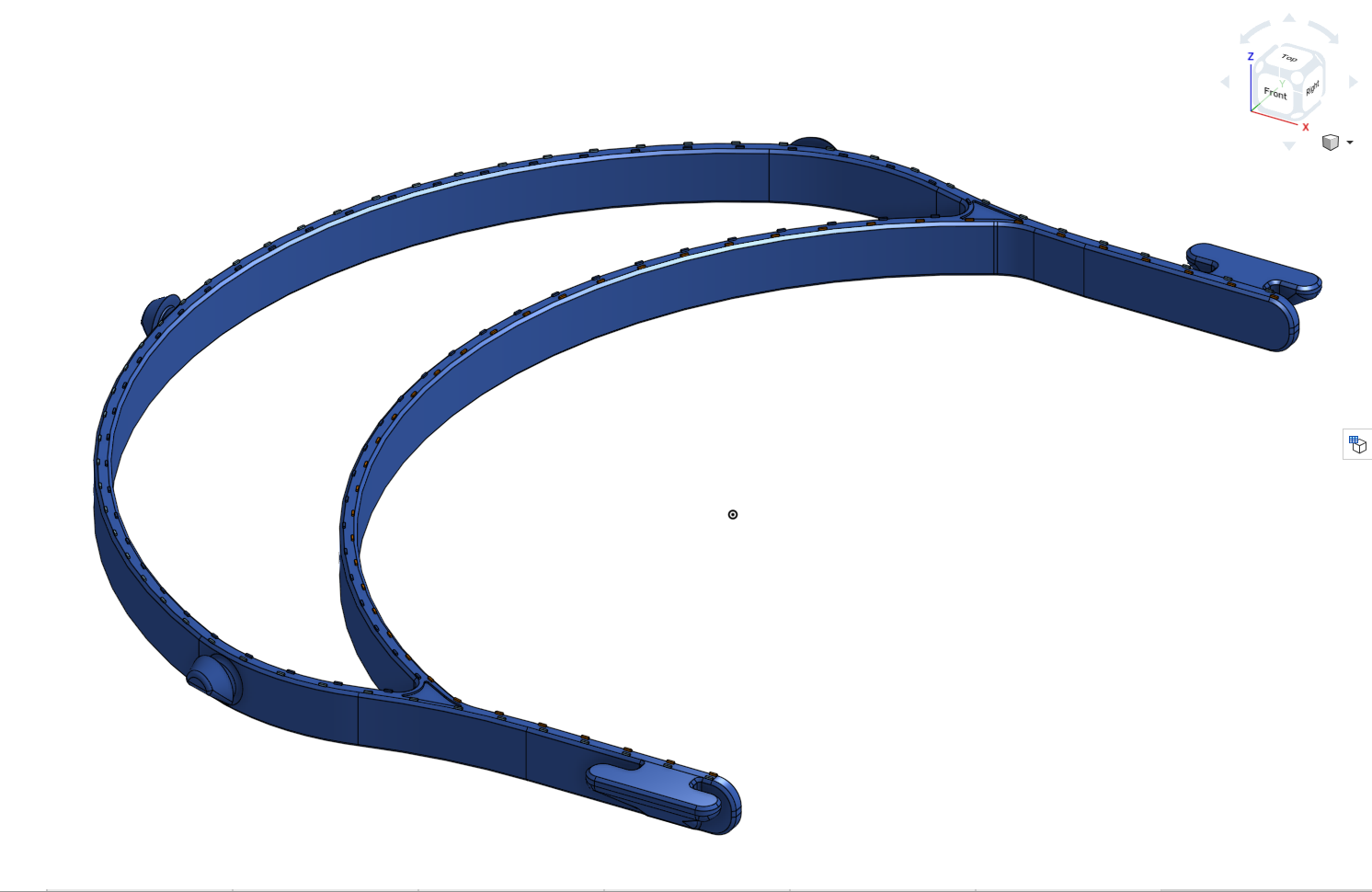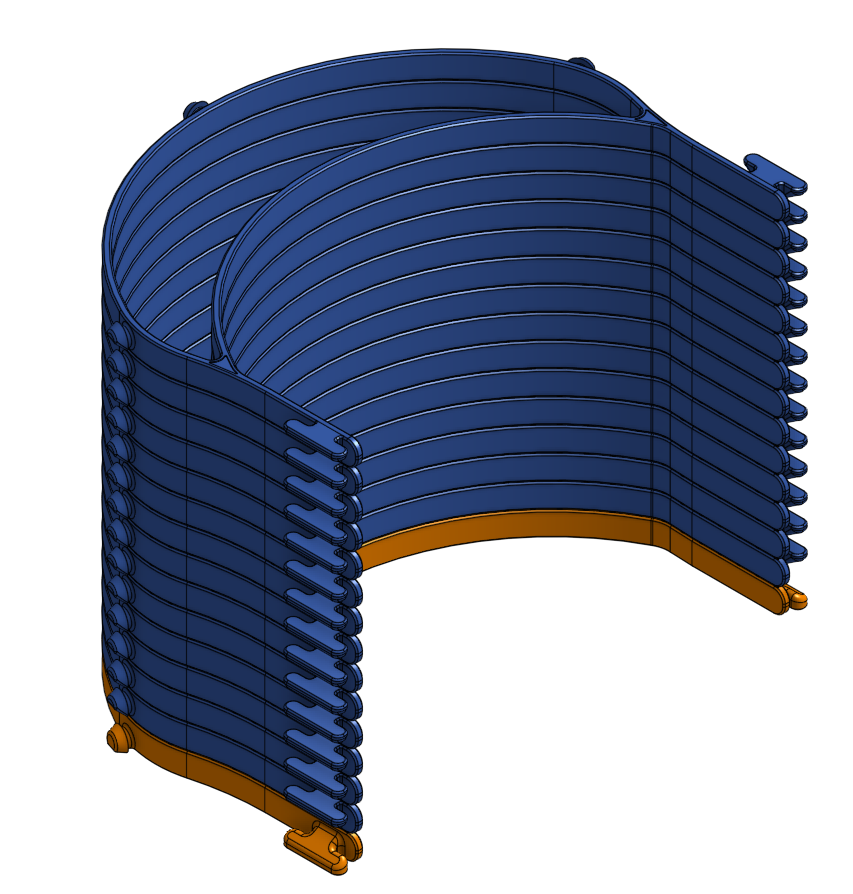 Chi Banana Top Cover¶
Towards the goal of obtaningto create a top cover for all face shields using ANSI A size (8.5x11 inch) 3 hole punched face face shields. This is top cover design is called the Chi Banana a nod to the 3D printable swedish banana top cover. The Chi Banana will be vacuum formed from the same ANSI A Size transparencies we use for the front shield on our locally made face shields.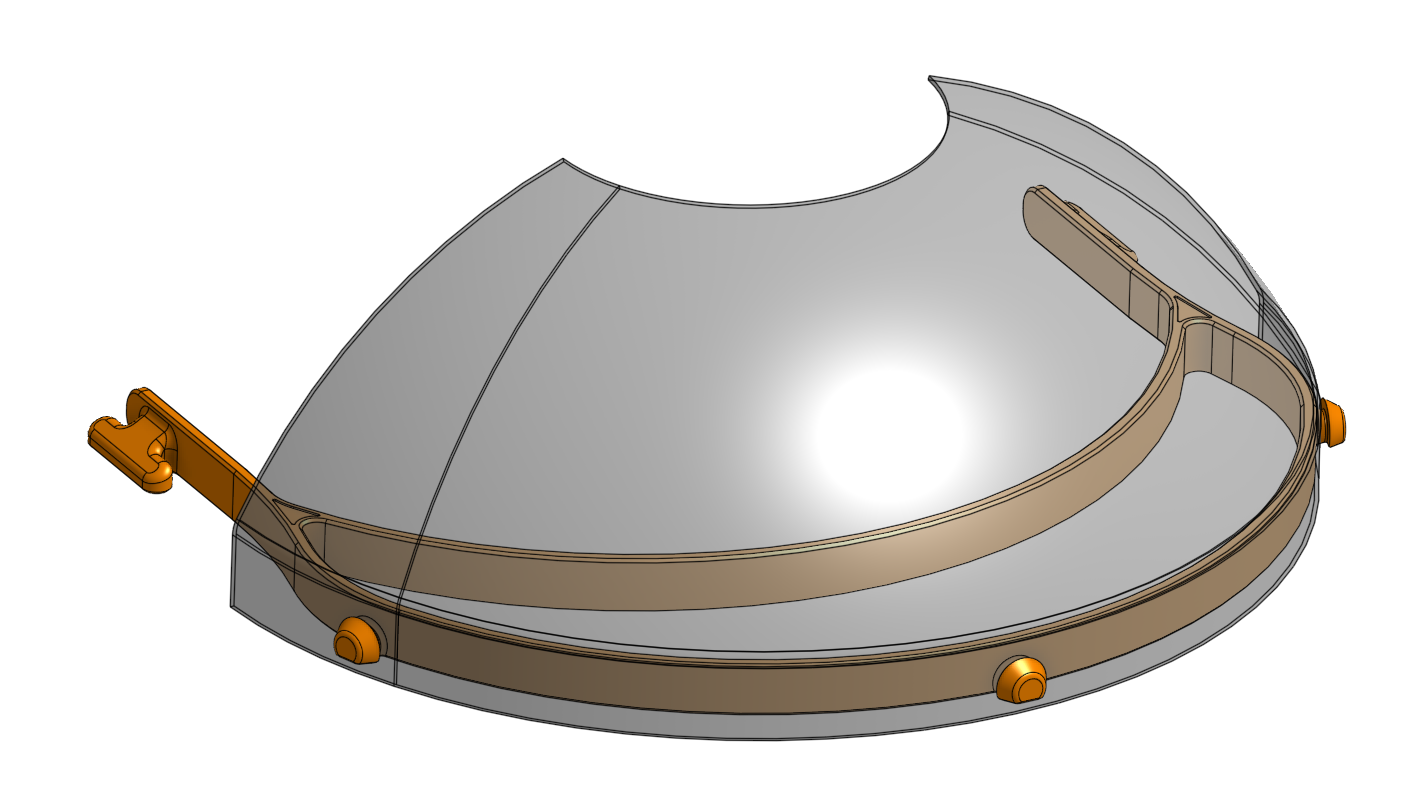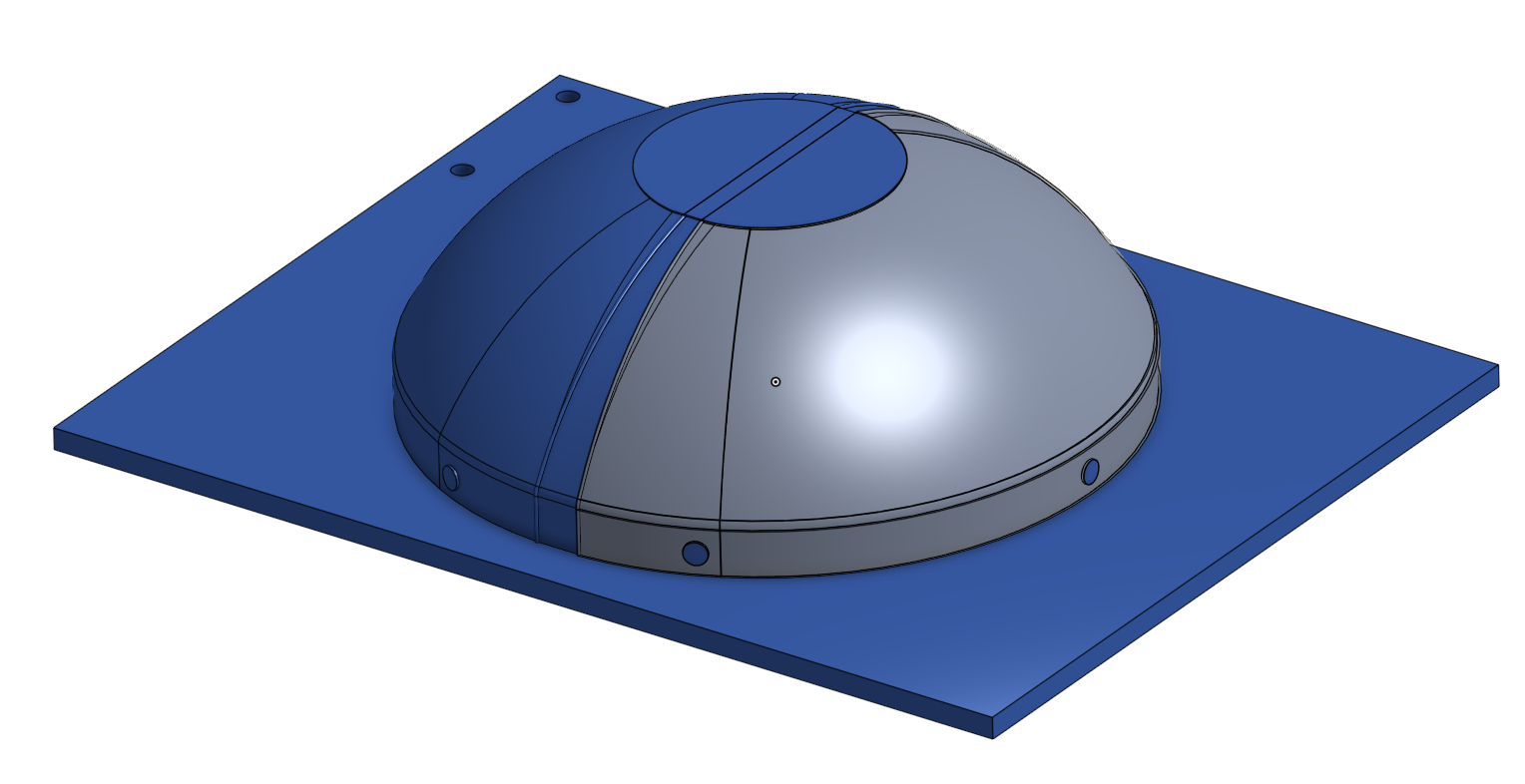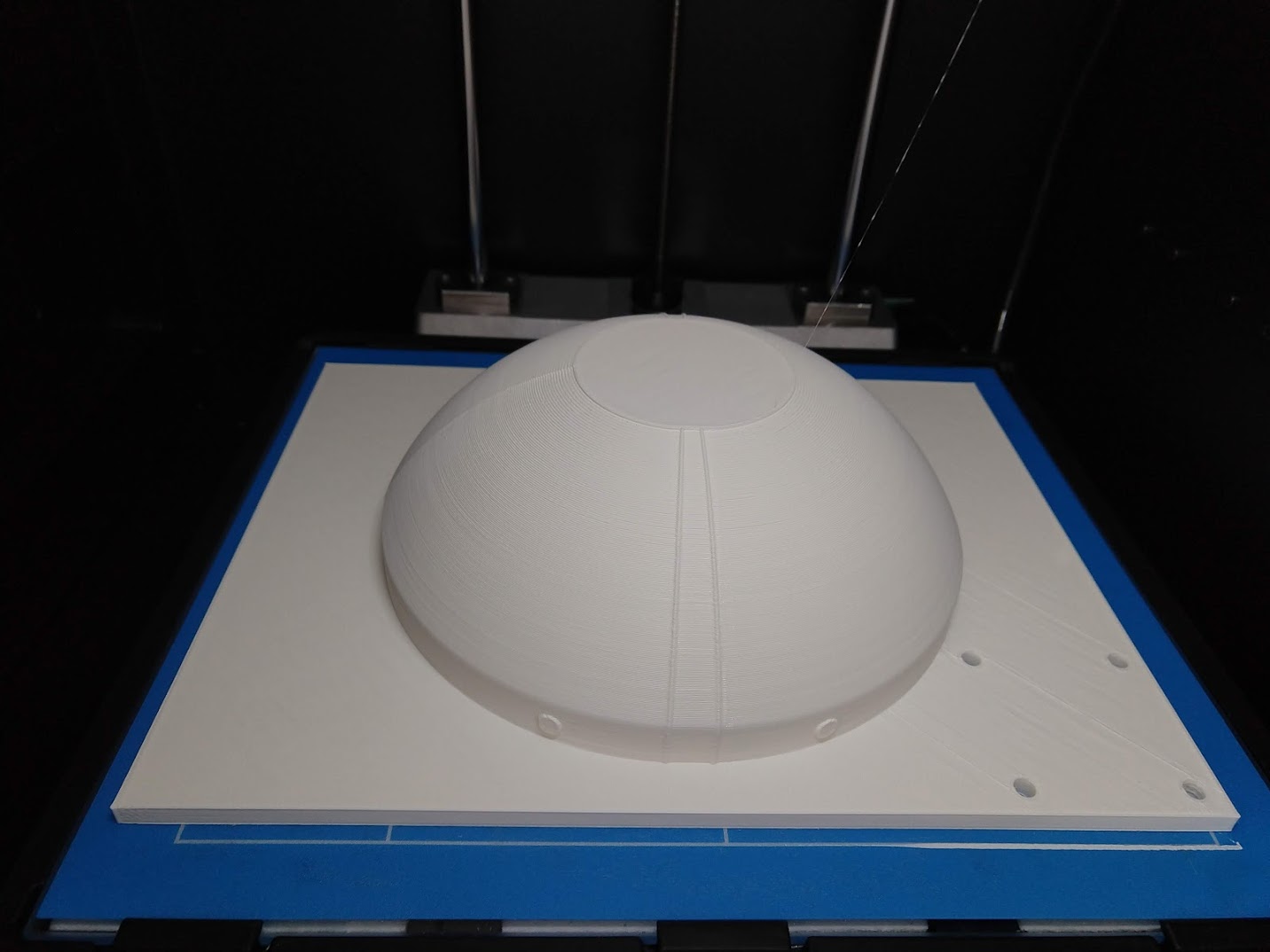 3D Printed Mold, vacuum port and will be added for vacuum molding.
Updates¶
April 14 2020: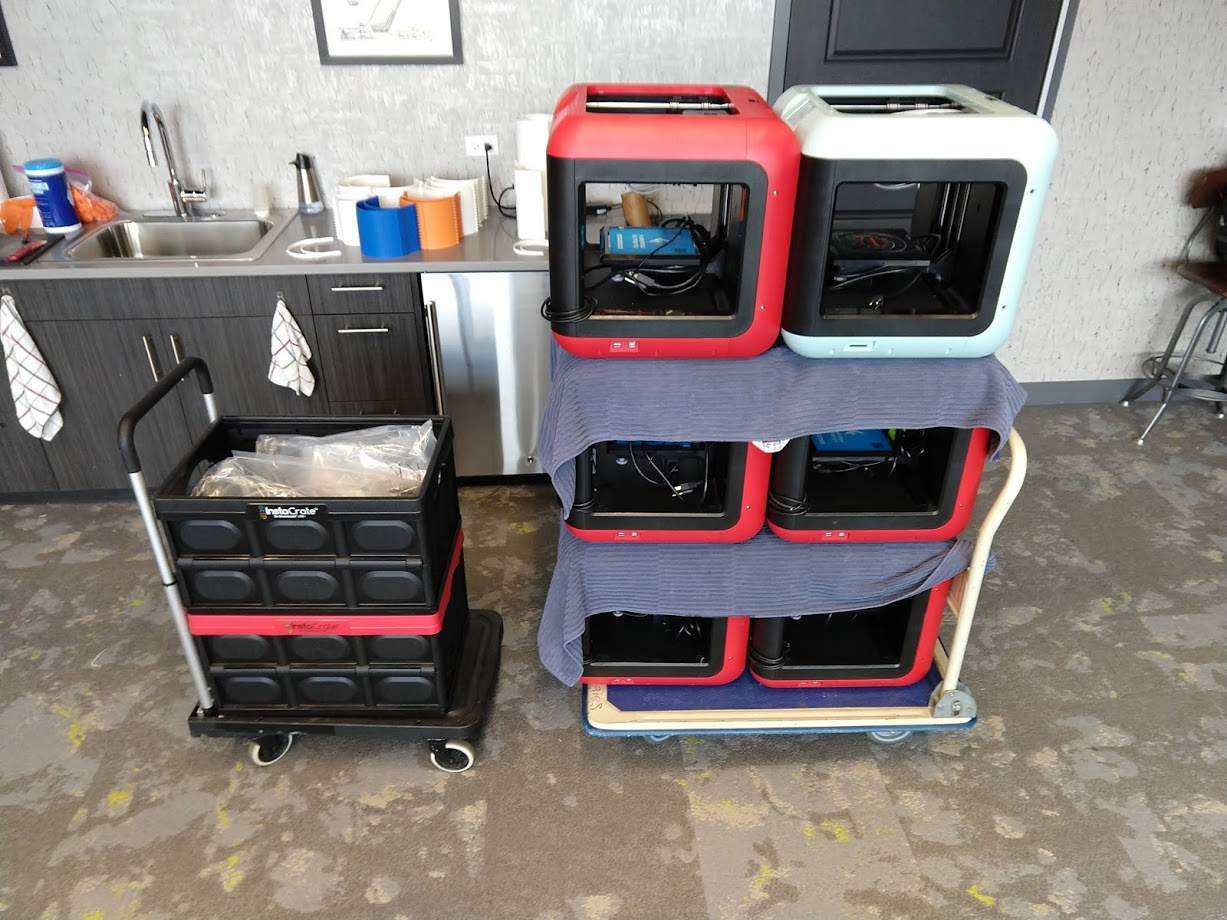 The first 6 MSI 3D printers were distributed to employees, reducing my farm down to 14 3D printers!
April 20: Over 600 Face Shield Frames were shipped to the Illinois PPE Network South Side Chicago Node.
April 20-26: I hope to distribute more 3D printers to MSI employees
April 25: After 20 days of running the 811 Uptown Chicago Fab Lab I have managed to rebuild and tune 20 3D Printers to the point where they can operate 24-7. Each printer can print 1 stack of 15 Chicago Shield Frames every 11hrs. This means at 100% capacity 600 Chicago Shield Frames could be made per day. 100% capacity is rarely achieved. At 84% capacity about 500 Chicago Shield Frames can be 3D printed per day.
April 28: At 5pm 2,340 3D Printed Chicago Shield Frames were couriered to the south side node. At this time 20x MSI 3D Printers have delivered 3,401 face shield frames to the IL PPE Network South Side and West Side Nodes.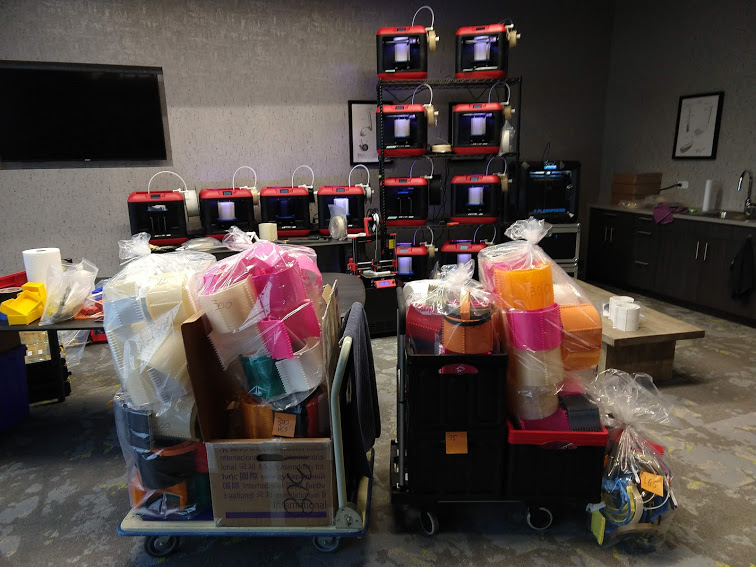 April 29: Jeff Solin and Dan Meyer discussed injection molds and other hard tooling to mass produce NIH approved fit test passable stop gap masks. We will ask the IL PPE Network if fit testable masks is something that is requested. Gowns continue to be the most requested item.
May 27: The 811 Uptown Chicago Fab Lab was shut down to be transferred to the south side of Chicago. Once relocated, several operators led by Jackie Moore who has several decades of community support experience will manufacture what's needed locally.
The 811 Uptown Chicago Fab Lab ran 24-7 non-stop from April 5 until May 25 2020. This is 51 days of operation. Over 8,000 face shield frames were 3D Printed during this time. This is an average of 157 face shield frames per day. Jackie Moore led her nodes on the south side of Chicago adding the rest of parts needed to assemble complete face shields. Jackie also distributed the face shields locally and identified the workers most in need of PPE.
I recently completely stopped printing face shield frames from my location (Uptown) on May 30. I then performed a plan shut down and redistribution of the 3d printer farm I was managing. Next, I transferred the 3D printers directly to the communities I was providing frames to on the south side of Chicago. I am now working with those communities to help them run the 3D Printers themselves to make what they need and want to make. We 3D Printed over 7,000 face shield frames after running the Uptown 3D Printer farm for 51 days straight.
All uptown fab lab frames were delivered to the far south side node in the Auburn Gresham neighborhood of Chicago. From there the frames were completed and distributed on the south and west sides of Chicago.
MSI PPE Production Dashboard Stats
811 Uptown Fab Lab Operators were:
| Operators | Number of 3D Printers |
| --- | --- |
| Dan and Gaddy | 14 |
| Eric | 4 |
| Kyle | 1 |
| Manny | 1 |
CAD Files¶
Chicago Face Shield Frame 140mm (Onshape CAD)
Chicago Face Shield Frame 140mm (Thingiverse)
Norm Frame to make PPE Face Shields