Task 19
Invention, intellectual property and income
In this week, I was given a task to develop a plan for dissemination of your final project.prepare drafts of your summary slide (presentation.png, 1920x1080) and video clip (presentation.mp4, 1080p HTML5, < ~minute, < ~10 MB) and put them in your root directory
License for the Final Project
Creative Commons is an international, multi-stakeholder nonprofit organization. It is diversely-funded by individuals, foundations, corporations, governments, and other institutions and agencies. Creative Commons aimes at helping people to legally share their "knowledge and creativity to build a more equitable, accessible, and innovative world", using the full potential of the internet for society development, growth and productivity. Their work spans a variety of different areas and partners working to create a more vibrant commons, such as arts and culture, open access, education and OER, open data, legal, open science and technology. For this, Creative Commons provides free, easy-to-use copyright licenses to make a simple and standardized way to retain copyright while giving the public permission to copy, distribute, edit, remix, and build upon one's creative work–on conditions of the creator's choice, all within the boundaries of copyright law.
Every Creative Commons license ensures licensors get the credit for their work they deserve. What is the different when compared to for example patents, which are national and having limited duration property right relating to an invention, every Creative Commons license works around the world and lasts as long as applicable copyright lasts (because they are built on copyright). These common features serve as the baseline, and on top of which creators can choose to grant additional permissions when they decide how they want their work to be used.
I decided to use this license. To choose a license, I should consider following questions:
Do I want to allow derivative works or not? // I selected Yes, as long as others share alike
Do I want to allow commercial use or not? // I selected No, Since I would like the project to be used for Academic and Learning purposes
After applying these features, I got in return:

This work is licensed under a Creative Commons Attribution-NonCommercial-ShareAlike 4.0 International License. I will use this for my Final Project.
If a creator decides to allow derivative works, she may also choose to require that anyone who uses the work to make that new work available under the same license terms. This idea is called "ShareAlike" standing for helping the digital commons grow over time. ShareAlike is inspired by the GNU General Public License, used by many free and open source software projects. Licensees must credit the creator, keep copyright notices intact on all copies of the work, and link to the license from copies of the work.
The MIT license is a permissive license for software originating at MIT. The MIT license allows reusing works with an only very limited restriction that all copies of the licensed software include a copy of the MIT License terms and the copyright notice. I am choosing MIT License to license my programming codes.
Since the Fab Academy is funded by my department. I would like to use this project for research purposes. Currently the project that I made will be used in the Antennas laboratory to perform measurement. The project will also be used for teaching purposes in the course of Antennas and Radio channels.
Summary :
Where most of the licences seem to be for licensing software, such as the MIT License, the Creative Commons is for any creative work, such as art work and designs. I decided to license all the content of this documentation website and my final project utilizing the Creative Commons license of the Attribution-NonCommercial-ShareAlike 4.0 International License, appreciating the condition, that people acknowledge the creators. I am glad to distrubute my project and if someone finds it inspiring to utilize, respecting the work I have done and mentioning me in their project. The programming codes will be licensed using the MIT license.
Project Poster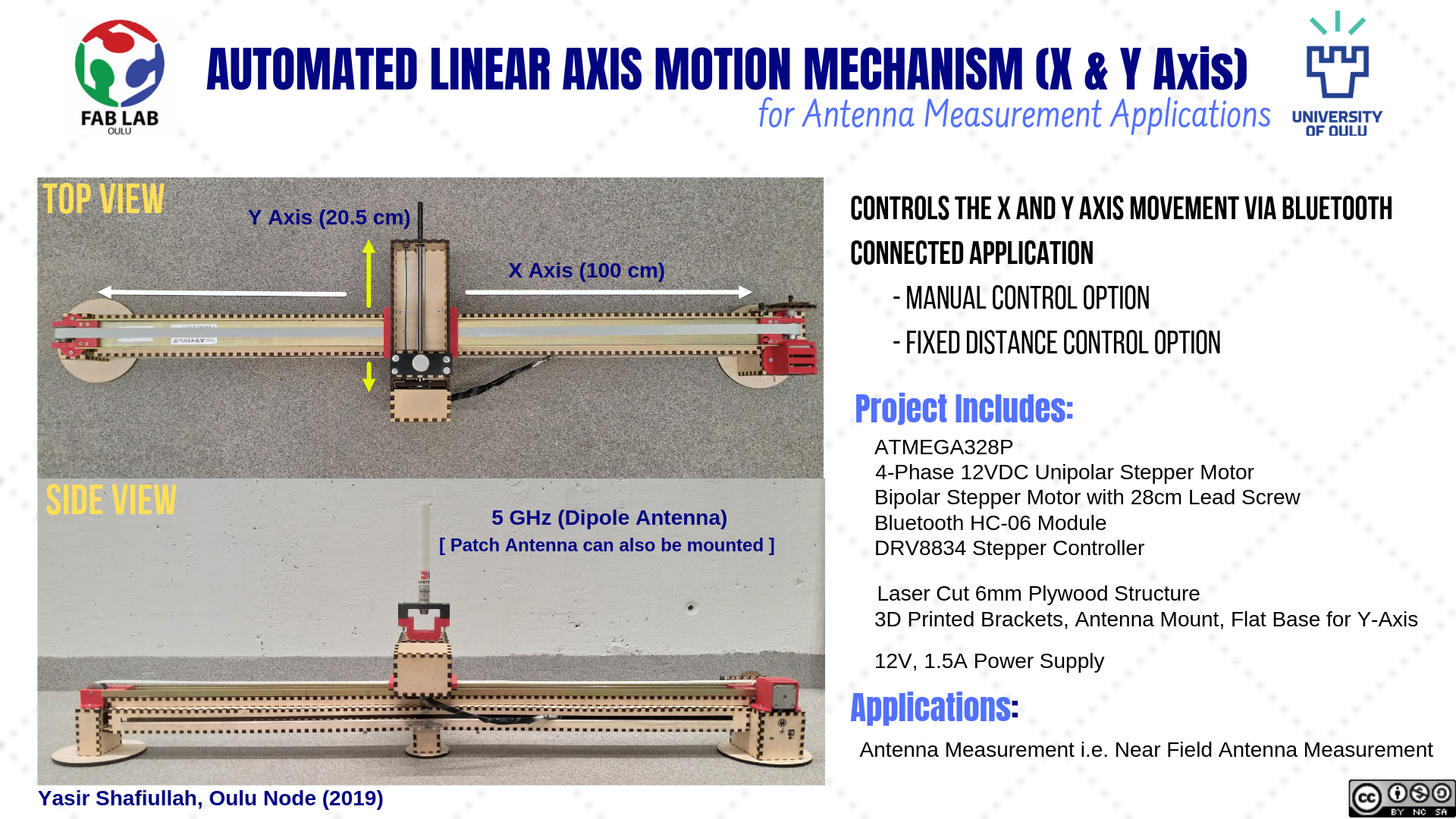 Project Video
---
---