Introduction
Assignment for this week
We should use
• raster,
• vector,
• 2D,
• 3D,
• render,
• animate,
• simulate



Computer-aided design or just CAD is the use of computer in the formation, modification, analysis, or setting the behaviour of a design. CAD software increases the efficiency of the designer, better the designs quality, improves documentation, and manipulates the database formed for manufacturing. The output of the CAD is often in the form of electronic files. Following are some CAD software discussed.

For this week assignment I chose Corel Draw, Adobe Photoshop, AutoCad, Fusion 360, Rhino Ceros software.

Corel draw
Corel draw is a vector graphics editor developed and marketed by Corel Corporation, which includes the bitmap-image editor Corel Photo-Paint as well as other graphics-related programs.
Adobe Photoshop
Adobe Photoshop is a raster graphics editor developed and published by Adobe Inc. for Windows, Mac. Photoshop can edit and compose raster images in multiple layers and supports masks, alpha compositing, and several color models including RGB, CMYK, CIELAB, spot color, and duotone. Photoshop uses its own PSD and PSB file formats to support these features. In addition to raster graphics, this software has limited abilities to edit or render text and vector graphics (especially through clipping path for the latter), as well as 3D graphics and video. Its feature set can be expanded by plug-ins; programs developed and distributed independently of Photoshop that run inside it and offer new or enhanced features.


AutoCad is computer – aided design software developed by Autodesk and is not free software, but have 36-month renewable license for students and educators. It supports a number of APIs (application programming interface) for customization and automation. I had Autocad on my computer and usually use it for my projects. I think it is the best software for engineers, architects to make 2D and 3D design.

started
• I chose object/"rectangle" from the tool bar
• After chose another one and put on the corner of the big one
• Chose "trim" command and delete extra lines
• I also used "mirror" and continued my drawing and others
AutoCad main tools I used
• Trim
• Extend
• Move
• Rotate
• Line
• Rectangle
• Mirror
• Scale and others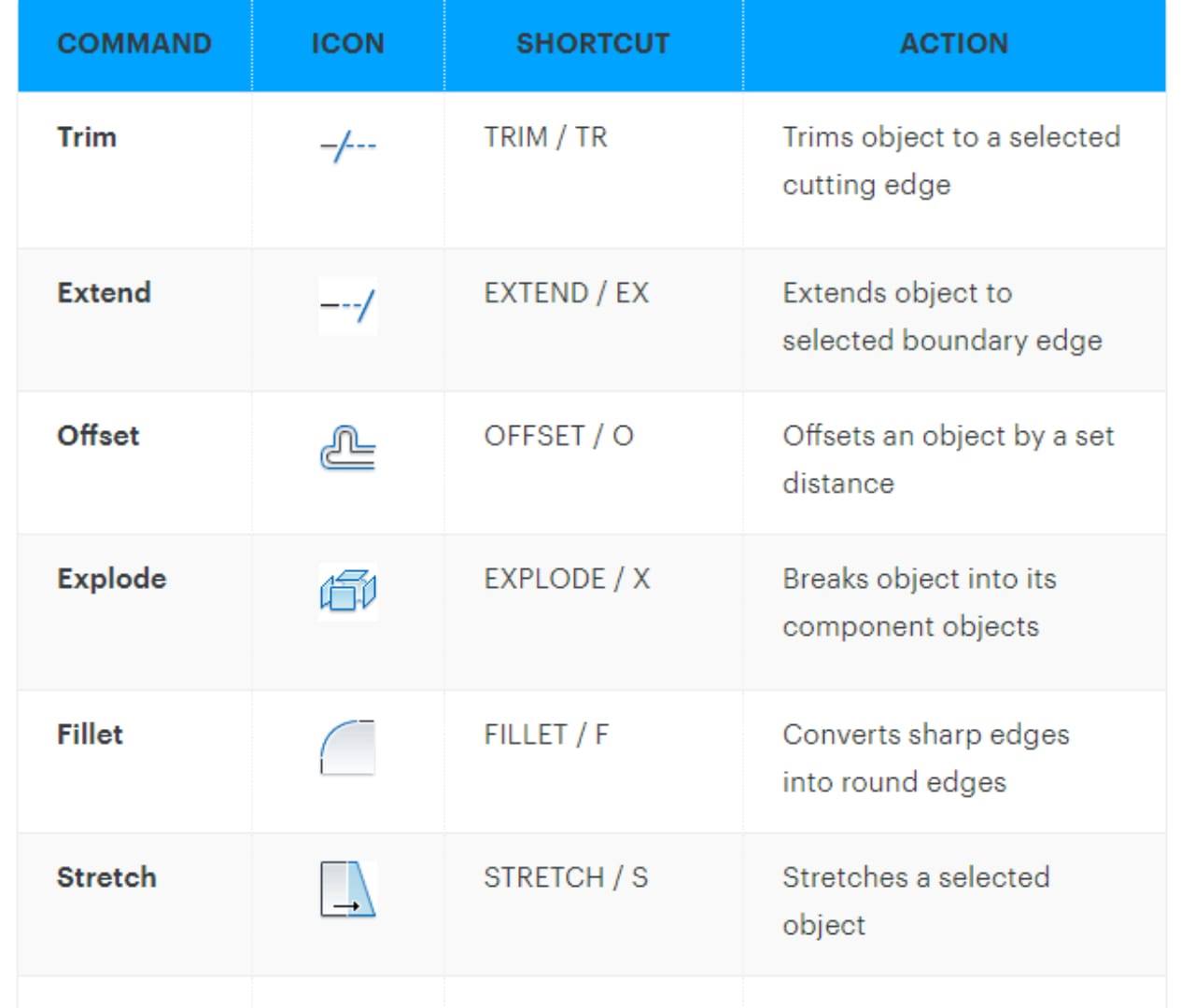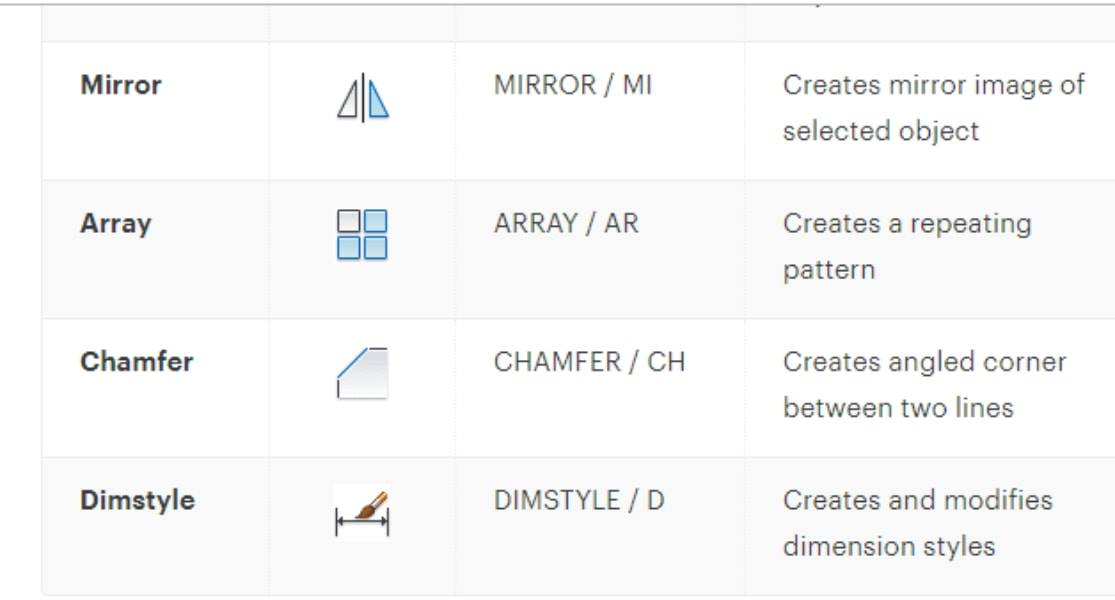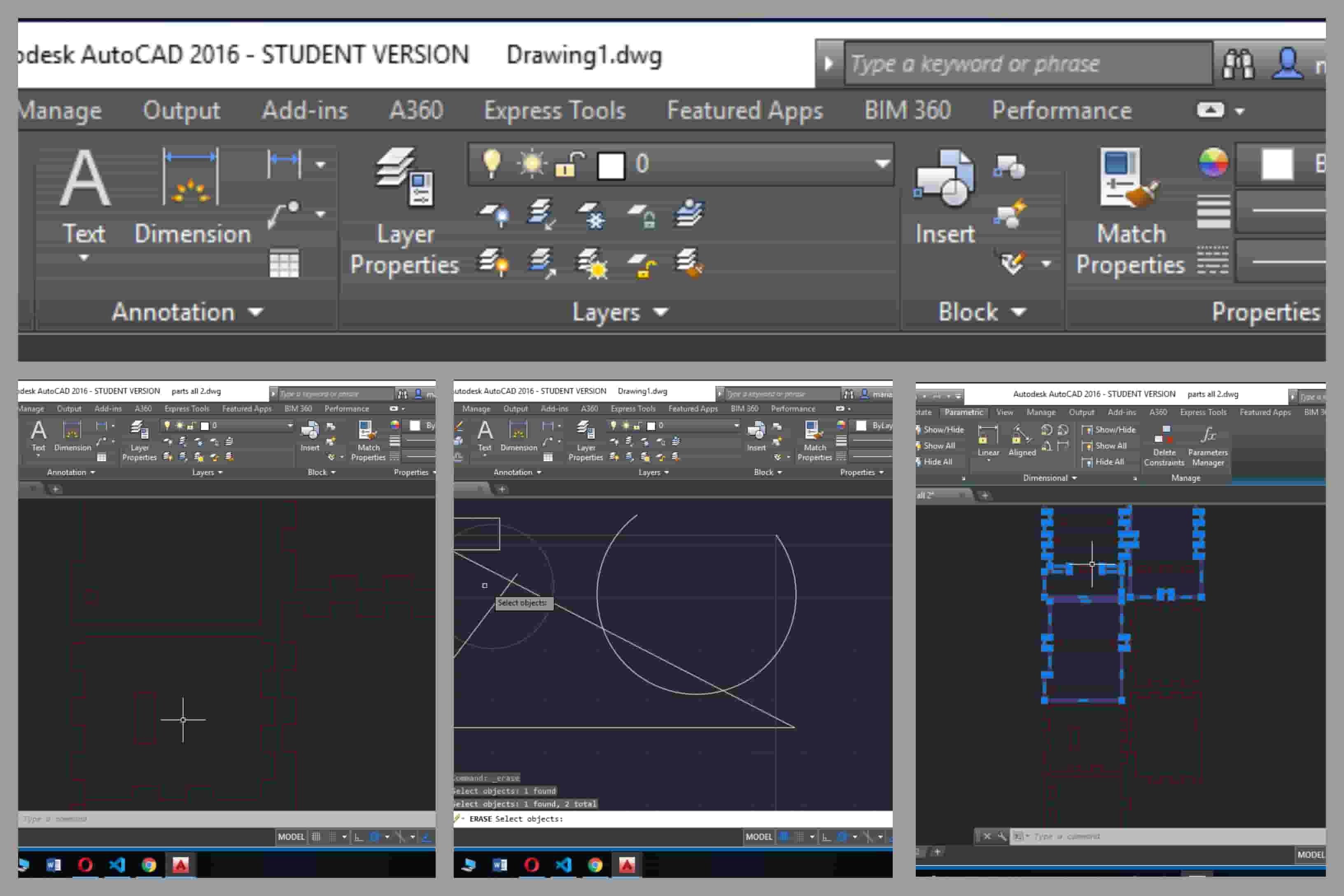 This video describes, what is AutoCad. In tutorials I watched and read found out about the parametric design and decided to learn it. I think it is good idea to start learning as I should use it on next week.
During the drawing process
• I draw 4 rectangles (One big, 3 little)
• Trim the rectangles
• Mirror them.


Fusion 360

During the week I was going to test different 3D modeling softwares and choose one for the development of my final project. The first was Fusion 360, it is paid but has renewable license for students and educators. I started watching tutorials to understand how it works. After learning how to use tools , I started designing a pantograph.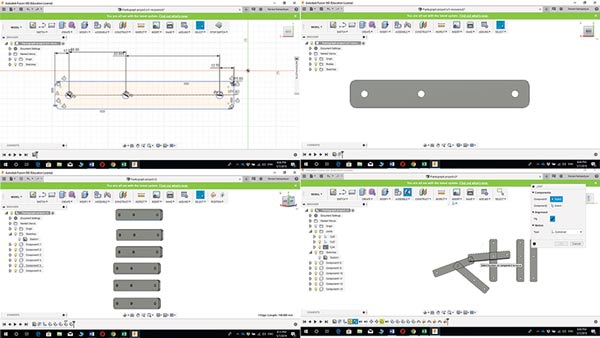 Fusion 360 is also product of Autodesk, and it has educational free licence. Fusion 360 is the first 3D CAD, CAM, and CAE tool of its kind that connects entire product development process in a single cloud-based platform that works on PC, Mac, and mobile devices. • Downloaded the software from Autodesk website, activated my profile
• Opened sketch and started sketching the pantograph






• Draw rectangle - fillet the angles
• Pointed
• Gave the intervals, angles, dimesions
• Stopped sketching and built .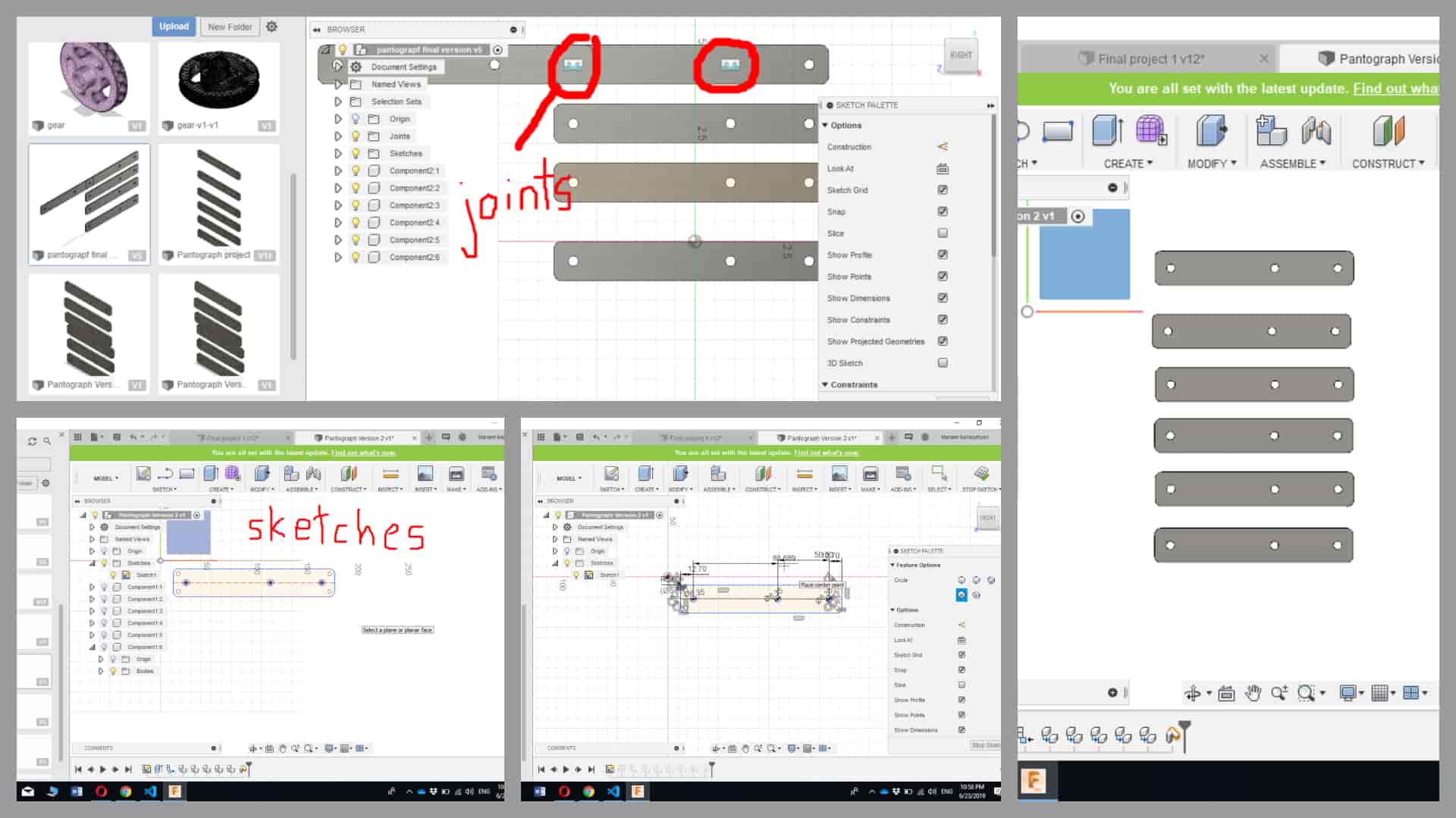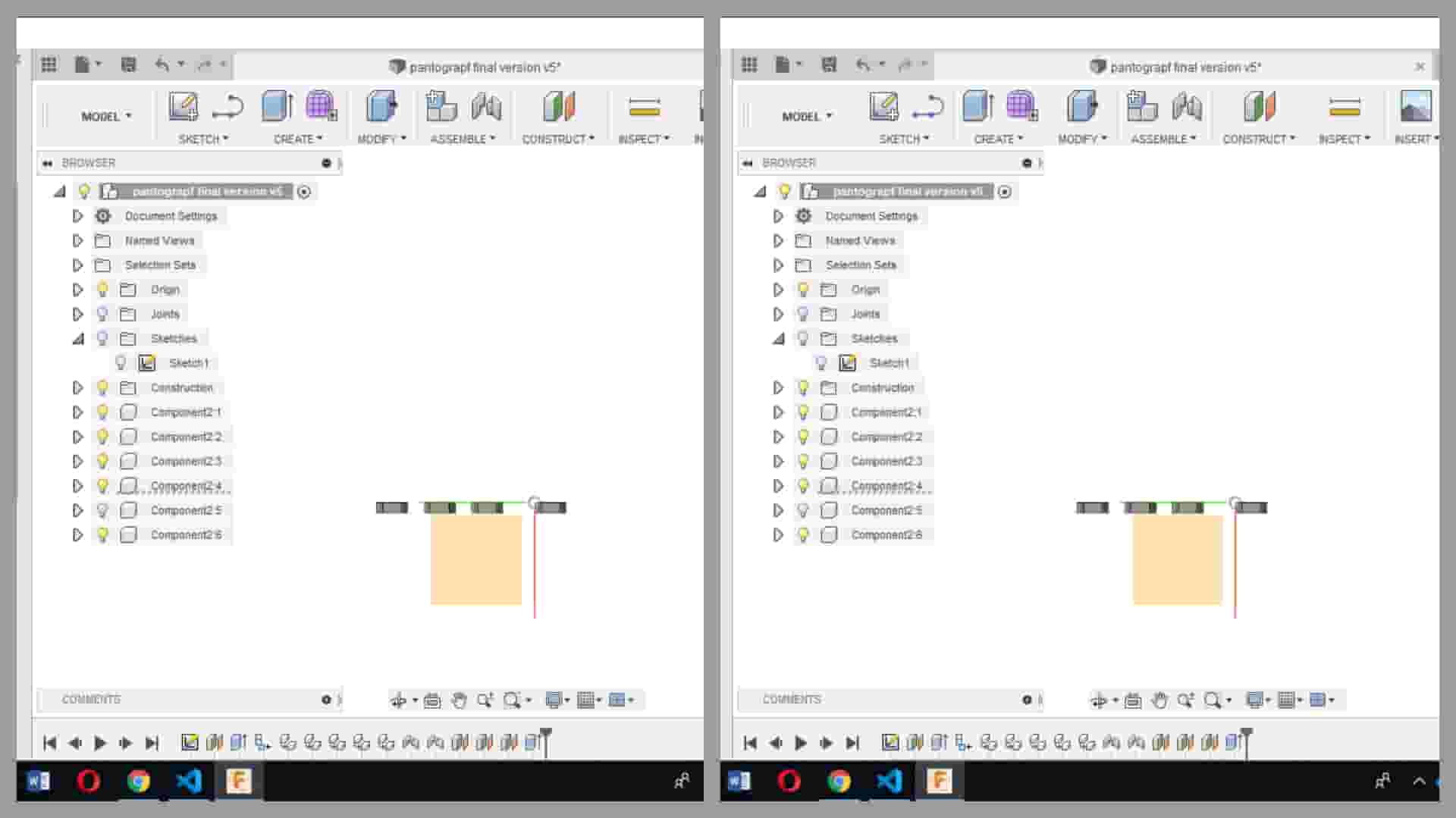 Main tools I used are the followng
• Rectangle, line, circle, point
• Fillet
• Sketch dimension
• Extrude
• Offset plane
• Joints and others
Top Toolbar - contains all of the sketch/creation tools required to manipulate models. This is also where we can set the environment for Modeling, Rendering, and Simulation functionality. Bottom Toolbar - contains the working timeline, allowing you to jump back in time on your design
The create tab has all the 3D form features. Extrusion creates a 3D form from the 2D sketch Revolve, Sweep, Loft, Threads are more complex tools. Modification tab allows to modify 3D faces.
Sketch extrusion process
• Select Extrude
• Select the Profile of Sketch you want to extrude
• Enter the values for how much you wish to extrude
• Select Direction
• Select Operation mode -"New Body-Cut-Join"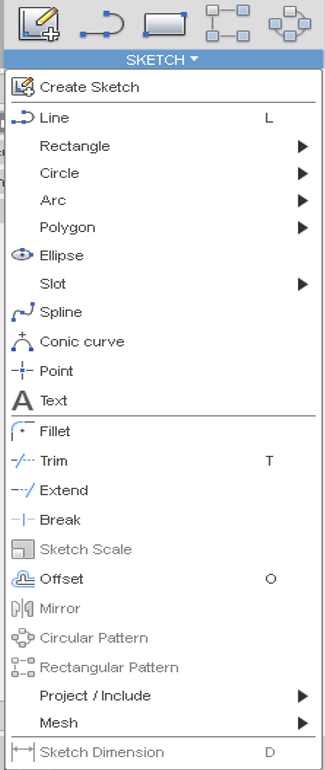 I tried to start learning Rhinoceros5, but I need more time for it hope till the end of course I will do it.
Conclusion
I will use Corel draw, as it's interface is simple and I can do my scatches easier and faster. Adobe Photoshop I will use for photo editing.
The best thing in Autodesk products, that we can use Fully packages as an educational organization. Fusion 360 interface is user friendly and easy for leraning. I liked that I can sign into my account from any computer and continue working. The shortcuts are also very good for me as I like use them. AutoCad is one of my favourite softs from the university years, it is good for 2D design, though we can draw 3D models too.
Files

• Pantograph
• My future box
---