FINAL PROJECT PRESENTATION AND DOCUMENTATION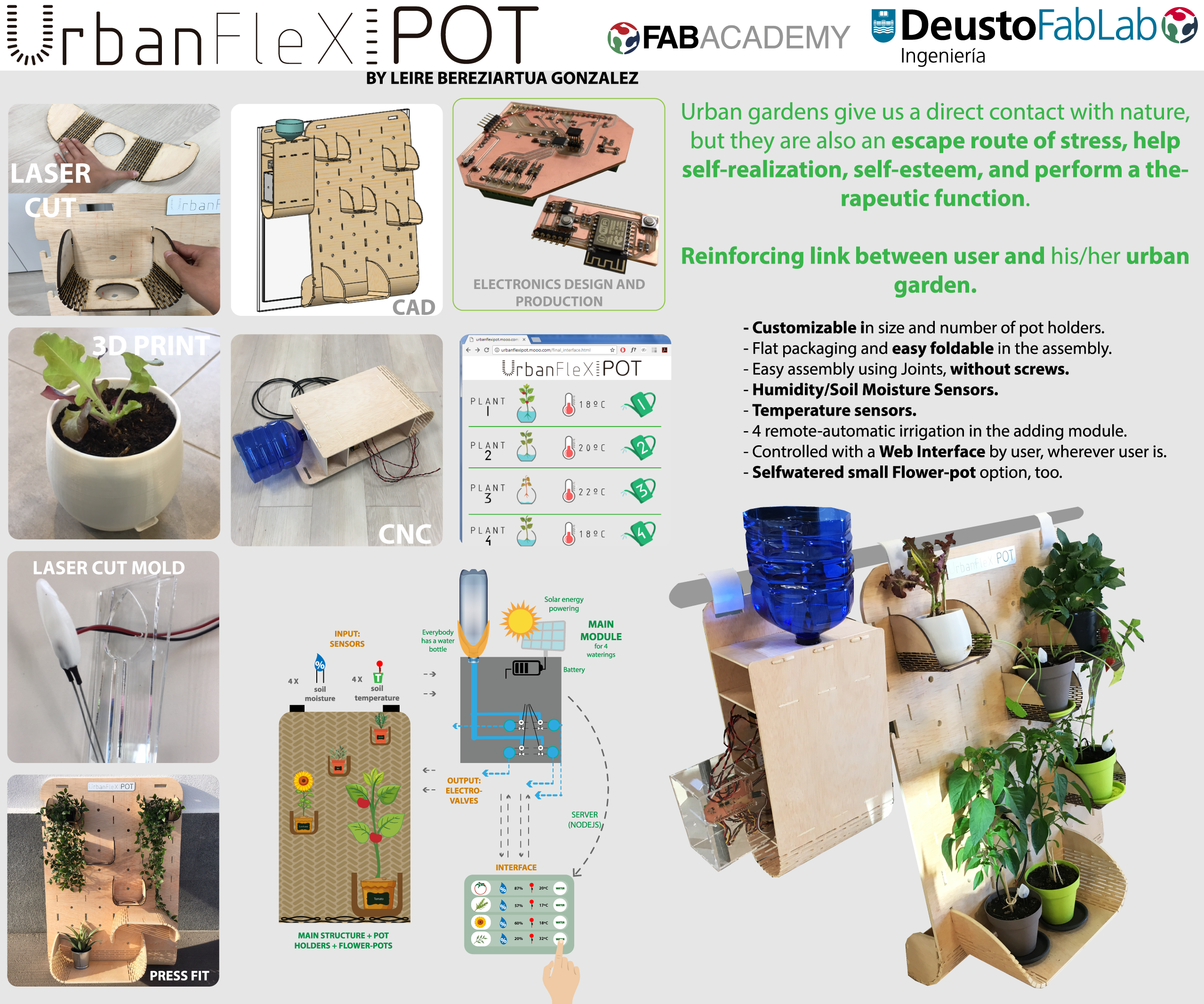 PROJECT DEVELOPMENT
Explained step by step in FINAL PROJECT PROGRESS.
.
BOM
MATERIALS/COMPONENTS FROM DEUSTO FABLAB
MAIN STRUCTURE
Plywood, depending on users needs and balcony dimmensions.
_ For final project model: 1100x700mm2 + 200x130mm2 (2 units) + 1100x100mm2, 10 mm thickness.
FLOWER POT HOLDERS
SMALL SIZE
Plywood: 375X145mm2, 5 mm thickness, each one.
MEDIUM SIZE
Plywood: 575x235mm2, 10 mm thickness, each one.
BIG SIZE
Plywood: 710x235mm2, 10 mm thickness, each one.
ADDING MODULE STRUCTURE
Plywood, 1000x500mm2, 5 mm thickness.
SMALL FLOWER POT
PLA: 200 gr.
CONTROLLERS/ELECTRONICS HOLDERS/PACKAGING/SOLDERING COMPONENTS
FOR MAIN PCB:

	_ ATMEGA 328P-AU, micro-controller
	_ 16 terminals blocks (2x16)
	_ RES-US1206FAB, RESISTORS: 4x4'99ohm, 5x10Kohm, 4x0ohm, 1x499ohm, 5x100Kohm, 5x1Kohm
	_ 5 DIODE
	_ 5 TRANSISTORS
	_ 1 RESONATOR, CRYSTAL 20MHz
	_ 1 LEDFAB RED
	_ 1 FTDI-SMD-HEADER, 6-pin header
	_ 1 SWITCH BUTTON
	_ 1 AVRISPSMD, 2x3 header
	_ 3 CAP UNPOLARIZEDFAB 1uF
FOR WIFI-ESP PCB:

	_ 2 CAP UNPOLARIZEDFAB 1uF
	_ 2 SWITCH-6MM, button
	_ 1 ESP8266 Wi-Fi microchip
	_ 1 regulator TC1262
	_ 1 FTDI-SMD-HEADER, 6-pin header
	_ RES-US1206FAB, RESISTORS: 4x10Kohm
FOR ELECTRONICS BOX-PACKAGING:
PMMA thickness 3mm, 500mm2.
And wires/cables. :)
PCB
To mill 2 PCBs it is needed around 150x100 mm FR1 shield.
HUMIDITY SENSORS
Polimaker 5 gr., wires and galvanized hard wires.
And for its mold: around 100x100 mm PMMA thickness 3mm.
MATERIALS/COMPONENTS BOUGHT TEMPERATURE SENSORS
Tubes, connectors, etc. for WATER CIRCUIT.
For example this DIY gardening kit
SOLAR POWER SUPLY
_3.5W Solar panel
_Sparkfun Sunny Buddy solar charger
_Lippo charger
ELECTRO VALVES
_12V - 1/2" solenoid valvs
BIG WATER BOTTLE
LICENCE
CC licence for my work at Creative Commons webpage, it allows to get a license following a few easy steps. This is my Creatice Common license I would like to apply to my project: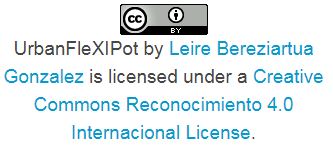 It allows:

	+ to share — copy and redistribute the material in any medium or format.
	+ Adapt - remix, transform, and build upon the material for any purpose, even commercially.
While at the same time compromise me and/or any user of the licence to:

	Attribute — must give appropriate credit, provide a link to the license, and indicate if changes were made. 
	You may do so in any reasonable manner, but not in any way that suggests the licensor endorses the use.
DOWNLOADS
_ 3D files: SolidWorks files, .STL and .EASM
_ 3D PRINTING files: .STL, .GCODE and .3MF
_ 2D CUTTING and MILLING files: .DXF and .3DM
_ EAGLE PCB designs: .SCH, .BRD, .BMP
_ NODEJS files, for SERVER and INTERFACE
_ ESP WIFI board FIRMWARE files
_ PCB ARDUINO code files: .INO