Week 8: Computer-Controlled Machining

3.18.2015 - 3.24.2015



Lecture Notes:
Homework:
Resources:
Files:
Acknowledgements:
Many thanks to Andrew, Brandi, Nathan, and Igor for their assistance during assembly.

Project:
The motivation for this project was to design a utilitarian vehicle that could be fabricated from materials commonly found in hardware stores. I selected a motorized scooter frame for its versatility, scale, and simplicity.


Plywood Motorized Scooter Frame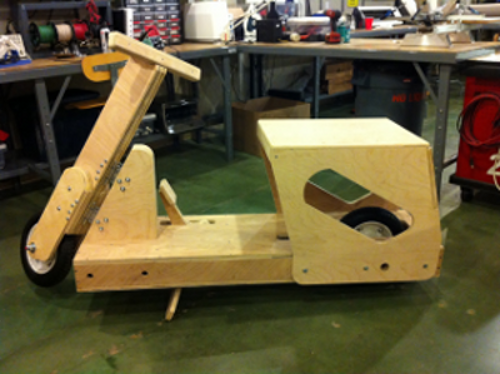 Plywood comprised the scooter's frame, gate hinges comprised the steering column, and wheelbarrow wheels and tires were used for wheels. Hex bolts, threaded rod, wood screws, lag screws, tee nuts, and hinges comprised the remaining hardware.
Design:
I designed glued and fastened butt and dado joints along with laminated beams for the scooter's frame rather than elaborate finger joints, snapping/locking joints, or living hinges. Flush edges, pre-drilled holes, counter bored holes, and slots facilitated aligning and assembling the parts.

Factors that influenced the scale of the scooter included: 1) the scale and position of the rider, 2) plywood sheet dimensions, 3) engine dimensions, and 4) wheel dimensions. While I did not intend to motorize this particular project, I did allow space for a rear wheel sprocket and chain transmission within the scooter's design.

I designed the scooter to have modular sub-assemblies that could be independently redesigned and revised without affecting the remainder of the frame. The scooter's five sub-assemblies: 1) platform, 2) seat, 3) steering column, 4) steering post, 5) handle bars were joined with bolted connections.

Scooter parts were designed for 0.719 inch (18.25 mm) 5-ply poplar plywood and drawn and tool pathed using VCarve Pro 7.0.

Consideration was given to anticipated principal loads, ply orientation within parts, sub assembly modularity, fastener access, driver ergonomics, power plant and transmission elements, and part nesting. The scooter was designed around 95th percentile adult male body dimensions.


Property

Down-Cutting
0.25 inch
End Mill

Plungeable
Roundover End Mill

Up-Cutting
0.25 inch
End Mill

Dimensions

0.25 in
(6.4mm)
0.375 in (9.5mm)
minor
1.375 in (34.9mm)
major

0.25 in
(6.4mm)
Flutes

2

2

2

LOC

2 in
(50.8mm)

0.75 in
(19.1mm)

2 in
(50.8mm)

Pass Depth (Z)
0.25 in
(6.4mm)

0.375 in
(9.5 mm)
0.25 in
(6.4mm)
Step Over (XY)

0.125 in (3.2mm)

0.25 in
(6.4 mm)

0.125 in (3.2mm)
Spindle Speed
12K RPM

10K RPM

12K RPM
Feed Rate (XY)

3 in/s
(76.2 mm/s)

2 in/s
(50.8 mm/s)

3 in/s
(76.2 mm/s)

Plunge Rate (Z)

1 in/s
(25.4 mm/s)
1 in/s
(25.4 mm/s)
1 in/s
(25.4 mm/s)
Three tools, eight cut files, twenty nine separate tool paths, and approximately 2 1/3 sheets of plywood were required to fabricate the scooter frame. All toolpaths (drilling, pocketing, and profiling) were initiated with the down-cutting end mill and cut to a shallow depth. All through-sheet tool paths were completed with an up-cutting end mill. By using the two tools in this sequence, the part edges were smooth and splinter-free. Parts profiled with the round over end mill (seat and handle bars) were milled without tabs and held in place with wood screws.


Milling & Assembly:
The following sequence of images illustrate the Scooter's milling and assembly steps.

The scooter parts was assembled in the following order:

Platform (lower sheet, sides (with tee nuts) and internal webs, rear wheel, brake pedal, upper sheet)

Steering Post
Steering Column

Seat
Handle bars
Kickstand (optional)

The steering post and column sub assemblies should ideally be constructed simultaneously to permit the insertion of both ends of the hinges into their respective pockets and shimmed with washers where necessary.