Molding & Casting
This week, our group assignment is to review the data sheets for each of the molding and casting materials and then make and compare test casts with each of them. We then proceed to test 3 types of resin casting of the following material:
RTV-620
Smooth-On 300
Jesmonite
We first begin with RTV-620 which is a rubber resin material that is good for creating the mold. Below is the datasheet of RTV-620: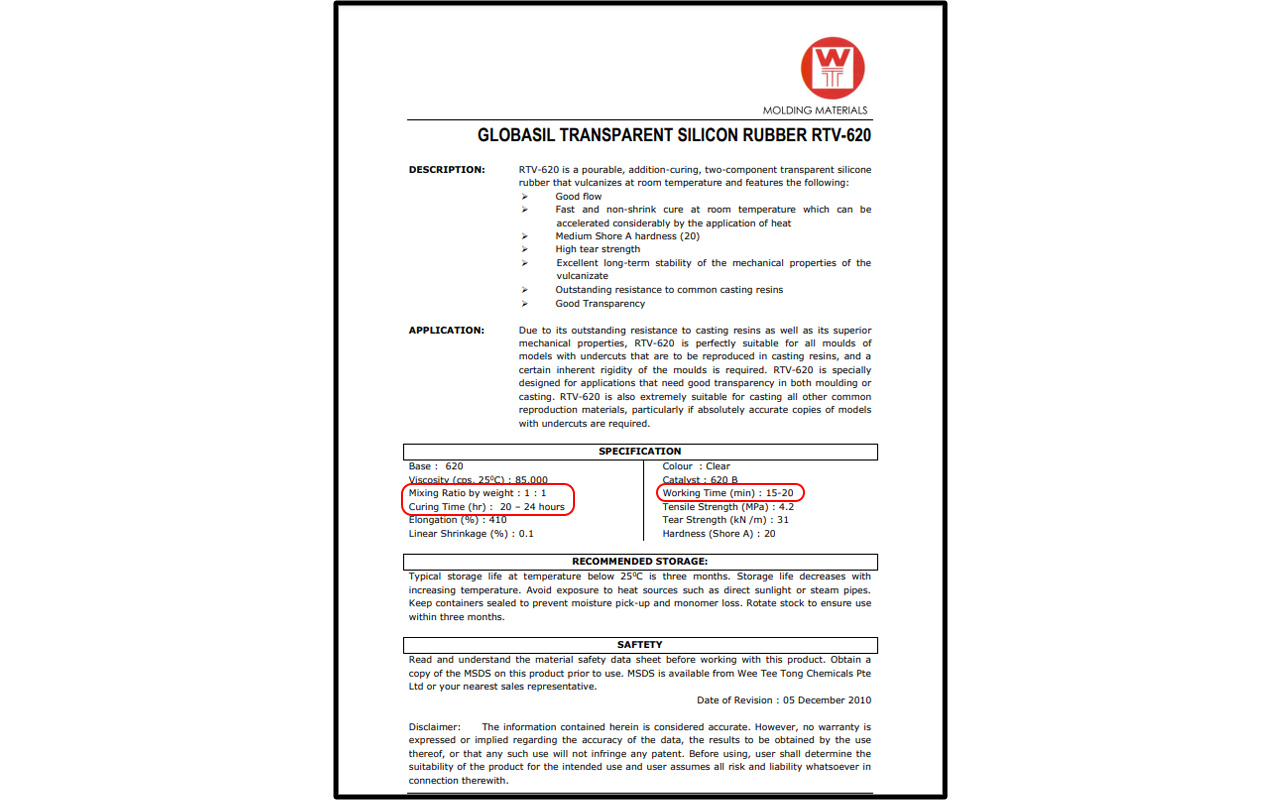 The important factors or details to know about resin casting (other than safety precautions & procedures) are:
Mixing Ratio
Pot Life/Set Time
Curing Time
As you can see from the datasheet, RTV-620 has a 1:1 Mixing Ratio of part A & B and has a Pot Life of 15-20 mins which give us enough time to do a thorough mixture before pouring it into the mold. However, the Curing Time is a good 24 hrs which is quite long but then it give us ample time to do degassing using the Degassing Chamber.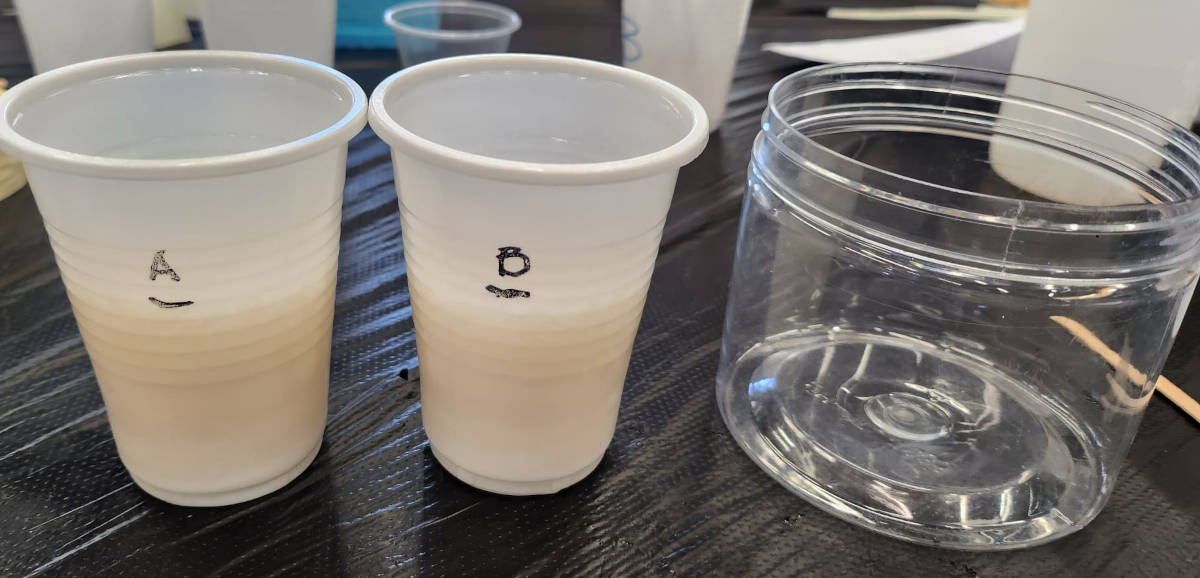 All of us actually did our molding using RTV-620 (you may refer to our individual assignment website for more information) and below are some images of our work: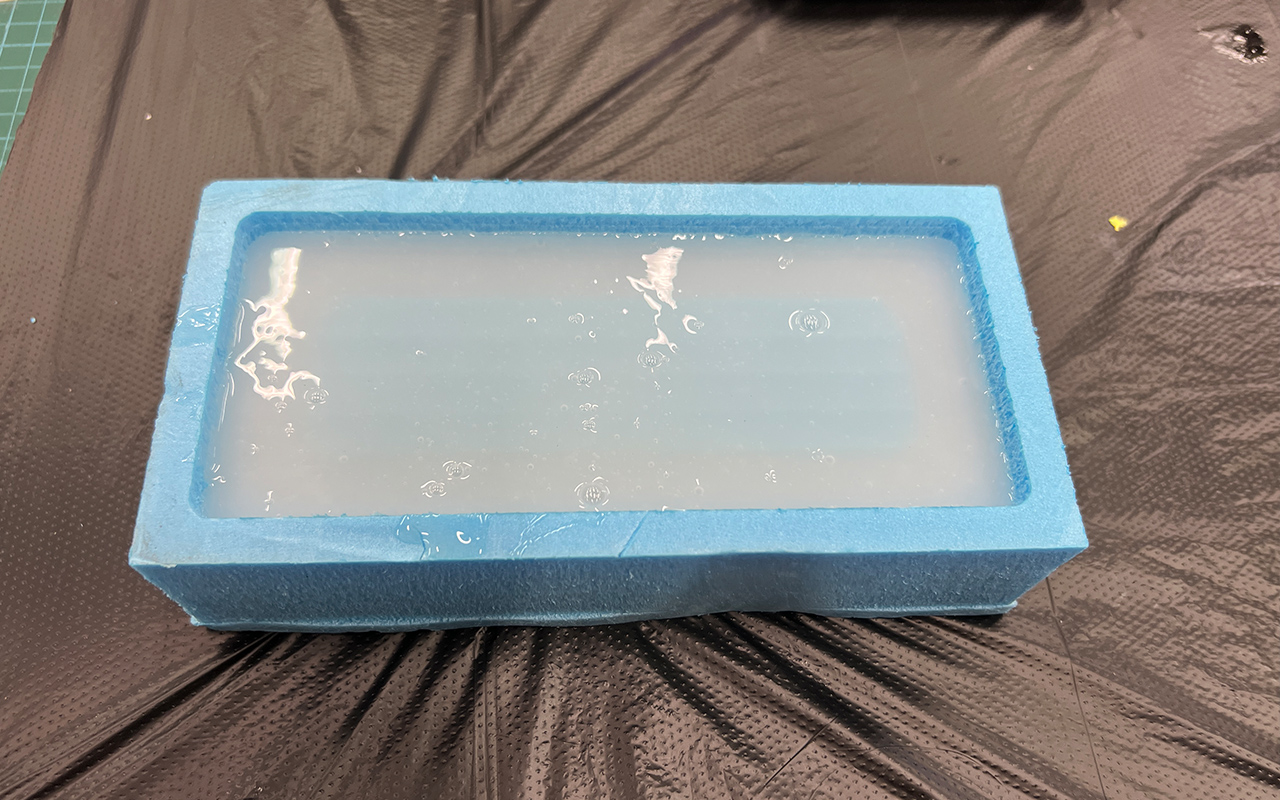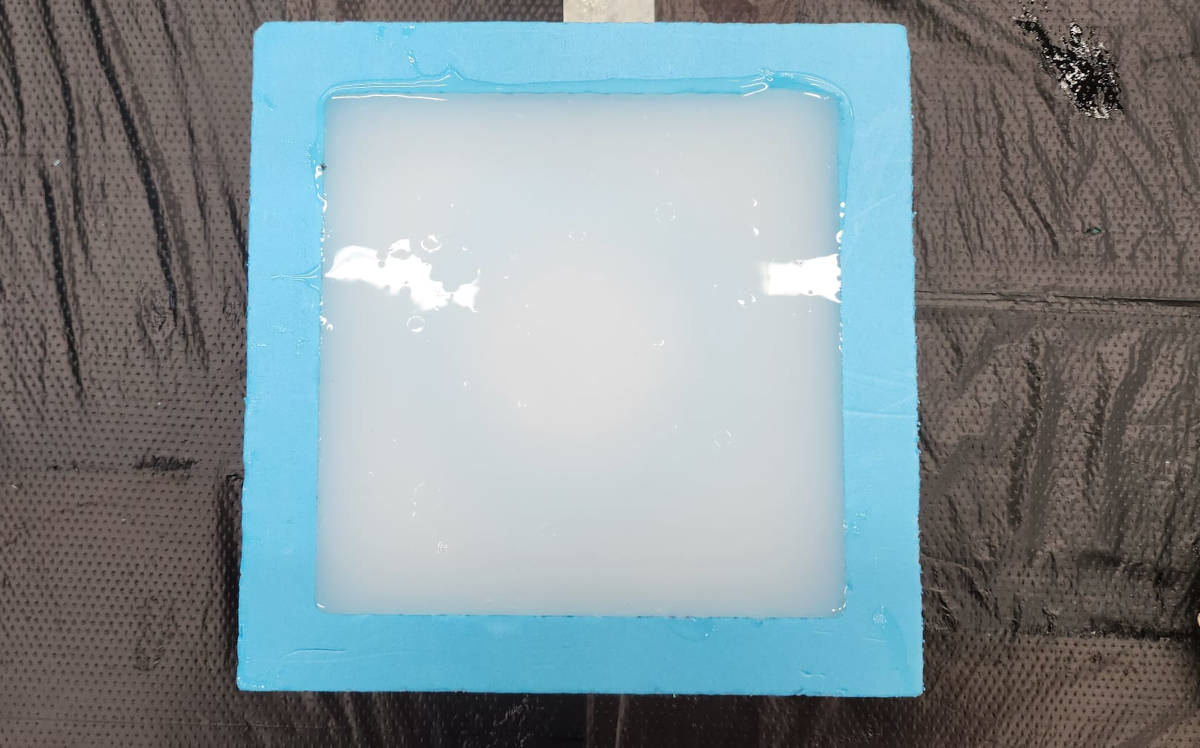 Next we actually tried to do a test cast on Smooth-On 300 resin. This resin is good for doing the cast of your design because it is a ultra-low viscosity casting resin that are virtually bubble free! You may refer below to the datasheet for more details: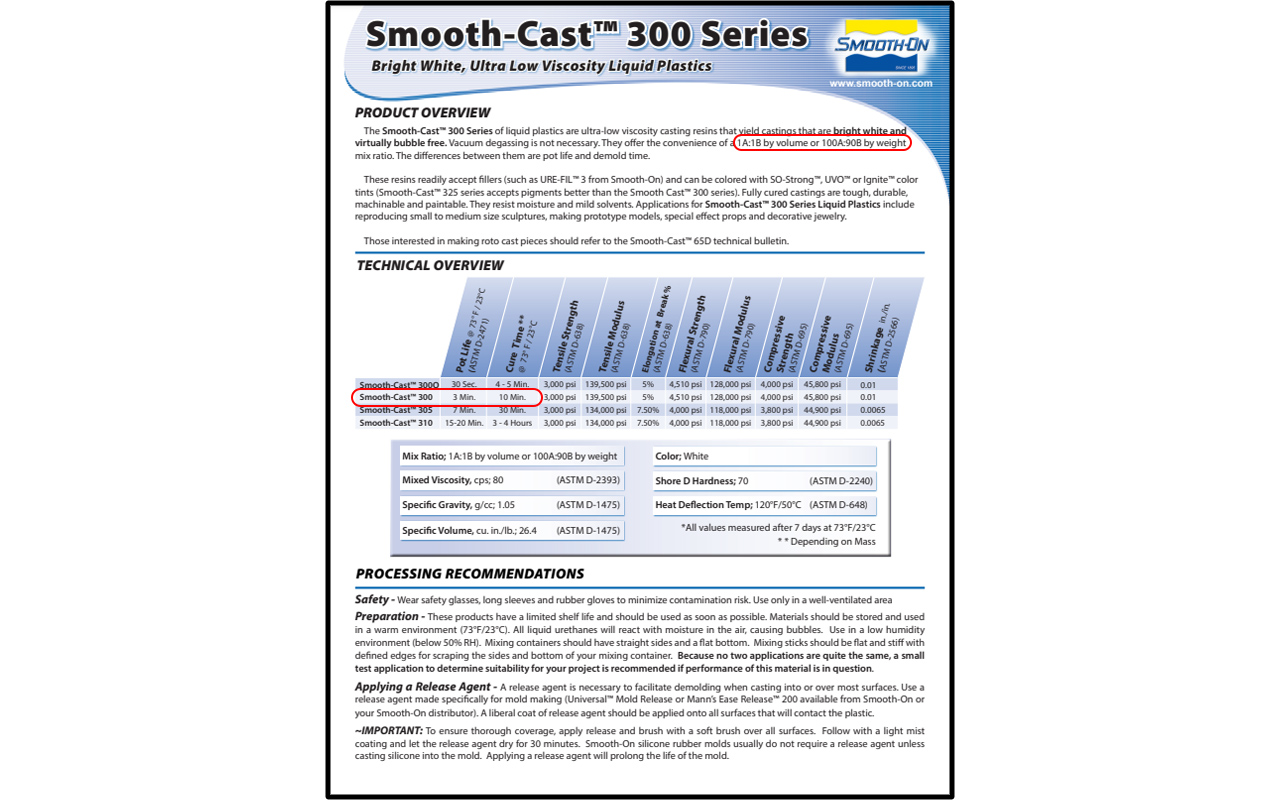 However, if you look at the datasheet, Smooth-On 300 has a very short Pot Life of 3 mins! Which means we will need to mix the resin very fast otherwise it will solidify before we could actually pour it into the mold. Also, the Cure Time is pretty fast at 10 mins! This is probably one good resin to use if we want to do mass production. We actually did one sample cast on Willie's mold design to see the result: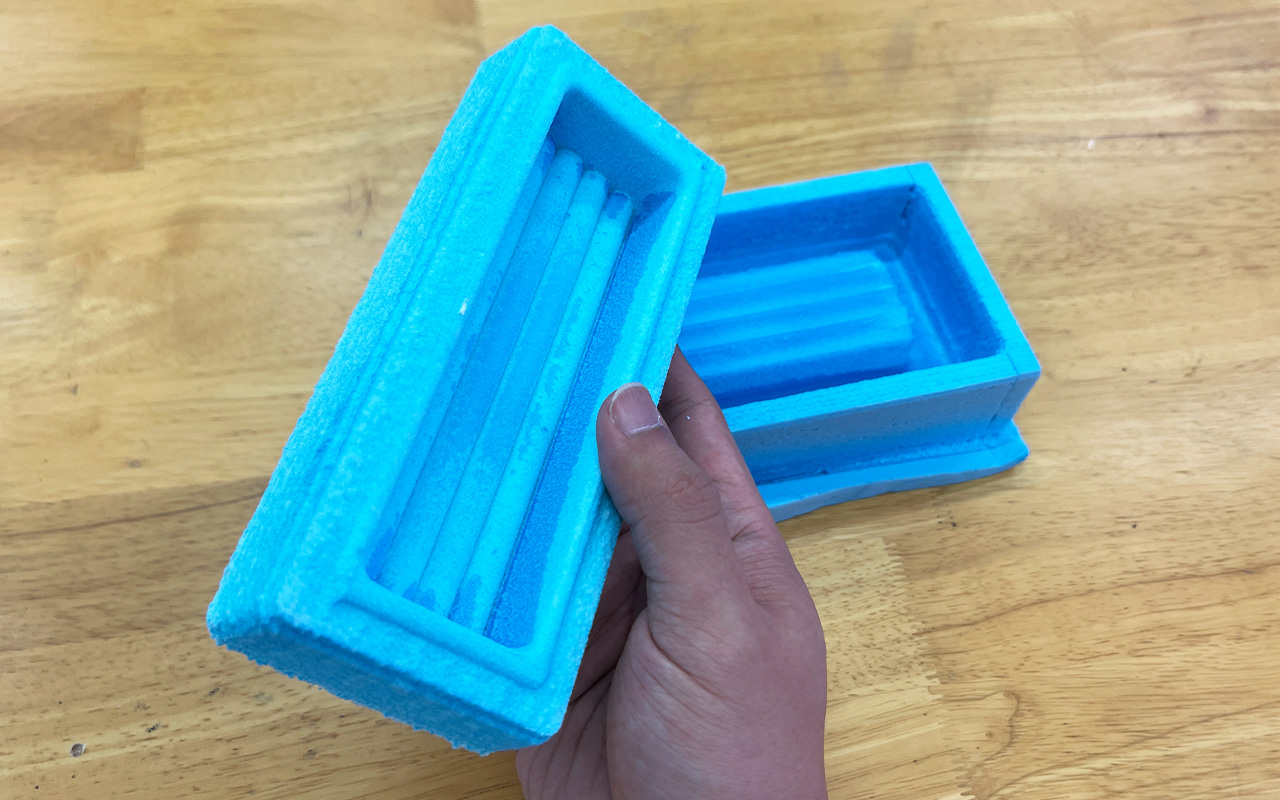 As you can see from the image that it was not a good cast result probably casting Smooth-On 300 on foam is not ideal. It is probably better to cast it on rubber resin such as RTV-620 but nonetheless, it was a good try in playing with different types of resin.
Lastly, it is time for Jesmonite, the last resin that we will be using. Actually, all of us did our final casting in Jesmonite for our individual assignment which you can access in our respectively individual assignment webpage under molding and casting.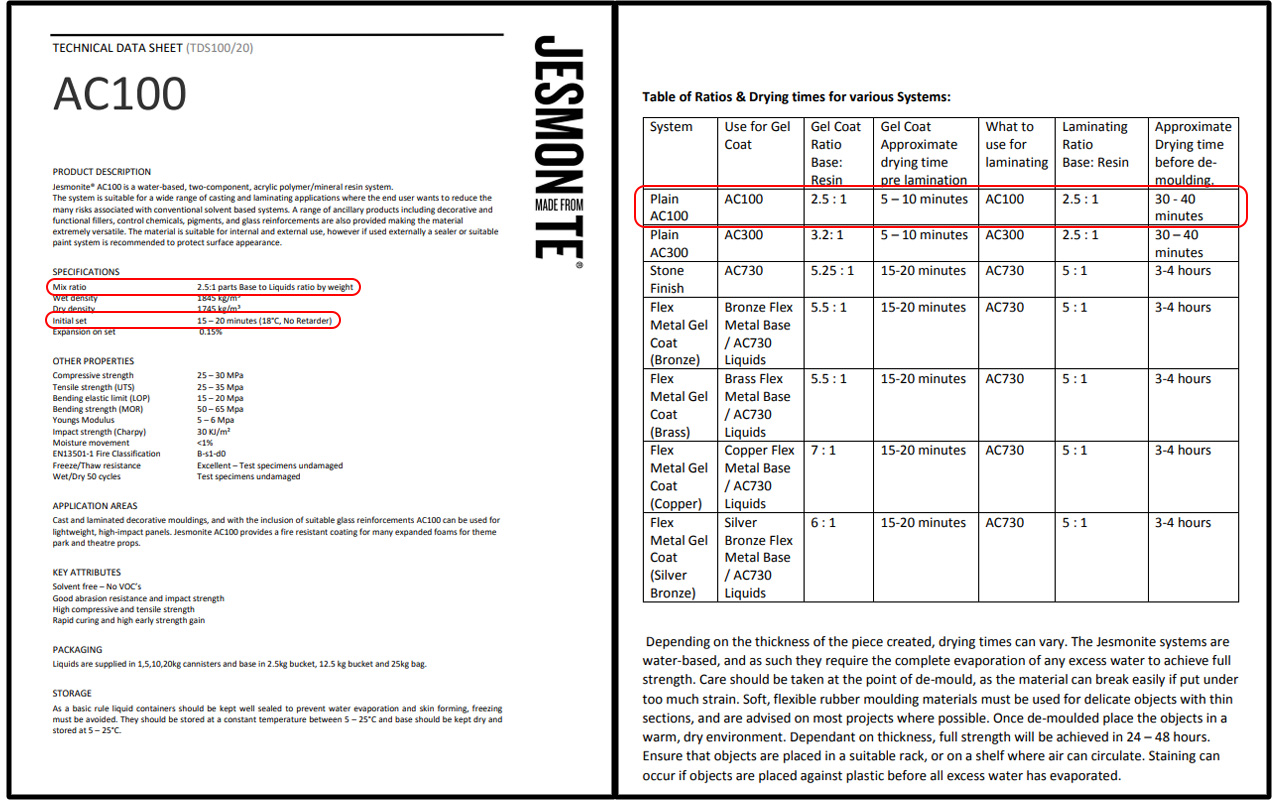 If you refer to the datasheet, you can see that the mixing ratio of Jesmonite is slightly different from the rest of the resin. It does not employs the 1:1 ratio which is generally the standard proportion volume of most resin. The actual mixing ratio of Jesmonite is 2.5:1 (2.5 portion of Jesmonite Powder to 1 portion of Liquid Resin). The Pot Life of Jesmonite is 15-20 mins, which gives us enough time to do proper mixing as well as adding pigment colors to it. Another interesting fact of Jesmonite is that the Curing Time can varies according to the size and thickness of the cast. The reason is due to the fact that Jesmonite is a water-based resin and that they require the complete evaporation of excess water in the mixture in order to acheive full strength. But then, it is actually de-moldable after 30-40 mins of curing but it is still not perfectly or fully cured. To acheive a fully cured Jesmonite Cast, we should allow it to rest for at least 24 -48 hrs!. You may see the result of our cast below: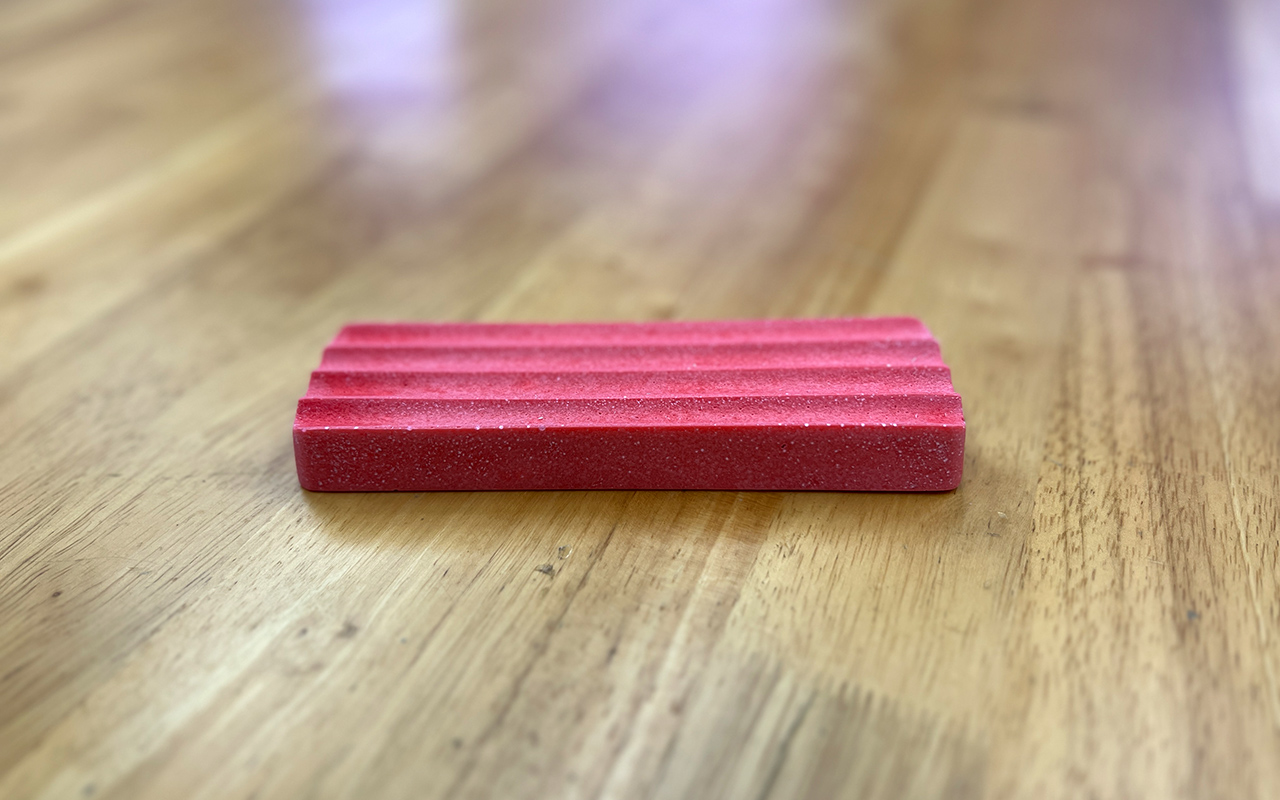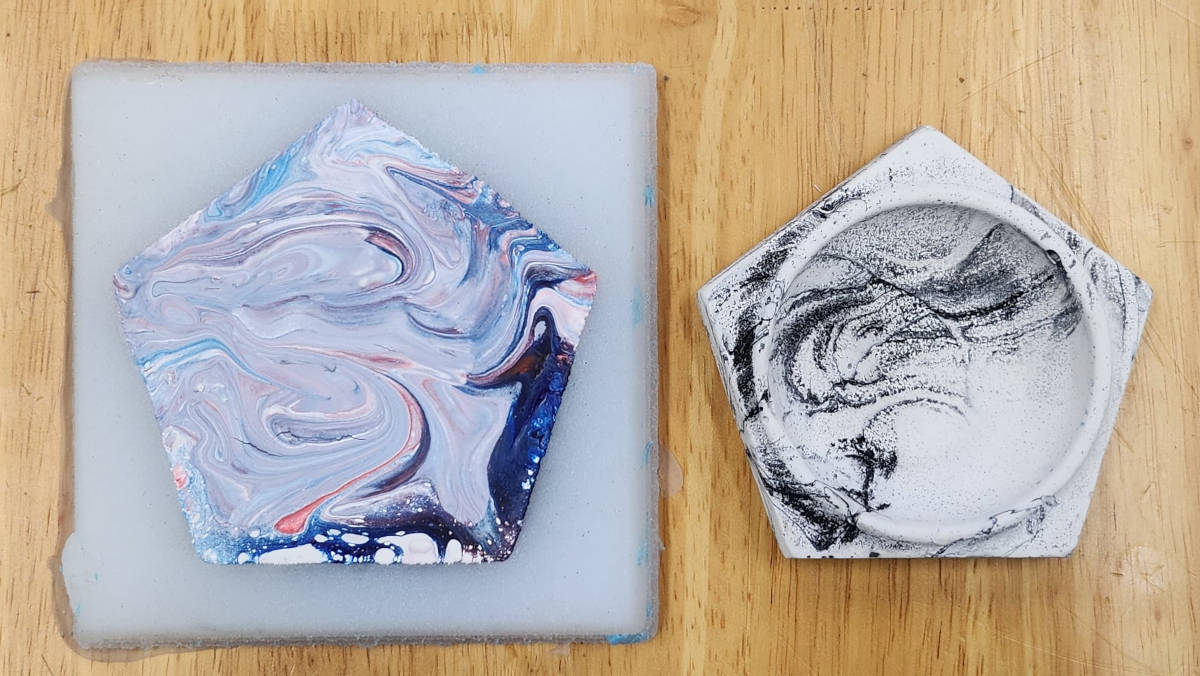 And that is all from us. A fruitful week of casting and molding. Playing around with Jesmonite was fun and I hope many people can try to use them too for their project. Last but not least, another great benefit of Jesmonite is that is it an ECO Friendly material and it is free of VOCs!
Links to the files: