Moulding and Casting Group Assignment
This section review the safety data sheets for each of your molding and casting materials
ProtoSil RTV 245 silicone
For ProtoSil RTV 245 silicone it is recommended to keep the material closed in the original container at a temperature of 15 to 25 degrees Celsius. Based on the datasheet the first two numbers on the label correspond to the number of months and the third to the number of years the product can be stored as long as it is kept under the previous indications.
The table describing the mixing data is as follows

NEUKADUR ProtoCast 105
For the NEUKADUR ProtoCast 105 material it is recommended to keep closed in its original container at a temperature between 20-25 degrees Celsius, as well as the previous one, the digits on the label mean that it can be stored for 5 years and 10 months as long as the storage recommendations are complied with.
The table describing the mixing data is as follows

For both materials it is recommended to work in an area with good air circulation, wear gloves and in the case of NEUKADUR ProtoCast 105 resin it is also necessary to wear a mask. In both cases, care must be taken with the container used to make the mixture or to deposit the material since the plastic of these can react with the components and can even melt, therefore it is recommended to use containers that were designed for molding and casting.
WagnerSil 26LE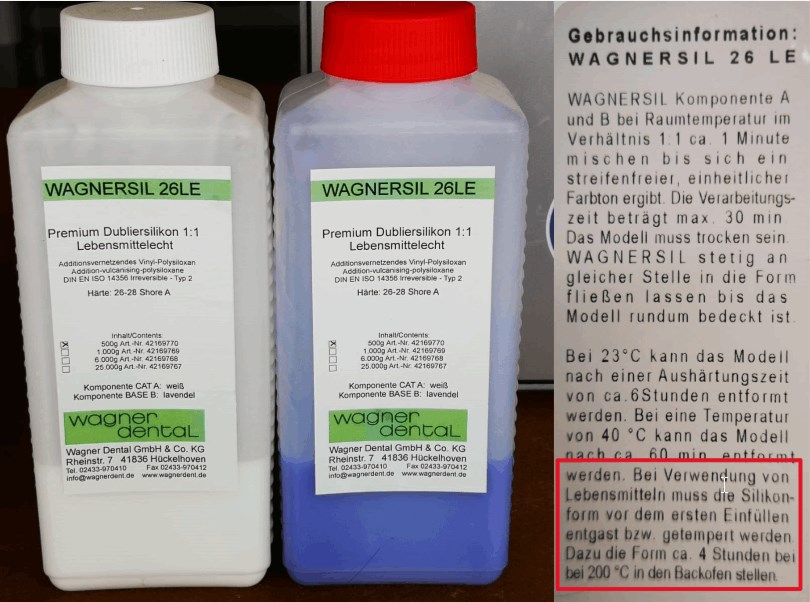 Mix Wagnersil components A and B at room temperature in a ratio of 1: 1 for approx. One minute until a streak-free color is obtained. The processing time is 30 minutes.
At 23 degrees Celsius, the model can be removed from the mold after a curing time of approx. 6 hours. At 40 degrees Celsius after an hour.
!!! food¶
When using foodstuffs, the silicone mold must be degassed or tempered before being filled for the first time. To do this, place the mold in the oven for approx. 4 hours at 200 degrees Celsius.
---
safety data sheet¶
For group assignment, we translate the most important things from the German safety data sheet that guarantee personal safety with the two materials.
The safety data sheet is linked for further research.




02 Hazards identification Classification: Not a dangerous preparation in terms of Directive 1999/45 / EC.
---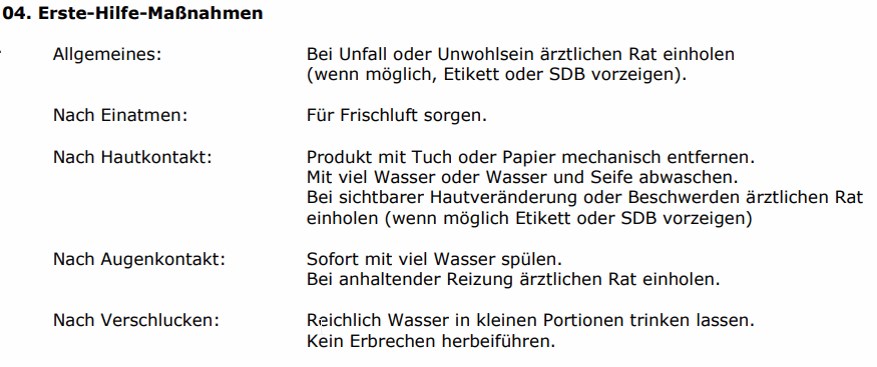 04 First aid measures General:
In the event of an accident or if you feel unwell, seek medical advice (show label or SDS if possible). After inhalation: Provide fresh air.
After skin contact: Remove the product mechanically with a cloth or paper. Wash off with plenty of water or soap and water. In case of visible skin changes or symptoms, seek medical advice (show label or SDS if possible).
After eye contact: Rinse immediately with plenty of water. If irritation persists, seek medical advice.
After swallowing: Make victim drink plenty of water in small portions. Do not induce vomiting.
---

08 Personal protective equipment:
Respiratory protection: Not required.
Hand protection: Recommendation: protective gloves made of butyl or nitrile rubber. Gloves suitable for use up to 60 minutes.
Eye protection: Safety glasses