Remotely Hugging - Inflatable Hugging Suit
What does it do?

The hugging suit allows people to feel an embrace and deliver their love, miss, and warmth remotely. As an international student, I could only meet my family and girlfriend once a year. If there is a product that could transmit the hug as a digital signal as video, text, or sound through the internet. It could definitely help a lot of people to deal with missing. Especially in the corona pandemic time, not only those who are working or studying aboard, some families couldn't even meet in the important festivals, such as Christmas or New Year, to prevent the spreading of Covid-19.

Who's done what beforehand?
The HugShirt collects the data from the sensors on fabric and passes through Bluetooth to the Hug Shirt App on the smartphone. With the app on the other side of the world, another smartphone can access the data and pass the signal to another HugShirt in real-time.

A Koala doll with a screen interface could send a hugging signal to inflate the air compartments of the vest.

When a doll, Pari, is hugged the paired pal will gently vibrate at the same time. When the pair of Paris are hugged at the same time, both users will feel the other's heartbeats over all of the miles.
What did you design?
I designed a jacket with some hidden inflatable materials to simulate the feeling of a hug. I also made a pair of bags to package the PCBs, pumps, and valves. To keep them with the user of hugging suits, I sewed a belt to keep them on the waist.
In my project, two PCBs, a main board and a secondary board were made. On the secondary board, it includes two microcontrollers: ESP-Wroom-02D and Attiny 1614. TX and RX pins were used to communicate between them.
What materials and components were used?
Where did they come from?
How much did they cost?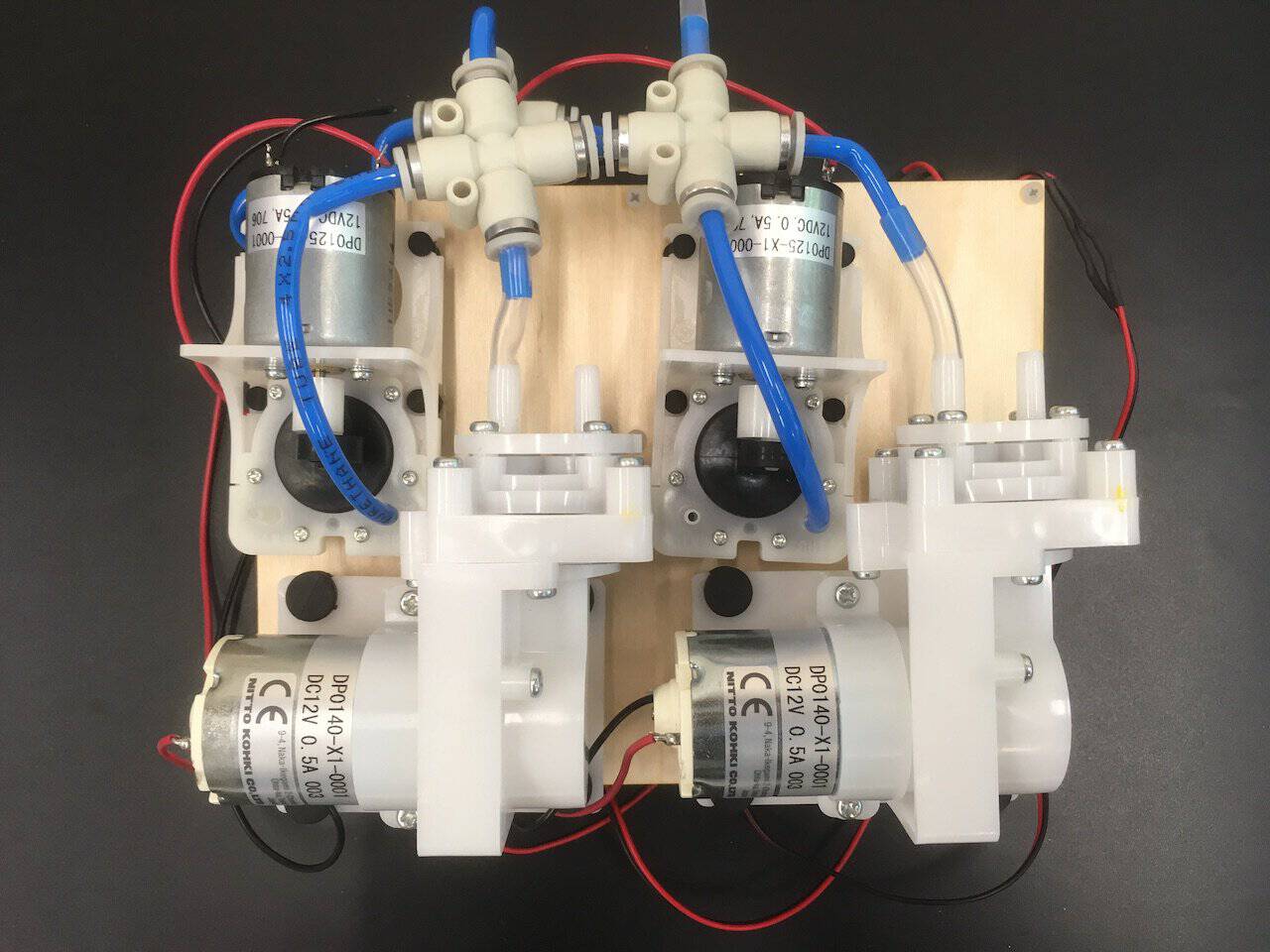 Bill of Materials
Name
Description
Links
Amount
Unit Price
Air Valves
6V AIR VALVE WITH 2-PIN JST PH C
Digi-Key
6
€2.41
JST Jump Cable
JST-PH 2-PIN JUMPER CABLE, to replace the original JST XT from valves
Digi-Key
6
€0.78
Silicone Tubings
- Silicone hose 2x1mm transparent
- Silicone hose 4x0.5mm transparent
Etra Oy
Etra Oy
1
1
€14.69 / 25m
€17.43 / 25m
Compressor and Vacuum Pump
- DP0125 12V 2.5L/min
- DP0140 12V 4L/min
Nitto Kohki
Nitto Kohki
2
2
€64
€77
Connectors for Air Tubing
Cross Four-Way 4mm
Mandu
4
€7.5/4 packs
SLA 3D Print Connectors (Male and Femal)
Formlab Durable Tough 1500 Resin
Formlab
84.00mL(12 for each)
€175/L
Vacuum packaging
28 cm / 5m, 2pcs
TOKOMANNI
2
€6.98
12v Power Adapter
FSP025-DYAA3 AC Power Adapter 25W 12V 2.08A
AliExpress
1
€21.15
FTDI Cables
- Cable USB UART 3.3V
- Cable USB UART 5.0V
Digi-Key
Digi-Key
1
1
€17.34
€17.34
Plywood
3mm 900x600mm koskiply plywood
Koskisen
1
€12.40
Rubber sheet
No smell lasser rubber sheet
Alibaba.com
1
€2.76
Eletronics Kits
Attiny1614
IC MCU 8BIT 16KB FLASH 14SOIC
Digi-Key
1
€0.78
ESP-WROOM-02D
RX TX Wifi Trace
Digi-Key
2
€3.18
N-MOSFET
MOSFET N-CH 30V 1.7A SUPERSOT3
Digi-Key
7
€0.42
Regulators
- IC REG LINEAR 3.3V 1A SOT223 - IC REG LINEAR 5V 1A SOT223
Digi-KeyDigi-Key
21
€0.42€0.66
Heat Sinks
Heatsink Alum Anod
Digi-Key
3
€0.33
Schottky Diodes
100V, 1A
Mouser Electronics
7
€0.381
Connectors
- JST Conn Header SMD 2Pos 2mm
- RCPT 4 Pos
Digi-Key
Digi-Key
6
6
€0.41
€0.64
LED
- Red Clear 1206 SMD
- Orange Clear 1206 SMD
- Blue Clear Chip SMD
Digi-Key
Digi-Key
Digi-Key
1
2
1
€0.057
€0.193
€0.3
Capacitors
- 1μF 50V X7R 1206
- 10μF 35V X7R 1206
Digi-Key
Digi-Key
3
4
€0.23
€0.44
Resistors
- 100Ω SMD 1% 1/4W
- 1kΩ SMD 1% 1/4W
- 10kΩ SMD 1% 1/4W
- 10MΩ SMD 1% 1/4W
Digi-Key
Digi-Key
Digi-Key
Digi-Key
7
4
11
12
€0.08
€0.08
€0.08
€0.08
Power Jack
2X5.5mm Solder
Digi-Key
2
€1.09
Switchs
Slide Switch SPDT 100mA 12V
Digi-Key
4
€0.83
Buttons
Tactile Switch SPST-NO 0.05A 24V
Digi-Key
2
€0.83
Screw Terminals
2Pos Side 3.5mm PCB
3Pos Side 3.5mm PCB
Digi-Key
Digi-Key
1
2
€0.39
€0.59
Pin Header
- FTDI SMD 01x06 2.54mm- UPDI SMD 01x02 2.54mm- RCPT SMD 02x02 2.54mm
Digi-Key

Digi-Key
3
1
6
€0.13

€0.67
Rivets
- outside = 0.8 mm, inner = 0.6 mm
- outside = 1.4 mm, inner = 1 mm
VPC
36
8
$0.05
$0.05
PCB FR1 2-Sided
2 sided FR1 circuit board stock 6 in × 6 in
Inventables
2
$1.7
Wires
6 Conductors 0.050 Gray 1.27mmx15.24m
Digi-Key
1
€12.86
Digi-Key
€
Sensor parts
Dragon Skin
Dragon Skin™ 10 FAST
Smooth-On
1
$32.21
Copper Tapes
3M 1126 Foil Tape, 1" Width x 6yd. Length
Amazon
1
€30.40
AA Batteries
Amazon Basics 4 Pack AA High-Performance Alkaline Batteries
Amazon
3
€3.03/4pack
AA Battery Holders
Battery Holder (Covered) AA 3 Cell Wire Leads - 6" (152.4mm)
Digi-Key
1
€2.5
Totol Price
€565.1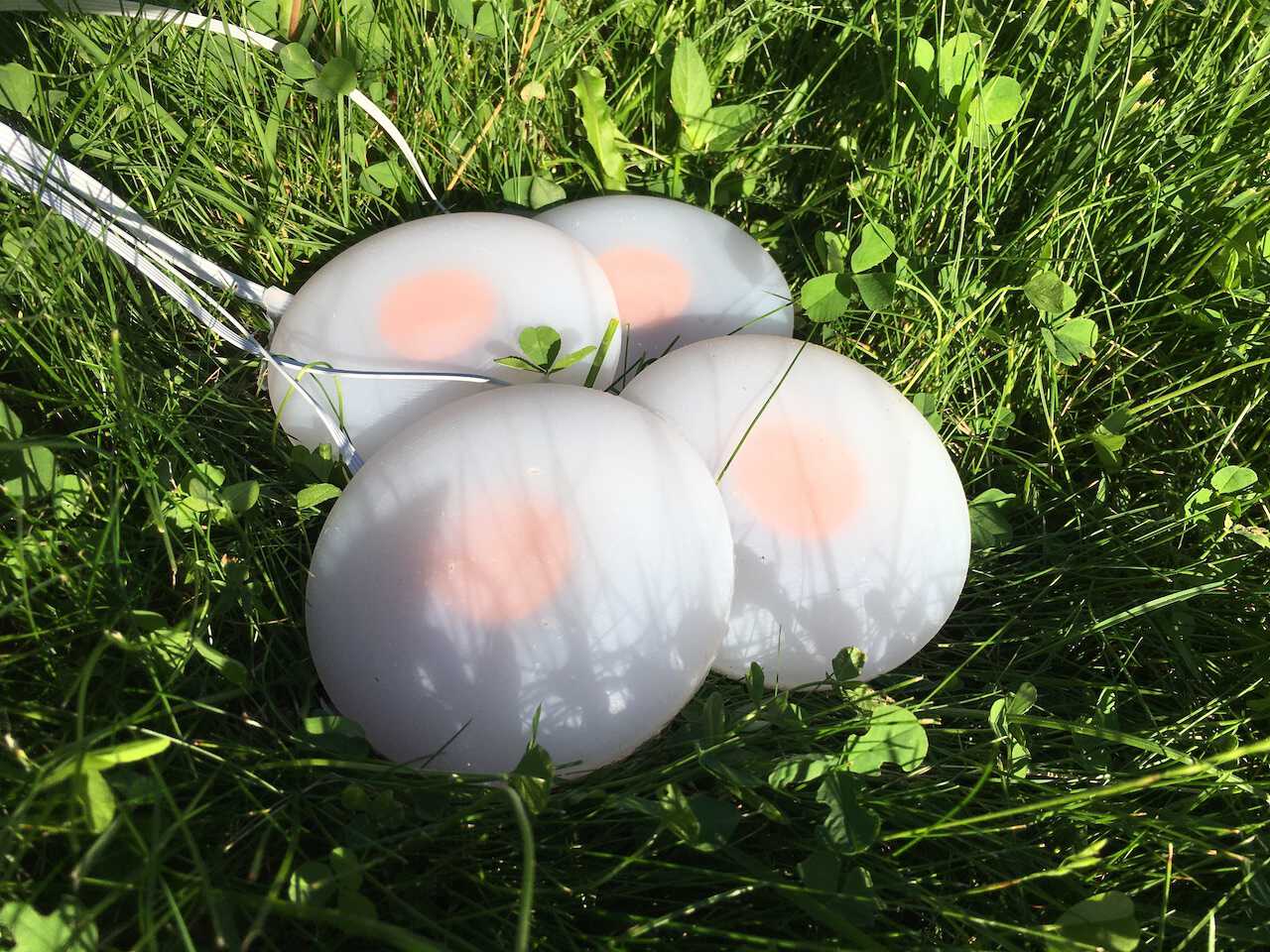 What parts and systems were made?
Inflatable bags
3D printed connectors
Bags, belts, and hidden pockets
Step Response sensors in the silicone
PCBs
Step Response, Communication, Accesspoint, and HTTP Client codes
Pockets patterns
Rubber washer
Pumps station
What processes were used?
Lasser Cutting the patterns for hidden pockets, pumps station, and rubber washers
3D printing for connectors between valves and tubings
Milling PCB boards
Embedded Programming for Main and Secondary PCBs
Networking and Communications for with EPS-Wroom-02D Input (Mannequin) and Output (Hugging Suit)
Ultrasonic Welding Machine for Vacuum packaging bags
Coverstitch Sewing Machine for hidden pockets
Stitching machine and Overlocked machine for bags and belt
Milling and Casting the silicone sensors
What questions were answered?
Q: Could the feeling of hugging be transmitted?
A: Yes, the feeling can be transmitted digitally. And the family and friends from another side of earth can also feel that.
Q: How does ESP-Wroom-02D communicate with each other
A: By hosting an accesspoint on the ESP module, the other ESPs and devices could connect to the Wifi hotspot(from the accesspoint) to become clients and send an HTTP request to change the status of it..
Q: How to soldering ESP-Wroom-02D properly?
A: To solder the GND pad under the ESP module is a huge challenge, which is easy to overheat the ESP itself. The best solution I found from the project is instead of soldering it, but attaching it to PCB with heat paste to dissipation and fix it.
What worked? What didn't?
Most of my designs worked, only the individual sensors and valves matching didn't work. Because of the characteristic of step response, I found that not only the copper sheets but also the cables themselves are part of sensors, which means when I touched the cable the sending data would react as well. The improvement that could be done in the future is that shorten the cables from sensors to PCBs, in other words, give each sensor a microcontroller. Only use the digital signals to travel around the clothes to avoid the noise and achieve communication in between the boards.
How was it evaluated?
The principle to evaluate my project is the responsive feeling from the hugging. Although there are still some points that could be improved, the result is quite satisfactory. The parts that I could improve in the future include the warmth of a real hug, which could be made by temperature sensors. Also, I will assign PCBs to each step response sensors to shorten the cable of sensors to decrease the noise from accident touch.
What are the implications?
In the future, the distances in the physical world would ease and blur gradually. With the help from technology and the digital world, we can now contact friends from thousand of miles away almost immediately: video calls, online meetings, and so on. The tactile feeling hopefully could be simulated better later. My project is one of the ideas that try to shorten the distances between people and heal homesickness. But from another point of view, it's also a new way to interact with the virtual world. As the inspiration I mentioned previously, in the series "Upload" the people who live in reality and virtual world can "Touch and feel" each other by a sex suit. My project is only the first step to realize it, trying to optimize the simulation of heating and tactile senses are more complicated than it.

This work is licensed under a Creative Commons Attribution-NonCommercial-ShareAlike 4.0 International License.