Preliminary ideas for final project
First idea: boombox
Idea for final project My first idea was, hmm, familiar and intuitive everyday tool. First I thought to do boombox, portable audio unit. I have got a lot of experiences about Volumio distro on Raspberry Pi computers. I did plan to design unit around that, but then I noticed that readymade boards are not accepted or recommended.
Second idea: mobile interface to internet-of-things sensors
My second idea was related to internet-of-things sensors being installed everywhere at our uni. I did plan to design mobile "interface" for reading sensordata and watching trends from certain plate at the university of botanical garden. Well, I wasn't very happy with that either.
Third idea: Four wheeled robot, which is controlled by AI. WINNER!
My third idea was exciting enough to get motivated. I had a meeting with one local entreneur about using AI in affordable robotics and coding. They also participated in our local hack weekend in FabLab where they did built first prototype of the gadget. Our meeting was about possible project and research collaboration, but I realized that this will be also my final project
Backround for the project: Alvin AI and Robot arm
I met mr. Tommi Mänttäri, inventor of Alvin AI engine, autumn 2019 in workshop at the university of Oulu. At that time they were developing use case where Alvin AI was used in english teaching. For me it was, ok, but not very spectacular. However, something bigger was around the corner, but I didn't know it yet..
In the late 2019 and early 2020 I got messages from mr. Mänttäri, but also from different other sources about the project where local community of engineers, researchers and teachers are aiming at develop robot with AI for school children.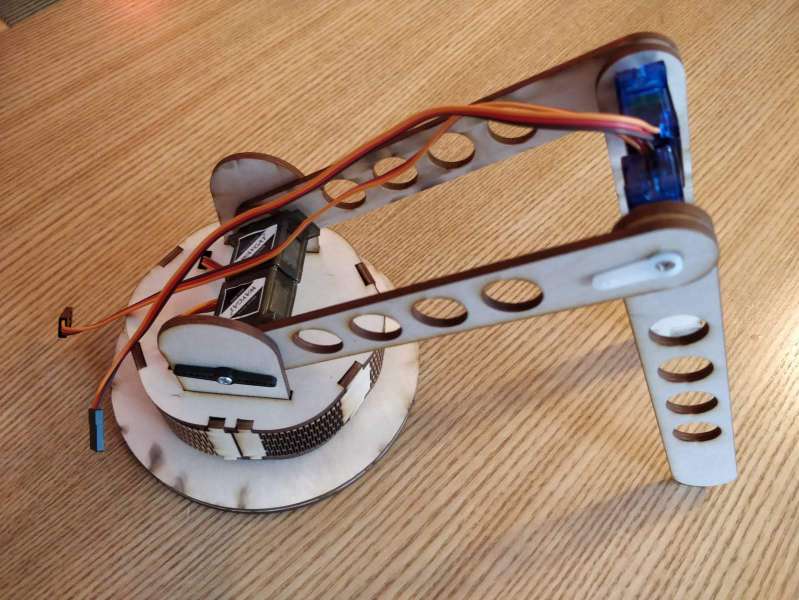 WOW. They explained that in their view pupils would design and build their robots by using digital fabrication technologies. Price of the components would squeezed as low as possible and documentation would be shared as an opensource and creative-common licensed materials. YEAH!
But best part was that in order to keep design simple, robot would rely on smartphone which would be the "computer - brains" of the project. Robot itself would have simple ESP32 chipset, which would communicate with the mobile phone via wi-fi, bluetooth or similar. ESP32 would control servomotors and read sensors, but based on the information given by the programs from the phone
At the moment team in Oulu is developing "robot arm" which share same ideas. They have already done working prototype. My aim is to remix this idea so, that I will design car instead of arm, but main idea is same: children teach AI, which controls the robot itself instead of coding robot.
Idea is to create low-cost, opensource materials for learning of robotics, artifical intelligence, computational thinking, digital fabrication etc.
My Final project: remote controlled cardboard car
Ultimate aim: create rc car which is controlled by artificial intelligence on mobile device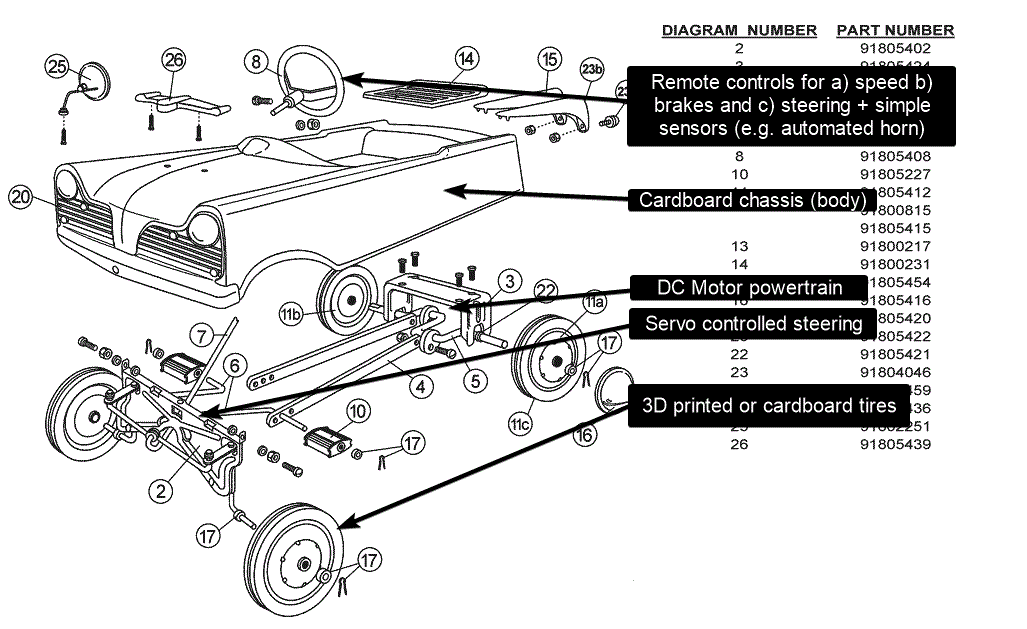 Because of the spiral design process, I have given up with this aim. Unfortunately. I will continue working with this theme anyway after Fab Lab.
I had vision to design AI controlled car, which would use main components and ideas from Alvin AI/Simua technologies robot project and would also contribute into that project.
Because of the limited timeframe and parallel Alvin Ai robot arm development project, I decided to simplify little bit my design. In practise, Alvin AI has now capabilities to control robot arm by using machine vision (these components are running on android phone and robot control is done by using ESP32)
In practise, I won't use artificial intelligence components in project, which are 1) Use of AlvinAI engine 2) Use of Nasa Vision workbench. Yet, I won't use PCB designs and PCBS by Simua/Alvin AI, but use same IoT platform (ESP32) to control my car. It's easy to utilize alvin AI engine later on just by changing the codebase of ESP32.
However, I will contribute all my designs to Alvin AI/Simua tech co-design project under creative commons lisences they are using. Also I will continue later on with hardware and software components provided by them.
Realistic spirals of the development
Because of the time limits, I will aim to basic level, but design PCBs so that e.g. adding neopixel lights it's possible implement later on. Also car chassis will be designed so that mobile phone can be put into car (in the context of Alvin AI phone has AI and machine vision components)
Basic level: to design and create simple cardboard car with remote controller
This level is the starting point for the project: to design cardboard RC car which can be controlled with mobile phone.
Intermediate level:Continue from the basic level with more advanced chassis for the car (complex 3D design) or autonomous driving mode by using ultrasonic sensor or neopixel lights for driving / alarm lights
Ultimate level:Use codebase from Alvin AI project and create autonomous car which uses artificial intelligence for controls.
Related weekly assignments