Molding and casting (week15)
Group Assignment
individual assignment

design a mold around the stock and tooling that you'll be using, mill it (rough cut + (at least) three-axis finish cut), and use it to cast parts



group assignment

review the safety data sheets for each of your molding and casting materials, then make and compare test casts with each of them
---
Tamiya-san shared tools and materials that I can use for molding and casting. For this assignment, I will use modeling wax for milling the "mold" of "mold", use Smooth-on MOLD STAR 16 FAST for mold and use Smooth-on Smooth-Cast 300 to cast.
For each materials, there are safety data sheet describes key information like "Hazards Identification", "First Aid Measures", "Accidental Release Measures", "Exposure Controls", "Personal Protection" etc. I looked thorough those information and picked up safety guidance from articles in "Personal protection".
Modeling wax (machinable wax)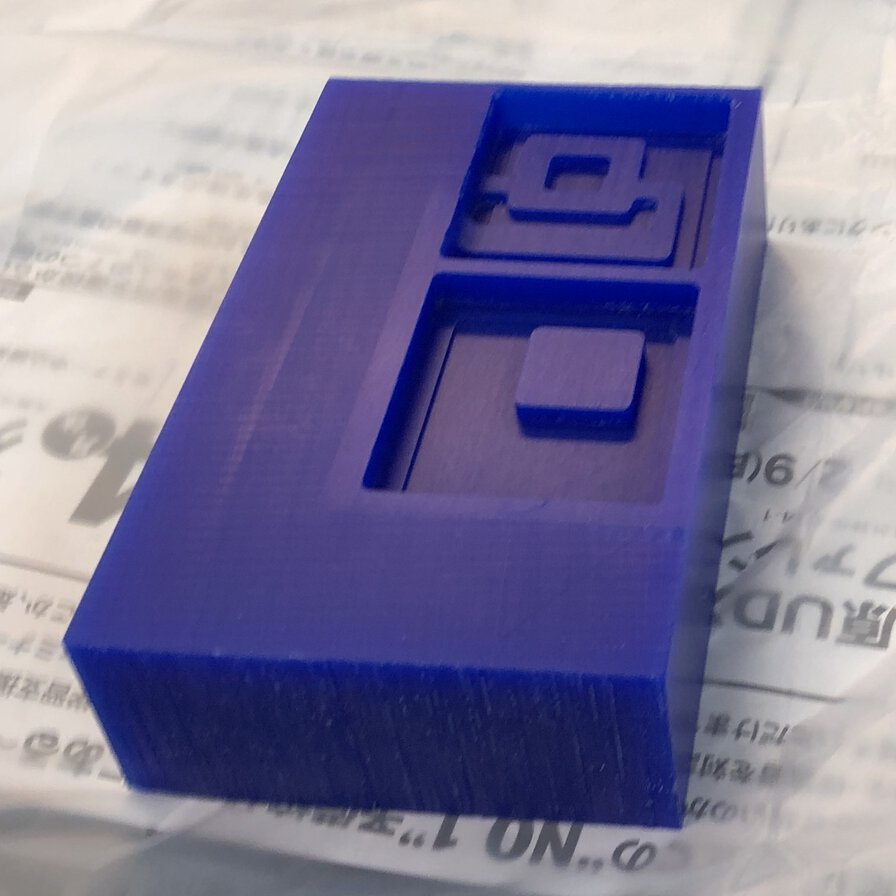 8.1 Control parameters

Components with workplace control parameters Wax Fume ACGIH STEL: 2 mg/m3 NIOSH TWA: 2 mg/m3

8.2 Exposure controls

Appropriate engineering controls Provide exhaust ventilation or other engineering controls to keep the airborne concentrations of mists and/or vapors below the recommended exposure limits (see below). An eye wash station and safety shower should be located near the workstation.

8.3 Personal protective equipment

Eye/face protection Use a full-face shield and safety glasses if handling heated material. With product at ambient temperatures, use safety glasses equipped with side shields.

8.4 Skin protection

Hand Protection

When handling product at elevated temperatures, use heat-resistant gloves. With product at ambient temperatures, use disposable nitrile, neoprene or butyl rubber gloves with repeated or prolonged use.

Body Protection

Prevent skin contact when handling heated material. Use insulated, heat resistant clothing such as apron or slicker suit.

8.5 Respiratory Protection

The need for respiratory protection is not anticipated under normal use conditions and with adequate ventilation. If elevated airborne concentrations above applicable workplace exposure levels are anticipated, a NIOSH-approved organic vapor respirator equipped with a dust/mist prefilter should be used.

8.6 Safety Stations

Make emergency eyewash stations, safety/quick-drench showers, and washing facilities available in work area.

8.7 General Hygienic Practices

Avoid breathing dust, vapor or mist. Avoid contamination of food, beverages, or smoking materials. Wash thoroughly after handling, and before eating, drinking or smoking. Remove contaminated clothing promptly and clean thoroughly before reuse.
Mold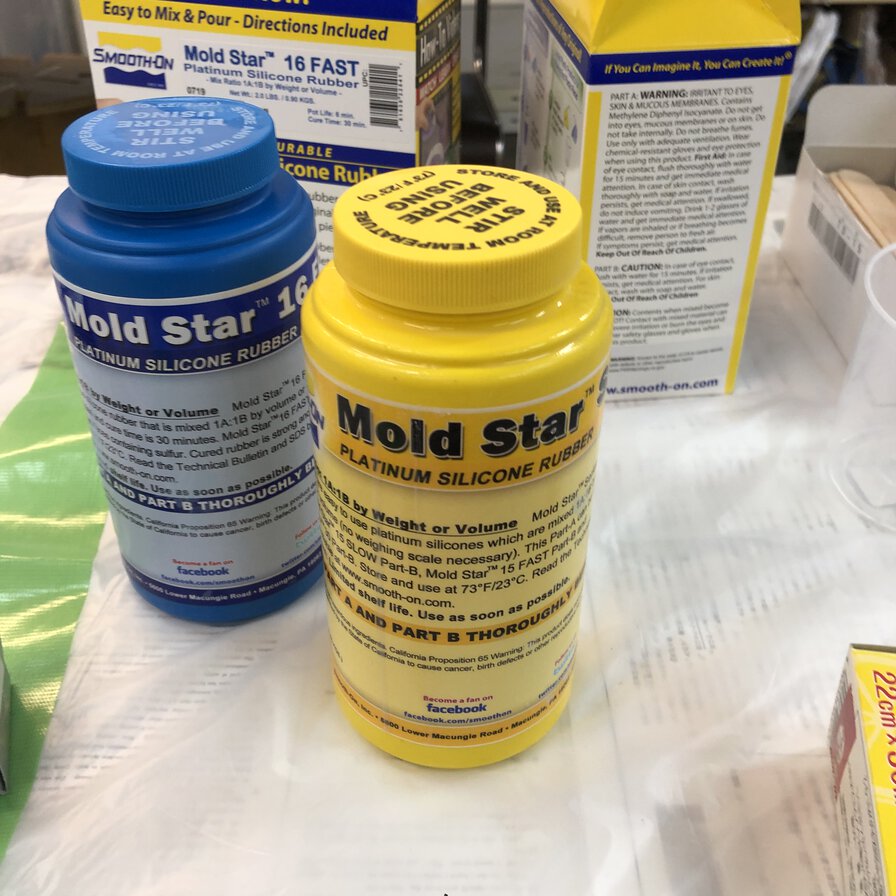 Color: Blue-Green
Mix Ratio: 1A:1B by volume / 1A:1B by Weight
0.9 kg x 2
Pot Life: 6 min (Time to be poured)
Cure Time: 30 min (Time to fix)
Temp: 450F 232C (dualable tempercher)
Respiratory Protection

Respiratory protection is not normally required when using this product with adequate local exhaust ventilation. Where risk assessment shows air-purifying respirators are appropriate, follow OSHA respirator regulations 29 CFR 1910.134 and European Standards EN 141, 143 and 371; wear an MSHA/NIOSH or European Standards EN 141, 143 and 371 approved respirators equipped with appropriate filter cartridges as a backup to engineering controls.

Hand Protection

Wear any liquid-tight gloves such as butyl rubber, neoprene or PVC.

Eye Protection

Safety glasses with side shields per OSHA eye- and face-protection regulations 29 CFR 1910.133 and European Standard EN166. Contact lenses are not eye protective devices. Appropriate eye protection must be worn instead of, or in conjunction with contact lenses.

Other Protective Clothing/Equipment

AAdditional protective clothing or equipment is not normally required. Provide eye bath and safe shower.

Comments

Never eat, drink, or smoke in work areas. Practice good personal hygiene after using this material, especially before eating, drinking, smoking, using the toilet, or applying cosmetics. Wash thoroughly after handling.
Cast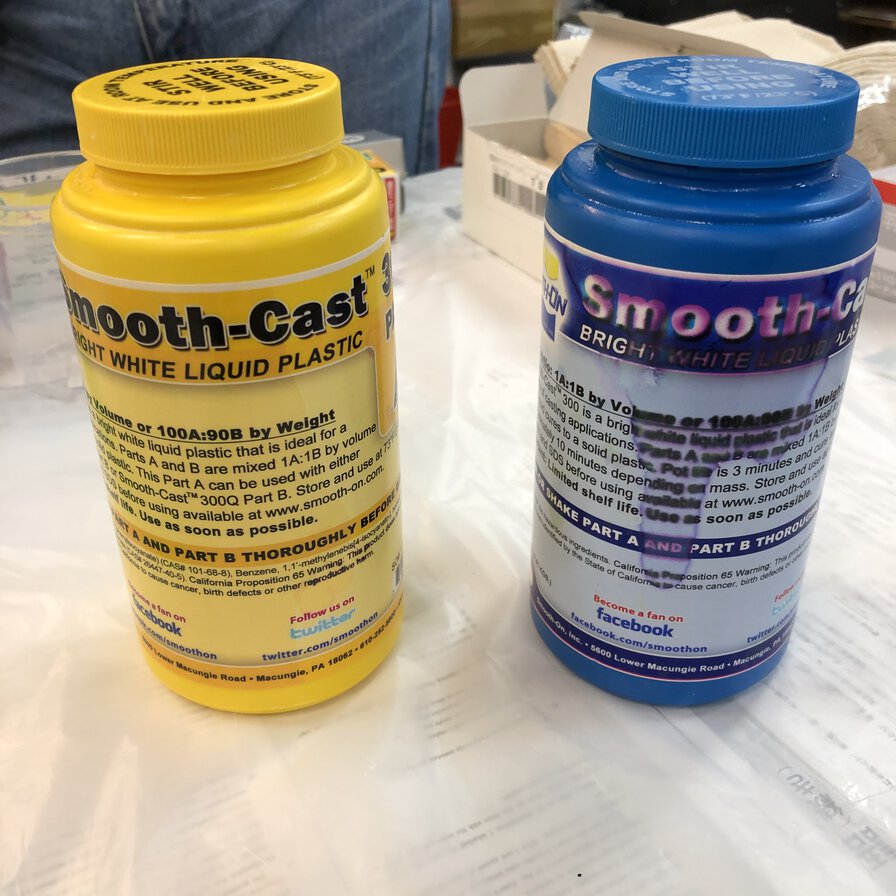 Smooth-on Smooth-Cast 300

Mix Ratio: 1A:1B by volume or 100A:90B by weight
Mixing Tool: metal, glass or plastic
0.9 kg x 2
Color: White
Pot Life: 3 min
Cure Time: 10 min
Respiratory Protection

Respiratory protection is not normally required when using this product with adequate local exhaust ventilation. Where risk assessment shows air-purifying respirators are appropriate, follow OSHA respirator regulations 29 CFR 1910.134 and European Standards EN 141, 143 and 371; wear an MSHA/NIOSH or European Standards EN 141, 143 and 371 approved respirators equipped with appropriate filter cartridges as a backup to engineering controls.

Hand Protection

Wear any liquid-tight gloves such as butyl rubber, neoprene or PVC.

Eye Protection

Safety glasses with side shields per OSHA eye- and face-protection regulations 29 CFR 1910.133 and European Standard EN166. Contact lenses are not eye protective devices. Appropriate eye protection must be worn instead of, or in conjunction with contact lenses.

Other Protective Clothing/Equipment

Additional protective clothing or equipment is not normally required. Provide eye bath and safety shower.

Comments

Never eat, drink, or smoke in work areas. Practice good personal hygiene after using this material, especially before eating
Liquid urethane colorants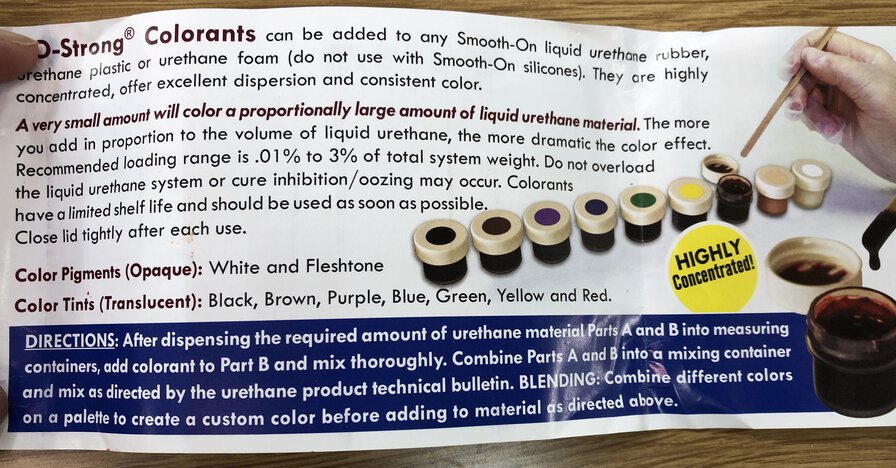 0.01% - 3% of the total weight (Parts A + B mixed) of the material being cast
Respiratory Protection

Respiratory protection is not normally required when using this product with adequate local exhaust ventilation. Where risk assessment shows air-purifying respirators are appropriate, follow OSHA respirator regulations 29 CFR 1910.134 and European Standards EN 141, 143 and 371; wear an MSHA/NIOSH or European Standards EN 141, 143 and 371 approved respirators equipped with appropriate filter cartridges as a backup to engineering controls.

Hand Protection

Wear any liquid-tight gloves such as butyl rubber, neoprene or PVC.

Eye Protection

Safety glasses with side shields per OSHA eye- and face-protection regulations 29 CFR 1910.133 and European Standard EN166. Contact lenses are not eye protective devices. Appropriate eye protection must be worn instead of, or in conjunction with contact lenses.

Other Protective Clothing/Equipment

Additional protective clothing or equipment is not normally required. Provide eye bath and safety shower.

Comments

Never eat, drink, or smoke in work areas. Practice good personal hygiene after using this material, especially before eating, drinking, smoking, using the toilet, or applying cosmetics. Wash thoroughly after handling