To do list:
Group
design a machine that includes mechanism+actuation+automation
build the mechanical parts and operate it manually
document the group project and your individual contribution
actuate and automate your machine
document the group project and your individual contribution
Week 17 "hero shot":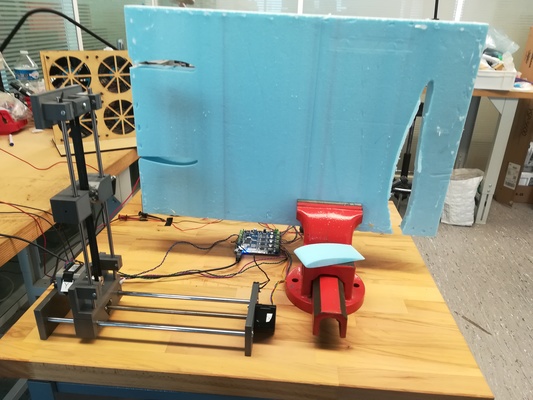 Figure 0: Foam cutting machine
Table of Contents
Group assignment
This week I worked with Jonah on machine design.
I was interested in the design of a foam cutting machine to be able to cut wing section for my final project.
Besides, Jonah already made a nice Instructables on
how to make a hot wire machine
Trying modular kit
I first wanted to reproduce Nadya Peek
modular foam cutter
, but then realise that we cannot easly machine metal at the Fab Lab.
So I wanted to try her cardboard kit version of the foam cutting machine to build the machine.
The design are available on
this page
Laser cutting the cardboard part
Folding the cardboard parts
Here the two-fold cardboard available at the Lab didn't reacted well to the folding.
If there is some time left I will try to make other test with tri-fold cardboard.
First design
I used OpenSCAD to design a foam cutting machine from scratch with inspiration from the modular cardboard kit machines of Nadya Peek.
Second design
Given the time frame for this week and following Jonah advises we adapt design around already existing parts of a machine.
Scavanging
So we first check the parts we could use from old unused machine at the Fab Lab Digiscope.
3D printing
We use the 3D printer to make stiff and custom frame parts.
Assembling the frame
Electronics
We use a pre made controller board for the nema motors.
User interface
We used
Chilipeppr
for the user interface.
Testing

Module with belt motion test

Module with worm screw motion test
3D model visualization
A 3D model visualization is available
here!
Cutting Foam!

Wing rib cutting (10 times faster)

Chilipeppr interface (10 times faster)