Wildcard
---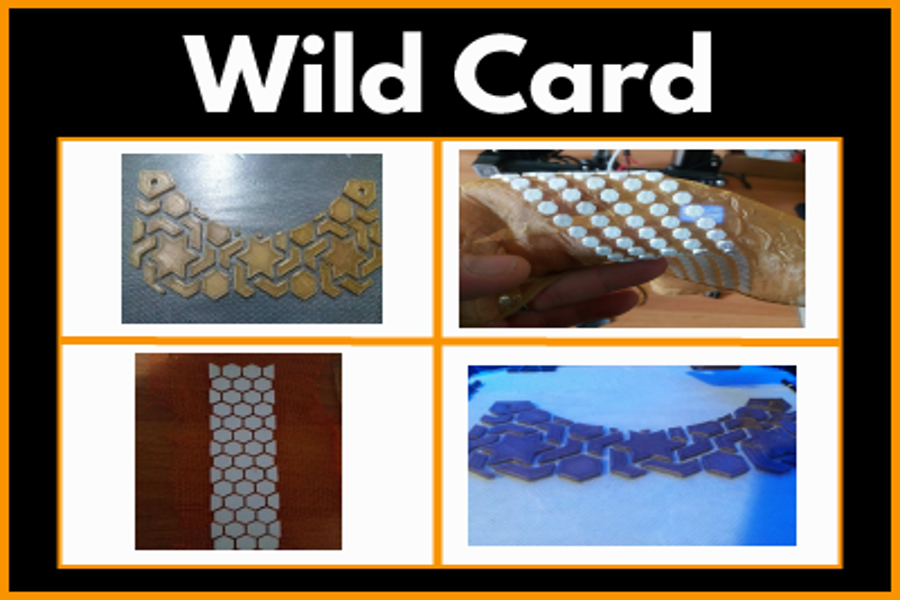 Assignment
Design and produce something with a digital fabrication process (incorporating computer-aided design and manufacturing) not covered in another assignment, documenting the requirements that your assignment meets, and including everything necessary to reproduce it. Possibilities include (but are not limited to) composites, textiles, biotechnology, robotics, folding, and cooking.
Concept
For this assignment I decided to try something I never did before. Something that is a cross between 3D printing and textiles. In the past I made prints on cotton fabric, printing pla on a t-shirt; but this time I want to try something different: I want to incorporate a lattice fabric between two consecutive print layers.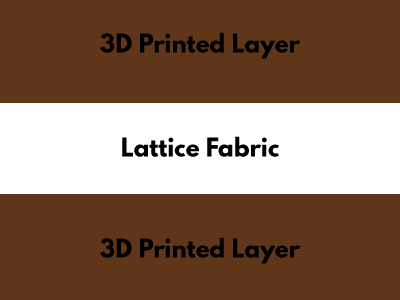 The design and the pattern I proposed will give the finished piece flexibility and a form that I will use to create a necklace
Work
Before printing the finished piece, I did several tests, using different types of mesh fabric, with lattices of different sizes (from 0.5x0.5mm to 0.2x0.2mm). I used patterns of different sizes and shapes (Patterns composed of circular and hexagonal elements. I did the tests by varying the size of the elements of the pattern from 5x5mm to 10x10mm (per element).
For my purpose, I used this type of printer: Creality Ender 3. The materials I used are 3D Fuel materials, with which I have an exclusive contract for Italy. I used the following materials:
The peculiarity of the PLA pro is that it can be annealed in the oven, crystallizing giving the structure of the piece a very high strength I enclose below the Datasheet of this material, and how it can be Annealed

The second material I used is a very interesting material; it is obtained with a mixture of pla and short fiber of industrial hemp; the latter gives the material a very high resistance, and a truly remarkable lightness. This material was developed by C2renew (who produce the pellets of these materials) a spin-off startup of the University of North Dakota. Filaments for 3D printing are produced by 3D Fuel. This company produces different materials, with which I work constantly at our fablab, the one used for this assignment is called Entwined
In the following photos, you can see the different tests I did before achieving a good result.
As you can see from the photos, in some cases the reticulated fabric was not well incorporated into the elements, causing some to become detached from the fabric after printing,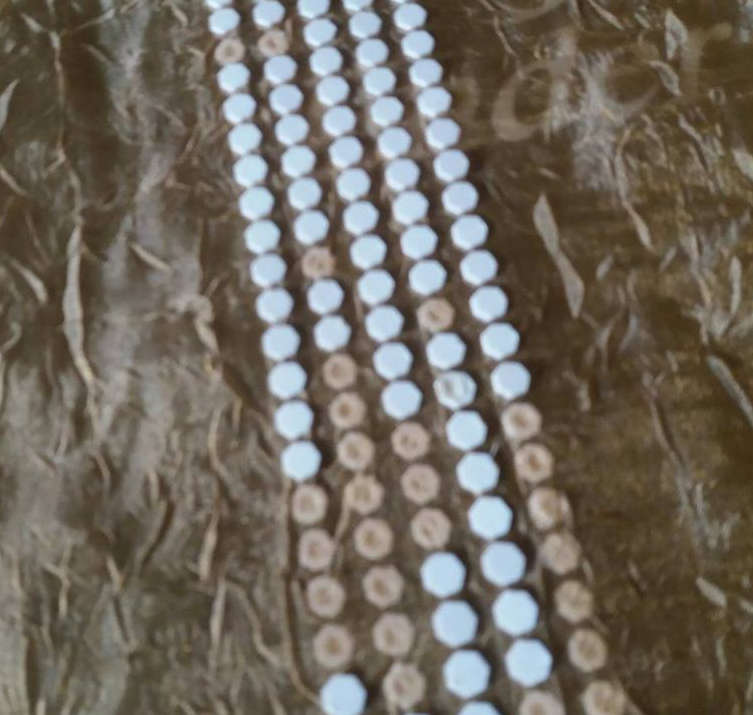 and the final result is very fragile. As you can see from the photos I used a fabric with a very very narrow lattice and others with a very very wide lattice; in both cases I used elements of different sizes. To carry out this type of processing, I inserted a pause between two layers, so as to be able to position the lattice fabric and then restart printing. The software I used is Repetier
In order to insert a pause in a specific layer, just insert the following code into the gcode just created (ie after slicing the piece):
"G28 X0 Y0; Home X and Y
M25; Pause Print "
After which it is possible to restart printing directly from the printer control panel. The 3d printer will automatically restart from where we have interrupted it
I made the final print with the Entwined material, and I got the result as in the photo:
After doing this I cut the excess edge of the lattice fabric and I inserted jewelery hooks at the ends (where I drew holes), and I finally connected a chain to the whole. This is the final result:
Download ZONE
Home