getting started
● For this particular week assignment I had to
Choose Creative Commons
License for my project, explain the features and the reason for me selecting the same.
● I went through this particular link for
How it works
, it was quite helpful to understand how actually the licensing procedure works and also the essential
Consideration
to be considered before selecting any type of creative commons license.
● So moving on the website let's me decide to choose a particular feature such as, that if allow th adaptions of my work to be shared. The website has question mark on each feature that needs to be selected so based on the explanation I could decide yes, no or yes, as long as others share alike. Based on it, I opted for the Yes, as long as other share alike option which means I permit others to create and distribute derivative works, but only under the same or compatible license. Also, I chose to select No, for the commercial usage of my work.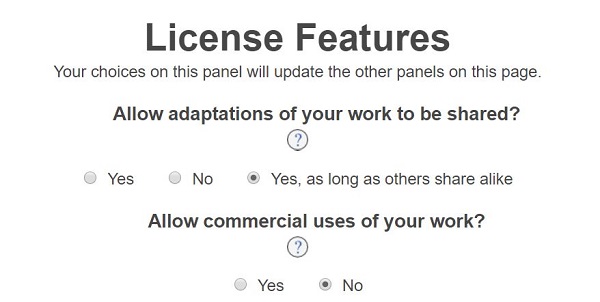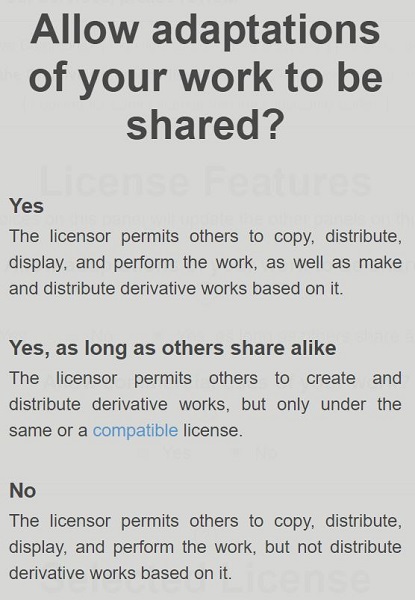 ● The below image means that, me being the licensor, permits to copy distribute, display and perform the work for non-commercial purposes only. My thought behind this particular feature was that, this work needs to be shared and grow to a better optimized work, therefore having said that I do not wish to permit anyone to make commercial use of the same. Just needs to develop more by sharing.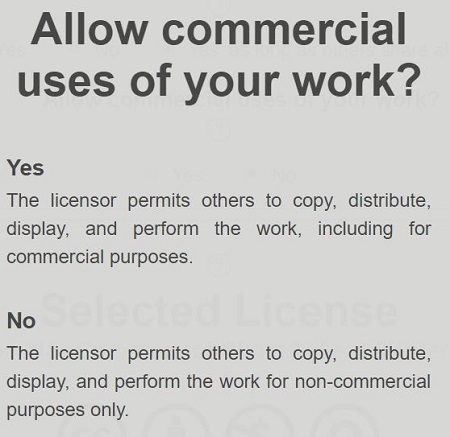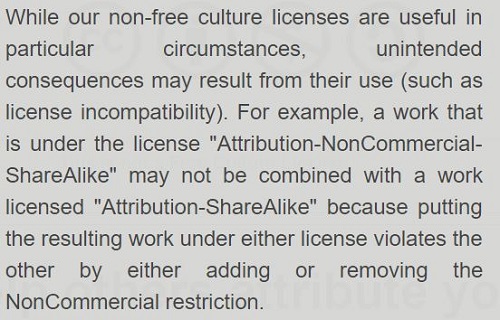 ● The below image showcases all the features selected above for the licensing of my project.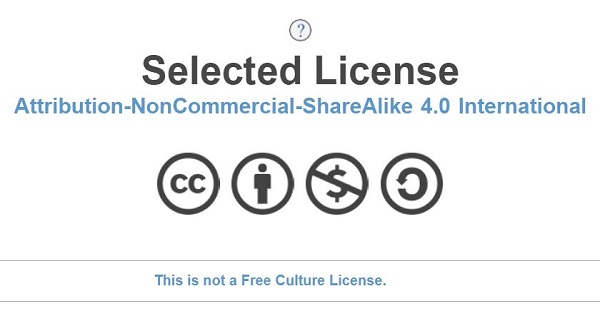 ● Moving on, I decided to fill the optional form to achieve a machine readable metadata for my HTML page. I decided on naming it, Sound Interactive Lamp, I added my name and links to the index and final project page for contact purpose and to share the work on which my project is based on.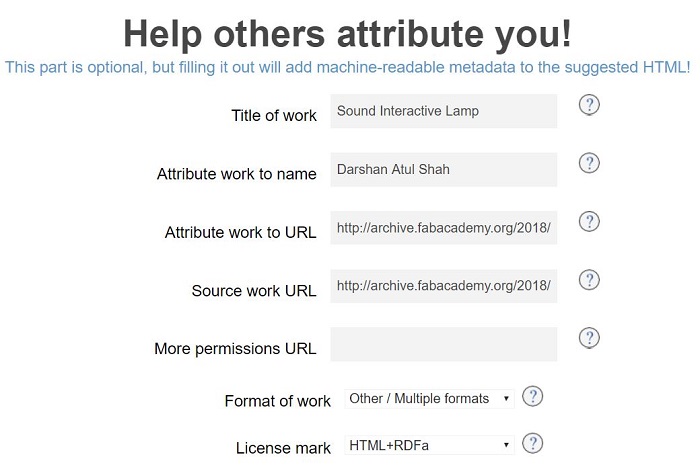 ● This below, is the result of filling the above form and I could copy this link and add to this webpage to show that I selected this particular license for the Sound Interactive Lamp.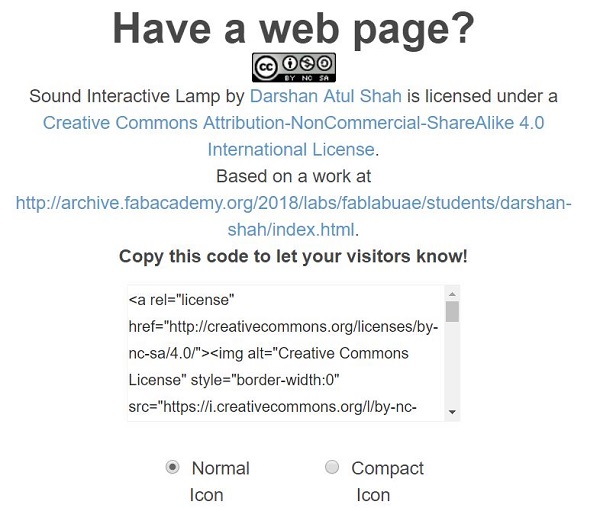 the final license
Sound Interactive Lamp
by
Darshan Atul Shah
is licensed under a
Creative Commons Attribution-NonCommercial-ShareAlike 4.0 International License
.
Based on a work at
http://archive.fabacademy.org/2018/labs/fablabuae/students/darshan-shah/index.html
.
● Below is the link to support the Creative Commons (non-profit organization) by donating any amount of to keep providing everyone with their super amazing tools.
SUPPORT

answering more questions
for future opportunities ...
● What would I do if somebody or a company asked for 10,000 of such a Lamp ???
● That in itself is a fairly important question to understand and to answer it needs the correct use of words backed up by action.
● I shall be more than happy to challenge myself to make this possible but how ?? I would consider modifying the process of producing the components of the lamp by Injection Molding, which will definitely save a lot of time, effort and money compared to the original process. Creating the mold and setting the lamp with sensor and LED will be a great idea in order to achieve a large quantity such as 10,000 pieces. I wish to add more to it in near future and make it highly optimum as well.
● What is my plan for the future development of this lamp ???
● I'm at a good stage right now, where I have the final design ready and all the components in working stage, I have plans to create this Lmap as a portable Lamp, which can be dismantled and setup whenever and wherever I want to. Also not to forget, I am using a power bank to power the lamp, which again makes it very useful for any kind of situation. So based on same grounds, I shall work on making it better looking and maybe add more feature to it such as wireless communication using a smartphone to operate the LEDs. That's all I could think of for the moment, having said that I am really excited about all of this.
● I must say, this particular has been extremely essential considering
the future of my work and to learn a bit about licensing as well sharing and caring for it. :)
draft slide for final project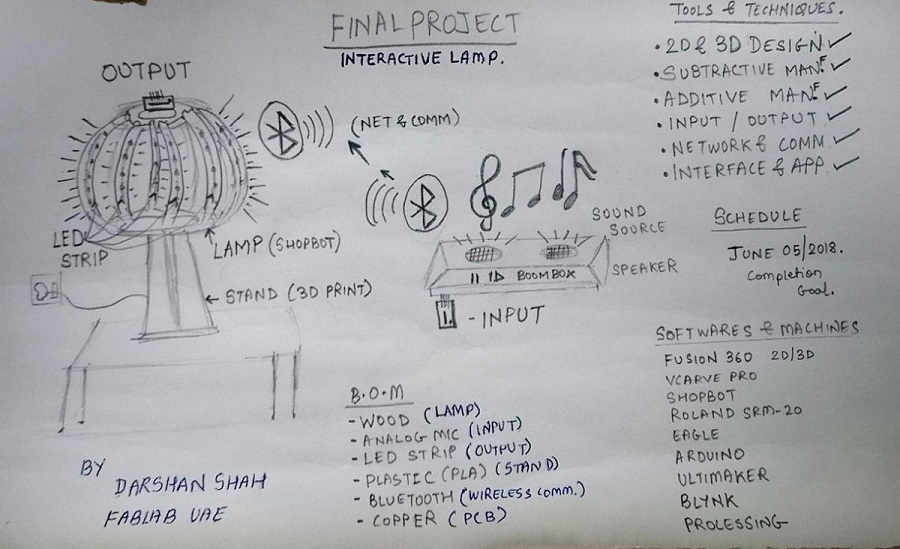 draft video