WEEK 19:Invention, Intellectual Property, and Income
Assignment
.Develop a plan for dissemination of your final project

.Prepare drafts of your summary slide (presentation.png, 1920x1080) and video clip (presentation.mp4, 1080p HTML5, < ~minute, < ~10 MB) and put them in your root directory
This week is understanding the Intellectual properties.It is a category of property which protect the new discovery or creations of human intellect under a specified law. The Intellectual properties law encouraging variety inventions and creations so the origin of the craetion have the property right by the law to inform there new invention to the public through earning profit.The Intellectual property right is the Right give to the creator over use of that creation to a certain period of time,Artistic works including music and literature, as well as discoveries, inventions, words, phrases, symbols, and designs can all be protected as intellectual property. .(WIKI)
This week assignment was develope a plan for dissemination of our final project and also going through the Intellectual property like patents, copyright ... look at possible lisensing model to share our works.In our week Schedule there are some open source licenses (licenses that comply with the Open Source Definition) here it allows the software freely used,modified and shared.This should be approved by the open source initative(OSI) means the license must be udergo the review process of open source initative.
Here some open source initative(OSI) that are widely used and popular in communities
The following some are I referred,
GPL
Genaral Public Lisence are giving the license to make change in all version if programme softwares and practical works but we want to make sure that the remains free software for all its users. GPL license is mostly using for some softwares . GPL code can be sold, but no proprietary software can be derived from it. Once a work is released under the GPL, it remains GPL and no further restrictions can be applied.
MIT/X11
As starting as a beginner it's one of the shortest and most liberal working with MIT licence. Its terms are very easy to convey and follow , more permissive than most other licenses. It is also very compatible to many of the existing commonly used licenses like GPL and many other copyleft licenses.Here the License is under premissive so the people can do anything with there codes MIT license is pretty easy and enough to make .

      The MIT License

SPDX short identifier: MIT

Copyright © ❮year❭ ❮copyright holders❭

Permission is hereby granted, free of charge, to any person obtaining
 a copy of this software and associated documentation files (the "Software"),
 to deal in the Software without restriction, including witho276Fut limitation
 the rights to use, copy, modify, merge, publish, distribute, sublicense,
 and/or sell copies of the Software, and to permit persons to whom the
  Software is furnished to do so, subject to the following conditions:

The above copyright notice and this permission notice shall be included
 in all copies or substantial portions of the Software.

THE SOFTWARE IS PROVIDED "AS IS",
WITHOUT WARRANTY OF ANY KIND, EXPRESS OR IMPLIED,
INCLUDING BUT NOT LIMITED TO THE WARRANTIES OF MERCHANTABILITY,
 FITNESS FOR A PARTICULAR PURPOSE AND NONINFRINGEMENT.
 IN NO EVENT SHALL THE AUTHORS OR COPYRIGHT HOLDERS BE LIABLE FOR ANY CLAIM,
 DAMAGES OR OTHER LIABILITY, WHETHER IN AN ACTION OF CONTRACT,
 TORT OR OTHERWISE, ARISING FROM, OUT OF OR IN CONNECTION WITH THE
 SOFTWARE OR THE USE OR OTHER DEALINGS IN THE SOFTWARE.

Creative Commons
Creative Commons is commonly used for design projects, Here different types of "CC" are available CC means "Creative Common", each granting certain rights. A CC license has four basic parts, which can be used individually or in combination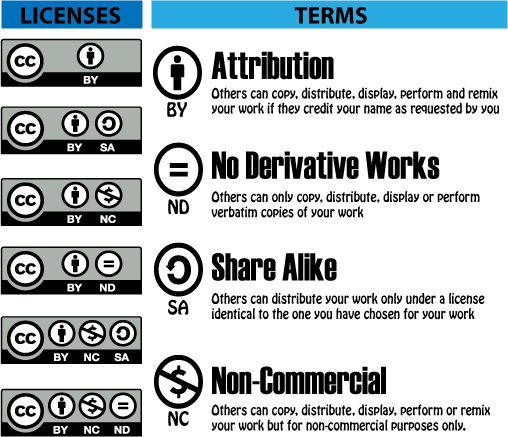 Here CC license are devided into 4 ,they are
.Artibution
The author must be attributed as the creator of the work. Beyond that, the work can be modified, distributed, copied and otherwise used.

.Share Alike
Again, this license allows people to use your work and derivatives based on your work but only if they use it under an identical license that you used for your work. With this they can use it for commercial purposes.
.Non-Commercial
This license lets others remix, tweak, and build upon your work non-commercially, and although their new works must also acknowledge you and be non-commercial, they don't have to license their derivative works on the same terms.
.No Derivative Work
This means you can copy and distribute the licensed work, but you can't modify it in any way or create work based on the original.
My Dissemination Plan
After learning about all type of open licenses Then I decided to go with a try before taking License .This was also a plan for making license for my fab page I think to go with "Artibute non-commercial" ie)other can copy,distribute,disply ,perform or remix my work but for non-comercial purpose only
In below it is try for my shopbot week from that I got an idea how to make a license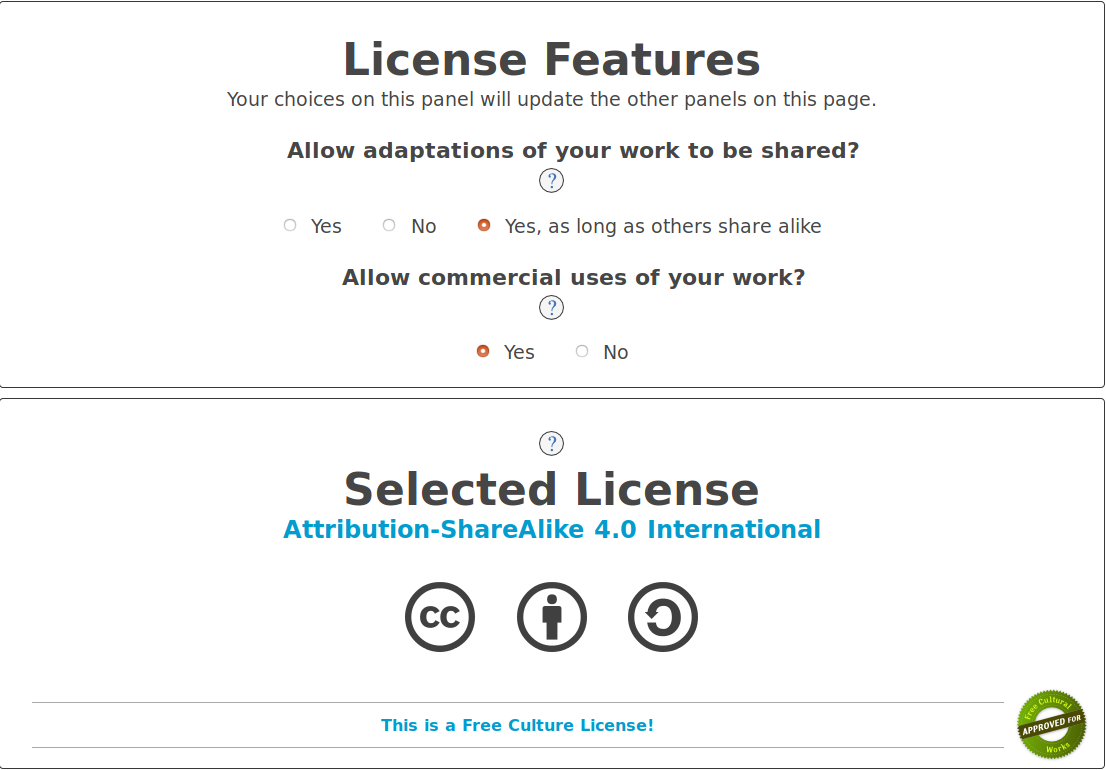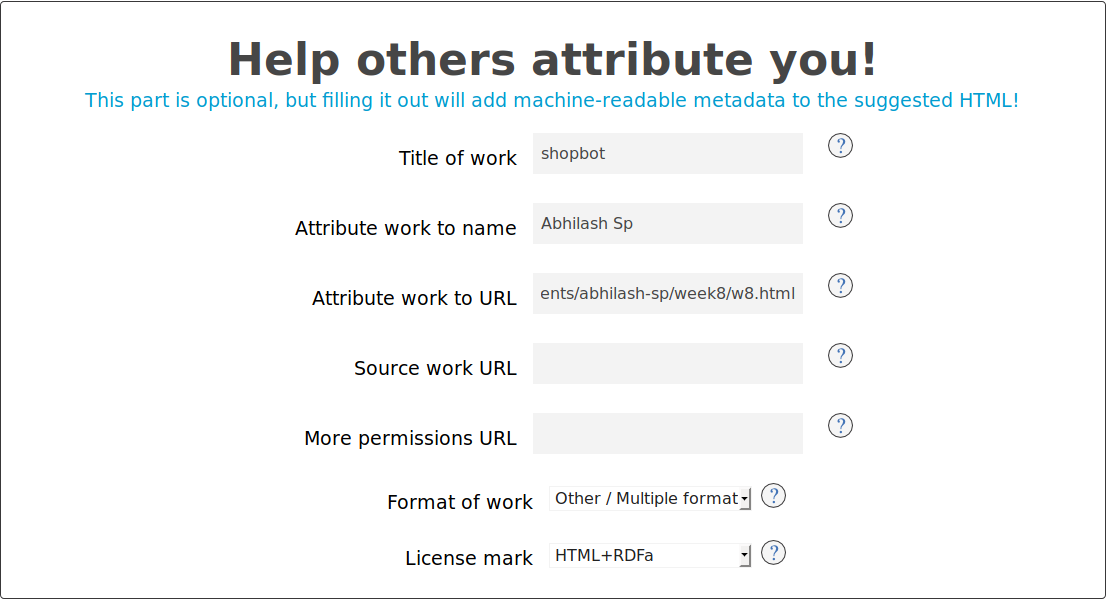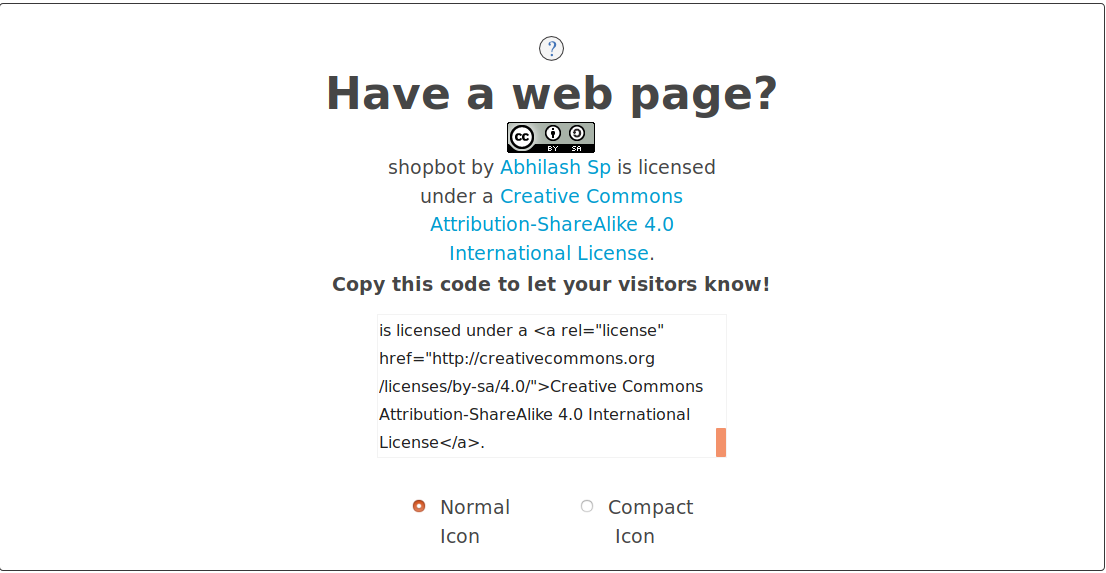 this is my link I got from this


shopbot by Abhilash Sp is licensed under a Creative Commons Attribution-ShareAlike 4.0 International License.

Presentation slide & video
For presentation with neil we want to make and upload a slide and video with specified resolution you can see my slide and video that I made below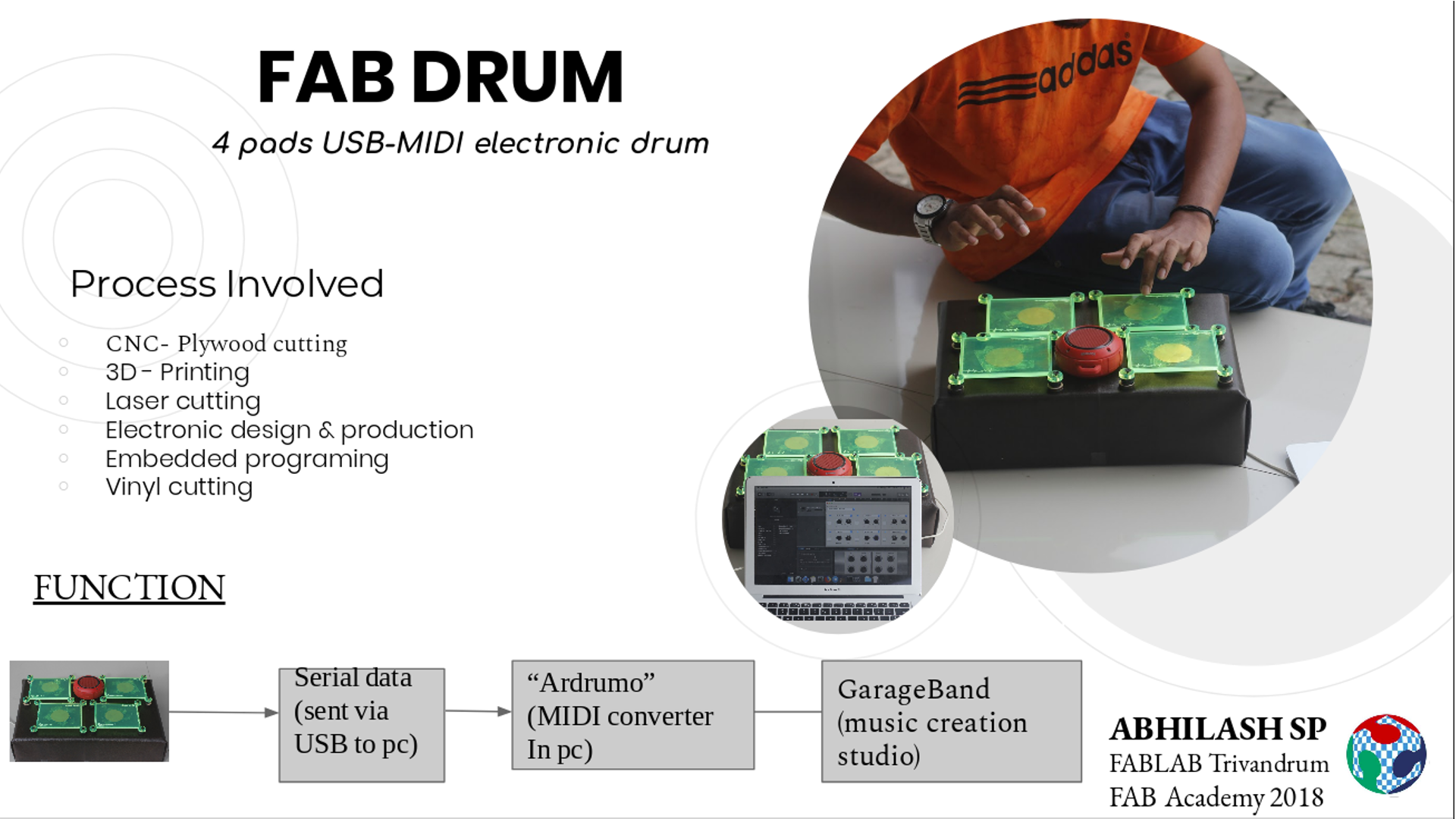 HOME