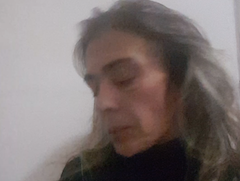 (-).(o)
I'd been digital technologies researcher yearly in my carrear, but become emerging technologies R&D project manager for the last 15 working in some of the most innovative Portuguese company: YDreams, and alike, which supported the Fab Labs movement in our Portugal since 2008.
But, even being part of such team I'd never the change to "Become a Fab Master"... I'd tried in 2013 but the job responsabilities back that time doesnt allow me to fully engage...
But...live takes it turns, and I'm here with time, will and hope to become a Fab Master in 2018...

I'm also part of the Portuguese Makers community "MILL - Makers in Litle Lisbon" sharing and nutring our open lab in the center of Lisbon, working toguether to show, involve and disseminate the "maker atitude and culture" . See more here.
Motivation
I'd reached the forties and perceived that I took some years that I had not fully created technologies, I'd been thinking and sketching emerging technological scenarios, providing organizations and individuals with the means to perceive their creative ideas, helping them to really make things, thier things, not exaclty mine. I'm here working to become a Fab Master, going back to science and technologies basics, on FCT FabLab