Two weeks ago, I designed and made a version of the
Hello Echo
board. This week, I will be making it do stuff using the C programming language and Arduino IDE.
TODOs
☑ Read an AVR microcontroller datasheet
☑ program your board to do something, with as many different programming languages
☑ Document the programming process

☑ extra credit: experiment with other architectures

---
ATTINY44A
---
The documentation for Atmel's ATtiny44A MCU is a whopping 286 page pdf. I dived in to find out what the chip can do and how it works.
Microcontroller Data Sheet
I learned that so many information about the product is included in Data Sheet. I could not understand as I expect, but I found some information related this week assignment which used C programming.
10. I/O Ports
10.1.1 Configuring the Pin
Each port pin consists of three register bits: DDxn, PORTxn, and PINxn. As shown in "Register Description" on page 66, the DDxn bits are accessed at the DDRx I/O address, the PORTxn bits at the PORTx I/O address, and the PINxn bits at the PINx I/O address.
Datasheet
---
There is really a lot of information in the rest of the datasheet. Too much for a beginner like me to actually get into unless I know what I'm looking for. The Pin Configuration and Pin Descriptions in Section 1 are important - PighiXXX has created very nice colour-coded pinout diagrams for many processors including the ATtiny family, including pin mapping for the Arduino IDE:
PROGRAMMING THE MCU
---
My first step was to make sure I had the necessary toolchain for programming the chip -avr-gcc and avrdude.
Using homebrew on Mac OSX, pull avr-binutils and avr-gcc:
brew tap osx-cross/avr

then install avr-libc:
brew install avr-libc

and avrdude
brew install avrdude --with-usb

Now I could go ahead and program the microcontroller. As a first test, I downloaded Neil Gershenfeld's hello echo example C and makefile code, and followed this tutorial to compile the code, set the fuses and program the board.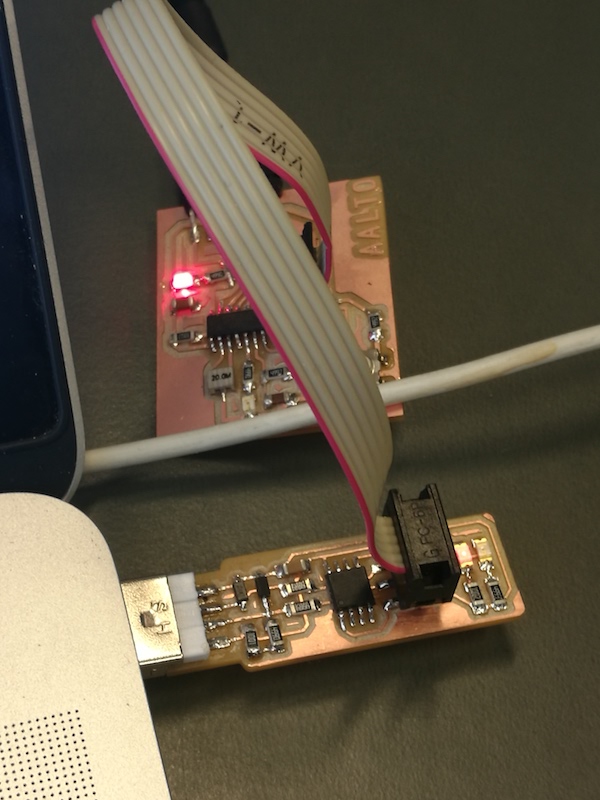 The Hello Echo and FabISP boards connected together and to a computer with USB and FTDI
With both the C code and makefile in my root directory, I compiled the code:
make -f hello.ftdi.44.echo.c.make

then setting the fuses, to set the clock to 20MHz using the external crystal:
make -f hello.ftdi.44.echo.c.make program-usbtiny-fuses

.hex and .out were made.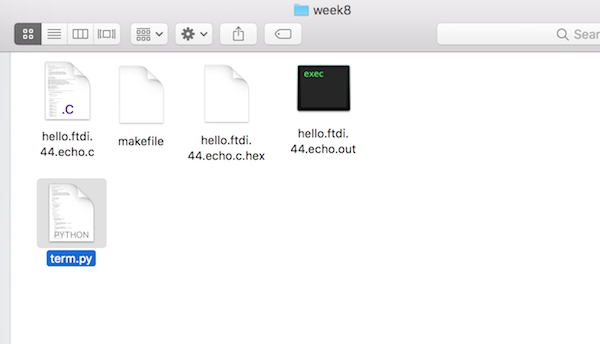 and programmed the microcontroller:
make -f hello.ftdi.44.echo.c.make program-usbtiny

When FabISP writes program, USB-Serial FTDI supplies 5V to echo hello-world board. After programmed, signals go from PC to echo hello-world board via USB-Serial FTDI. To see if we have a serial communication we will use python.
---
How to run "term.py"
Neil wrote this python program for serial communication and can be downloaded from the class page. term.py

I move it to the same folder as everything else. Then run "term.py" from terminal.