1. Originally, I was going to use my Hello Light board as the input device for this module: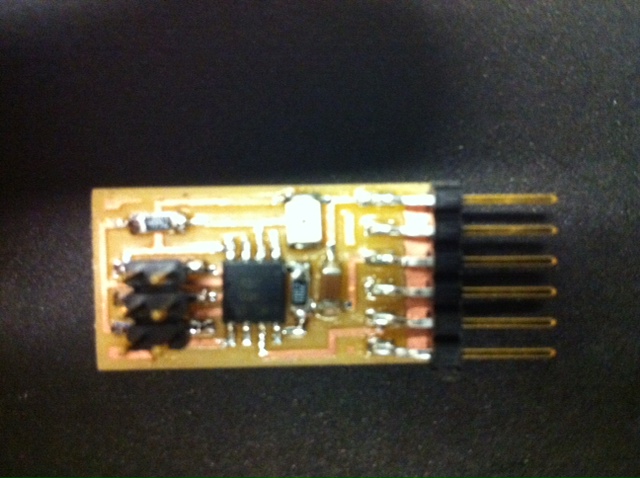 2. Unfortunately, I accidentally ripped some of the traces and components off in transport.
3. So, I took Anna's suggestion and used my mouse for an input device. I modified one of the Processing templates (Pulses) in some very rudimentary ways, changing window size, background color, input polarity (it now draws when the mouse button is not depressed.) See source code and video below.
int angle = 0;

void setup() {
  size(800, 800);
  background(155);
  smooth();
  noStroke();
  fill(0, 155);
}

void draw() {
  // Draw only when mouse is not pressed
  if (mousePressed == false) {
    angle += 10;
    float val = cos(radians(angle)) * 6.0;
    for (int a = 0; a < 360; a += 75) {
      float xoff = cos(radians(a)) * val;
      float yoff = sin(radians(a)) * val;
      fill(0);
      rect(mouseX + xoff, mouseY + yoff, val, val);
    }
    fill(255);
    rect(mouseX, mouseY, 2, 2);
  }
}